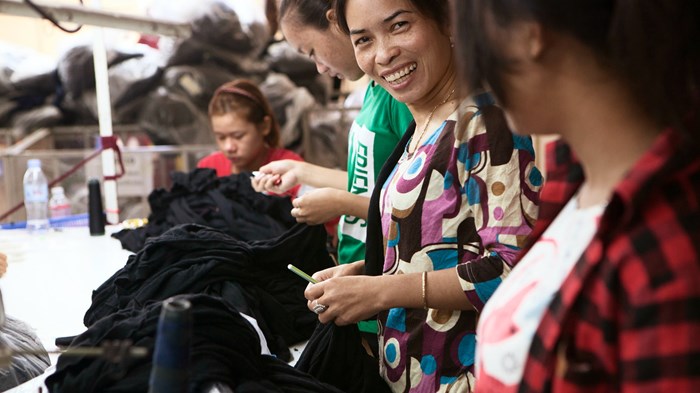 Image: Claire Eggers
A shocking news segment on child sex trafficking in Cambodia spurred American evangelicals to get involved in the cause 13 years ago. A recent CNN update on the industry almost ended more than decade of anti-trafficking ministry by a major Christian charity.
The controversial story, which portrayed mothers selling their daughters to work in brothels, offended the country's top leader, who threatened to expel Agape International Missions (AIM) from Cambodia.
Prime Minister Hun Sen took issue with the characterization of Cambodians in CNN coverage from July since the women featured—like a disproportionate number involved in trafficking in Cambodia—were ethnically Vietnamese, not Cambodian.
On Tuesday, the leader of the majority-Buddhist nation accepted AIM's apology over the segment and has rescinded calls to shut down the organization's schools, shelters, and offices, mostly based in the heavily Vietnamese Svay Pak slums.
AIM, the subject of CT's June cover story, investigates more than half of all sex trafficking raids that take place in Cambodia and has rescued over 100 underage girls in recent years.
The evangelical charity works in partnership with the anti-human trafficking division of the national police to catch perpetrators and provide recovery for young victims. It had received commendation from the Ministry of Foreign Affairs and International Cooperation in July, just days before the prime minister pledged, "No matter what it costs us, this organization has to leave Cambodia."
The government investigation ultimately found AIM to be sincere in its explanation and apology.
"Recently, myself and the NGO I led, Agape International Missions, were mistakenly accused of working with CNN to defame the integrity of Cambodian mothers and of not having programs to help the people of Cambodia. Both of these accusations are false," said Don Brewster, the founder and president of AIM, in a press conference Monday, emphasizing his organization's work to benefit thousands of Cambodians, including eliminating brothels in Svay Pak.
"CNN identified the three girls as Cambodian when in fact they are ethnically Vietnamese. This misidentification was made even though I told CNN the girls were Vietnamese."
The prime minister has shifted his criticism to the network.
"My country is poor, but you cannot insult our people," Hun said, according to a New York Times report. "It is fitting that CNN was blasted by President Donald Trump. I would like to say that President Trump is right: US media is very tricky."
Even as significant progress is being made to curb child sex trafficking in the former communist country, Cambodian officials remain very sensitive about the country's international reputation. The Phnom Penh Post pointed out that:
The government's response … appeared to ignore both the wider issue of sex trafficking—which advocates say remains a problem—and the fact that the CNN report had called attention to authorities' good work in largely stamping out what was once a notorious hub of child sex trafficking.
CT's recent cover story highlighted the dynamic between AIM, which applauds the reduction in underage girls available for sex but believes there's still work to be done, and fellow Christian organization International Justice Mission (IJM), which wrapped up its pioneering anti–sex trafficking efforts in Cambodia to focus on labor trafficking.
Over the past decade or so, Christian missions organizations have catalyzed Cambodian efforts to fight trafficking more so than any other force—even though the country itself is 95 percent Buddhist.
"We found they are very committed to assisting vulnerable people," Her Excellency Chou Bun Eng, vice-chair of the government's National Committee for Counter-Trafficking, told CT. "They work by faith."