Image: Gage Skidmore / Flickr
Why are many self-identified evangelicals selecting Donald Trump as their presidential candidate of choice?
Some, like Liberty University's Jerry Falwell Jr., have revealed their reasons. But for the overall "evangelical vote," the only clear trend is that it's not a clear-cut voting bloc.
One problem: Most polls are based only on self-identification, instead of what people do or believe. Even Russell Moore is throwing in the towel on defending what the word evangelicalmeans this election season.
Recent surveys have found that Trump is a "huge loser" among Protestant pastors, and that evangelical leaders are solidly split on presidential picks. Reuters and others have found that church attendance distinctly decreases evangelical support for Trump, who has the least-religious supporters among the GOP candidates.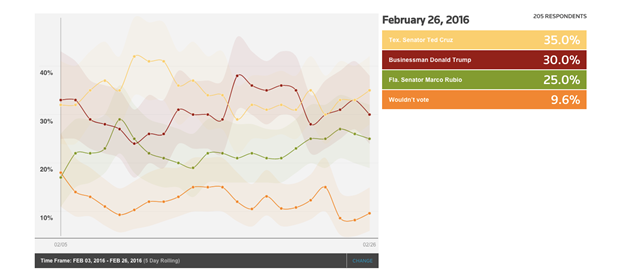 Image: Reuters
But since evangelicals make up the majority or the plurality of the Republican-leaning electorate in every Super Tuesday state except for Massachusetts, all eyes are on them.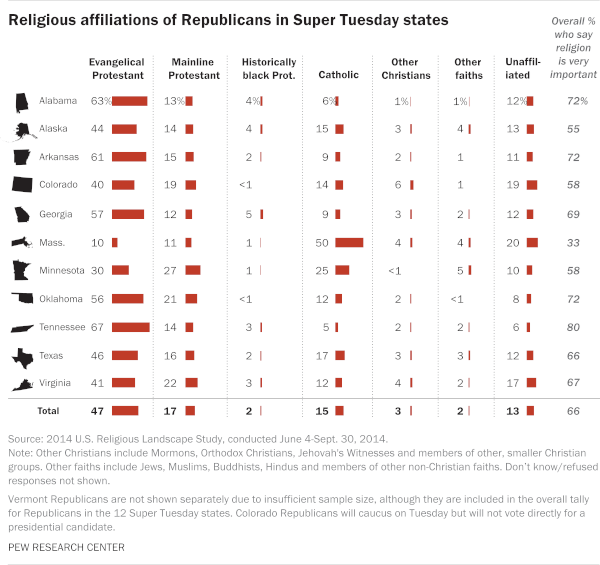 "It's definitely true that in many ways, white evangelicals and black Protestants or black evangelicals, or evangelicals from other racial and ethnic minorities have a lot in common," the Pew Research Center's associate director, Greg Smith, told NPR for its exploration of the true number of evangelical voters. "But when it comes to politics, the data show that they are really at totally opposite ends of the spectrum."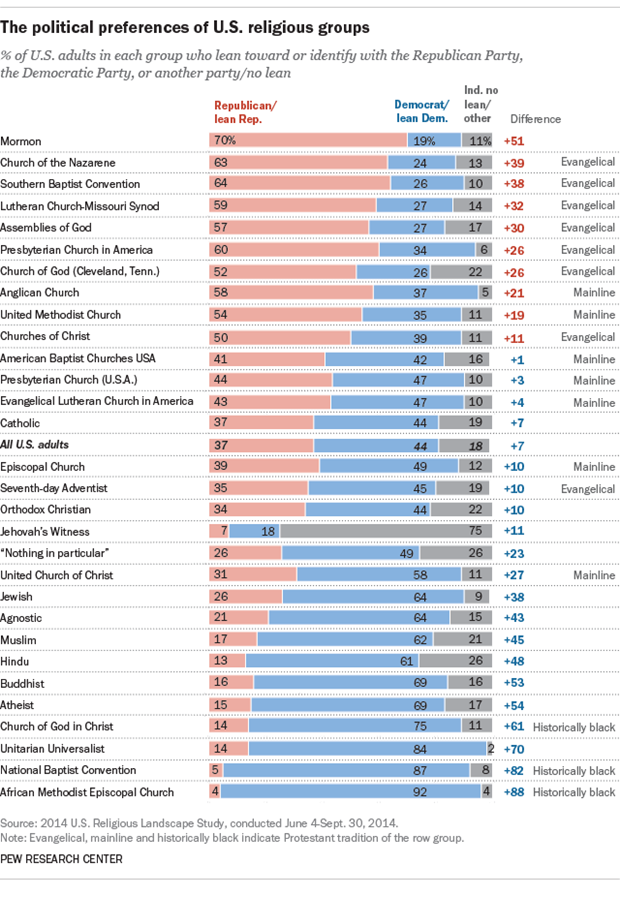 Southern Baptists are the evangelicals most likely to vote Republican: 64 percent lean that way, according to Pew's comprehensive data on evangelicals and what they practice and believe. The Church of the Nazarene (63%) and Presbyterian Church in America (60%) follow close behind.
But only about half as many Seventh-day Adventists (35%) lean Republican. A plurality of them (45%) vote Democrat, the biggest percentage of any examined evangelical denomination (as categorized by Pew). The Churches of Christ have the second largest percentage of Democrats (39%), but still lean more to the Republican side (50%).
Evangelicals often get painted as Republicans, and the image isn't entirely unfair. On the whole, Pew calculates that 56 percent are Republican while just 28 percent are Democrat. In fact, evangelicals are more Republican now than in 2007, when 50 percent were Republican and 34 percent were Democrat.
Evangelicals who are independent have remained at 16 percent, according to Pew. But that, too, varies by denomination. Those in the Presbyterian Church in America, for example, are almost all committed—only 6 percent are independents. Those in the Church of God (22%), Seventh-day Adventists (19%), and Assemblies of God (17%) all have larger shares of politically uncommitted members.
According to Pew, half of white evangelical voters (52%) think Trump would be a good/great president, while 3 in 10 think he would be a poor/terrible president (29%).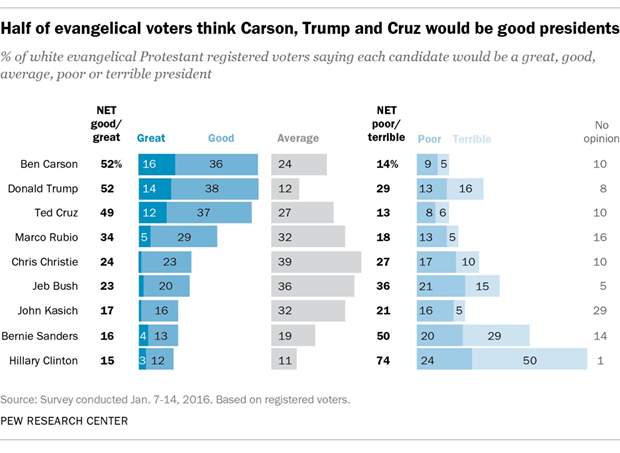 While Trump claims to have wrapped up the evangelical vote, exit polls in Nevada showed that he did better among those who said they were not "a born-again or evangelical Christian." Half of non-evangelicals voted for Trump, more than the 40 percent of evangelicals who did the same.
More non-evangelicals (38%) than evangelicals (27%) in New Hampshire also voted for Trump. The same was true in Iowa, where 29 percent of non-evangelicals voted for Trump, compared with 22 percent of evangelicals.
However, in South Carolina about a third (34%) of self-identified evangelicals voted for Trump, more than the 29 percent of non-evangelicals.
Overall, far more evangelicals view Trump as "very unfavorable" than "very favorable," a new Barna Group survey reports. Researchers found a 38 percentage point difference between the extreme ends of Trump's favorability spectrum.
The only candidate who scored more unfavorably with evangelicals was Hillary Clinton (-61), while Ben Carson (+35), Marco Rubio (+27), and Ted Cruz (+26) all scored favorably in evangelical eyes.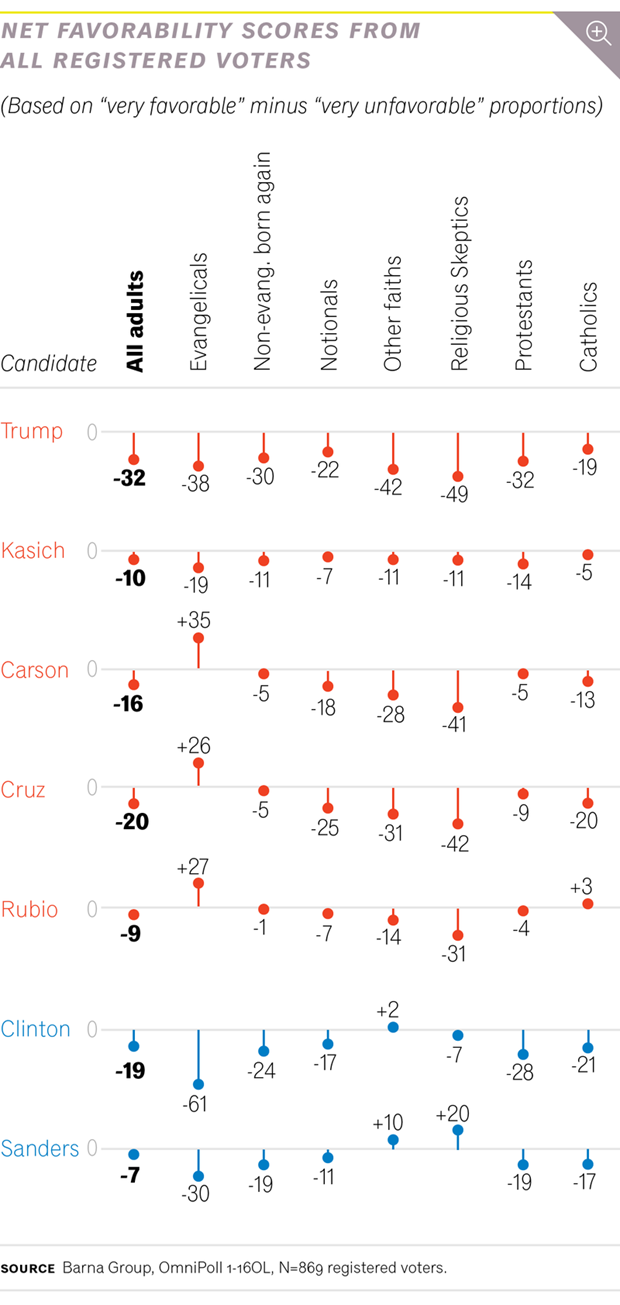 Barna's definition of evangelical is rigorous, with nine criteria ranging from making "a personal commitment to Jesus Christ that is still important in their life today" to "who describe God as the all-knowing, all-powerful, perfect deity who created the universe and still rules it today."
When Barna asked its 869 survey respondents to choose their favorite candidate, evangelicals who identified as Republicans split between Cruz (38%) and Carson (35%), trailed by Rubio (14%) and Trump (11%). Practicing Christians also chose Cruz first (30%), followed by Carson (20%), Trump (18%), and Rubio (15%).
Viewed almost every other way, however, voters favored Trump. He came in first among non-evangelical born-again Christians (not the first time the groups have split), notional Christians, all born-again Christians, all non-born-again Christians, Protestants, and Catholics.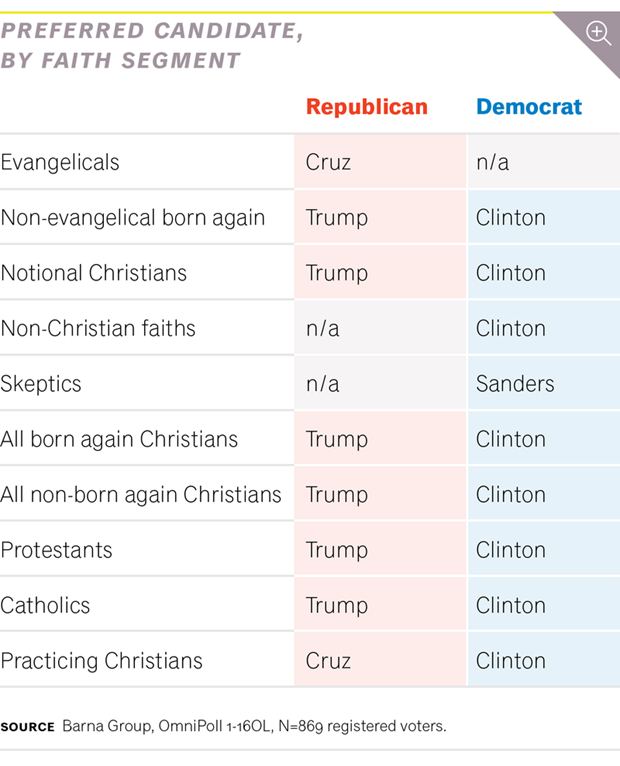 Barna suggests the evangelical preference for Cruz rests in how that group is more likely to choose a candidate based on their character (26%), positions on moral issues (19%), and leadership ability (15%). Notional Christians are most concerned about a candidate's experience, while skeptics worry about whether a candidate seems to care about people like them.
"Evangelicals, whose faith hinges on obedience to God's commands, are far more interested in the character of candidates than any other segment," stated founder George Barna. "They are also much less likely to be focused on the electability or experience of candidates. In contrast, the non-evangelical born again and notional Christians—groups not as devoted to biblical applications to every aspect of life—are more focused on pragmatic outcomes than theological foundations."
But that doesn't lead to a unified voting bloc. A recent poll by LifeWay Research found that about two in five Protestant pastors that lean Republican were still undecided. Only 5 percent said they would vote for Trump, less than Rubio (8%), Carson (10%), and Cruz (29%).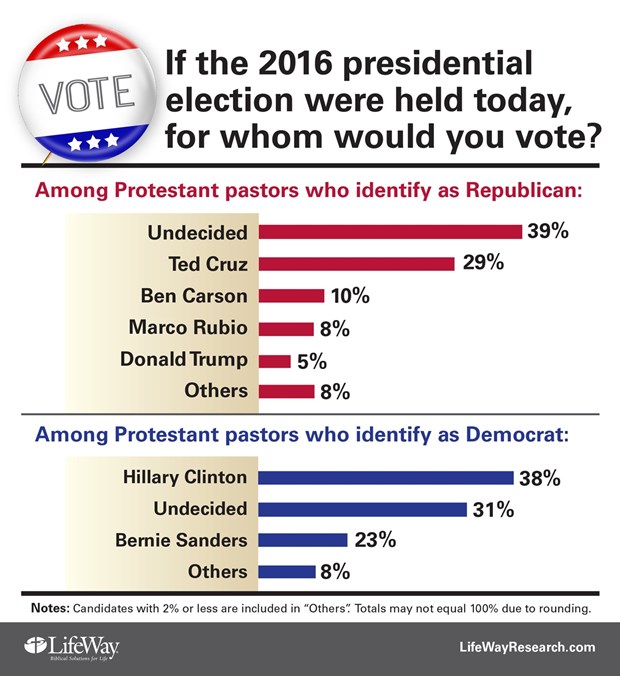 Meanwhile, an ongoing World magazine survey of more than 100 evangelical leaders has consistently found Rubio at the top over the past eight months, including a 49 percent approval rate in February.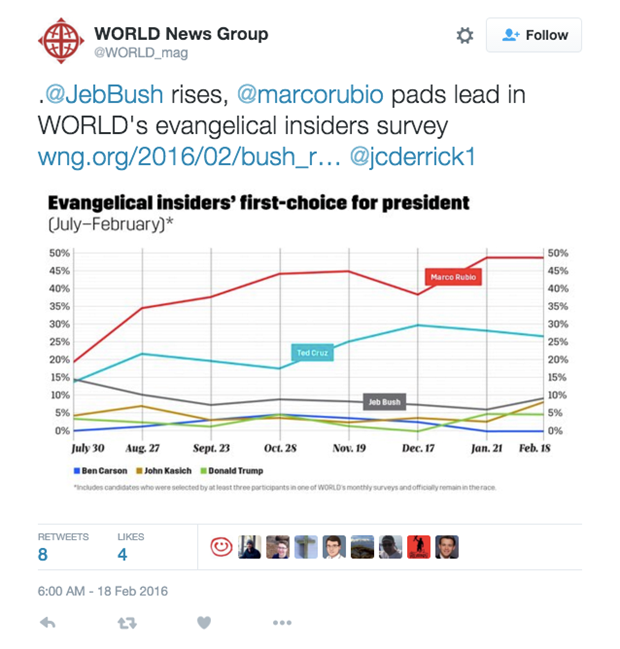 Image: Twitter
Rubio also topped the National Association of Evangelical's (NAE) October survey of "CEOs of denominations and representatives of a broad array of evangelical organizations." In that survey, 26 percent chose Rubio, 21 percent were undecided, and Ben Carson and John Kasich each garnered 12 percent. Trump "received an insignificant number of votes," according to the NAE.
In related news, megachurch pastor Robert Jeffress insists that Trump will be a "true friend" to evangelicals, while Regent University gave Trump a cooler reception than Liberty University. First Things editor R. R. Reno asserts that many religious conservatives are voting for Trump because they are "tired of losing." The King's College's Anthony Bradley asserts they are angry with GOP leaders. PRRI notes how "values voters" have become "nostalgia voters." Asbury Seminary's Craig Keener notes the difference between evangelical subculture and faith. The Gospel Coalition's Trevin Wax notes the lack of discipleship. Biola president Barry H. Corey notes the lack of civility.
Max Lucado recently explained to CT why Trump prompted him to finally break his silence on politics. CT editor Mark Galli assessed how Trump tempts evangelical politics, as well as how Trump threatens to trump the gospel.
CT noted Falwell Jr.'s endorsement of Trump, as well as LifeWay's latest findings on how Protestant pastors are voting and Pew's latest findings on how many Americans still want a religious president.
[Photo courtesy of Gage Skidmore – Flickr]