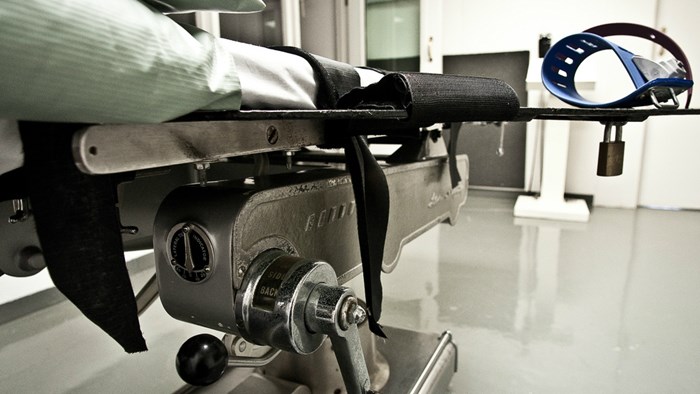 Image: Flickr: Josh Rushing.
The Nebraska Legislature on Wednesday repealed the state's death penalty by overriding Gov. Pete Ricketts's veto on a 30-to-19 vote. Evangelical pastors, Roman Catholic bishops, and mainline Protestant ministers, in a rare display of political advocacy and consensus, openly endorsed replacing the death penalty with life imprisonment.
The vote to override came one day after Republican Gov. Ricketts vetoed the repeal that earlier had passed the state's unicameral legislature with a veto-proof majority.
"My words cannot express how appalled I am that we have lost a critical tool to protect law enforcement and Nebraska families," said Ricketts following the override.
"While the legislature has lost touch with the citizens of Nebraska, I will continue to stand with Nebraskans and law enforcement on this important issue."
Nebraska is the first conservative state to ban the death penalty in 40 years, according to the Death Penalty Information Center. Since 1976, the state has executed three people. Nebraska's death row population is 11.
Starting in early in 2015, religious leaders in the state became more outspoken in favor of the repeal. An influential group of eight evangelicals, mostly pastors, issued a letter asking for an end to the death penalty.
"We have grown increasingly concerned with a system of capital punishment that at times ignores the vulnerable and often brings additional harm to those impacted by crime," they wrote. "As Christ taught throughout his ministry, no one is ever beyond redemption. Yet the death penalty risks cutting short the process of redemption in the lives of those imprisoned."
Mainline Protestant leaders also spoke up. Bishop Brian Maas, head of the Nebraska Synod of the Evangelical Lutheran Church in America, told CT that his opposition to the death penalty reflects his denomination's decision to oppose the death penalty in 1991. That opposition has come with a price.
"I have been criticized, both as a parish pastor and as a bishop, for engaging in advocacy," Maas said in an email. "I speak as a leader within a church that holds these positions, and not as one who claims to speak for all of its members on these matters."
Jason Emerson, Episcopal rector of the Church of the Resurrection, Omaha, started an online petition for the repeal than drew support from nearly 27,000 people.
"I think the faith community has been very influential. All three Roman Catholic bishops supported repeal," Emerson told CT via email. "A host of Protestant traditions worked for abolition as well. I think when you see broad ecumenical agreement, people pay attention."
Nebraska's Catholic bishops have been the most vocal religious leaders in supporting the repeal. After Ricketts, a Catholic, vetoed the bill, the bishops issued a statement criticizing that decision.
"We remain convinced that the death penalty does not deter crime, nor does it make Nebraska safer or promote the common good in our state," they said.
Last October, Pope Francis declared his opposition to the death penalty and life imprisonment.
In March, a national network of Latino churches came out publicly against the death penalty. "The death penalty is plagued by racial and economic disparities and risks executing an innocent person. Human beings are fallible and there is no room for fallibility in matters of life and death," said Gabriel Salguero, president of National Latino Evangelical Coalition and lead pastor at Lamb's Church in New York.
Voter Referendum?
After the override vote, death penalty supporters, citing broad public support for it, vowed to put the measure to the voters by referendum.
"Once again, Nebraska's Legislature has gone against the wishes of an overwhelming number of Nebraskans who believe the death penalty should be in place for those who commit the most heinous crimes," said Sen. Beau McCoy of Omaha. He announced the formation of Nebraskans for Justice to explore a ballot initiative for reinstatement of Nebraska's death penalty.
Emerson believes that if Nebraskans have a chance to vote on the death penalty, they will endorse its repeal.
"Many will come to this decision from a conviction of faith, that Jesus is a Lord of mercy and redemption and that the death penalty prevents both redemption and mercy," he told CT. "At their core, Nebraskans are pragmatic people—regardless of their place on the political or religious spectrum, they can see the death penalty does nothing to improve public safety."
Increasingly, conservatives are questioning the death penalty and its spotty record. Recently, George Will, the conservative columnist for The Washington Post, laid out the conservative case against the death penalty.
First, the power to inflict death cloaks government with a majesty and pretense of infallibility discordant with conservatism. Second, when capital punishment is inflicted, it cannot later be corrected because of new evidence, so a capital punishment regime must be administered with extraordinary competence. It is, however, a government program. . . . Third, administration of death sentences is so sporadic and protracted that their power to deter is attenuated.
But at the grassroots, The New York Times found sentiment was running against the legislature's vote.
In downtown Ceresco, Neb., about 18 miles north of Lincoln, Wayne Ambrosias, owner of the Sweet Pea Market, said he did not want his tax dollars used to pay for murderers to stay in prison for their entire lives. And he echoed the governor's statement that the lawmakers who supported the death penalty repeal bill were out of touch with a widely conservative public.

"I don't think the politicians are in line with the everyday people," Mr. Ambrosias said on Wednesday, just before the vote. "I think it's more of a political move. I don't think the people are telling them that's what they want."
Six states have banned the death penalty since 2007. An October 2014 Gallup poll said 63 percent of Americans supported the death penalty, the lowest percentage in 40 years of polling data.