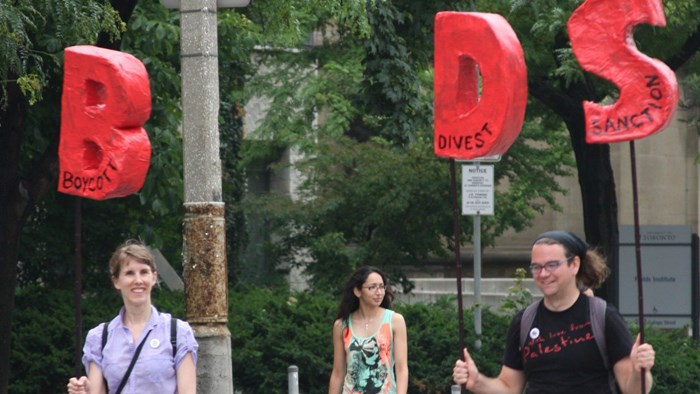 Image: Tim & Selena Middleton / Flickr
In June, the United Church of Christ voted to divest from companies that "that profit from the Israeli occupation of Palestinian territories and boycott of products produced in such territories by Israeli companies."
Two other denominations, however, decided not to follow in the UCC's footsteps, at least for now.
The Mennonite Church USA voted earlier this month to delay a decision on divesting from Israel until 2017. On the same day, the Episcopal Church rejected a proposal to divest from companies that operate in the West Bank and to boycott items made in Israeli-occupied settlements there. (The Episcopal Church did vote to divest from fossil fuels.)
Tom Harder, a member of the steering committee for the Mennonite Palestine Israel Network, told The New York Times that some Mennonites were wary of voting against Israel.
"I think there are folks in the denominations who continue to believe that we need to support Israel at all costs, and so a resolution that is advocating for the Palestinian people specifically and the injustices they are facing—that is a vote against Israel and against the Jewish people," Mr. Harder told the Times.
Last year, the 1.8 million–member Presbyterian Church (USA) voted to divest from three companies—Caterpillar, Hewlett-Packard, and Motorola Solutions—that sell equipment that Israel uses in the West Bank.
The Mennonite and Episcopal votes come less than a month after the unveiling of a new campus group aimed at fighting the Boycott, Divestment, and Sanctions (BDS) movement.
The Campus Maccabees will "reverse the rising tide of anti-Semitism on our campuses" and battle pro-BDS groups, announced philanthropist Sheldon Adelson, one of the founders.
Led by David Brog, executive director of Christians United for Israel, the group will start with about $20 million in funding, according to Forward.com, and a goal of raising $50 million. Campus Maccabees aims to unite about 50 already existing pro-Israel campus groups.
"You work together and we will raise you the money," several philanthropists told the group, according to Adam Milstein, one of the founders of the Israeli American Council and an organizer of the original Maccabee conference. "You no longer have to worry about financing and fundraising. You just need to be united. The reason we have not succeeded until now on campuses is we were not united."
Campus Maccabees is the second major pro-Israel project aimed at college students to launch in recent months. About 200 Christian college students will travel to Israel this year on "Covenant Journey" trips sponsored by the Philos Project, a conservative nonprofit, and the Green family, owners of Hobby Lobby. The trips will cost the students $500.
Almost a quarter (22%) of younger Americans—those 18 to 29—say they sympathize with the Palestinians more than with Israel (44%) according to a 2014 survey from Pew Research. Among Americans 50 and older, only one in 10 (9%) sided with Palestinians rather than Israel (60%).
Overall, about half (48%) of Americans say God has a special relationship with modern Israel, according to a report released Tuesday by Nashville-based LifeWay Research. (By contrast, an earlier LifeWay Research report found 53 percent believe God has a special relationship with the United States).
About 4 in 10 (39%) disagree that God has a special relationship with modern Israel, while 13 percent are not sure.