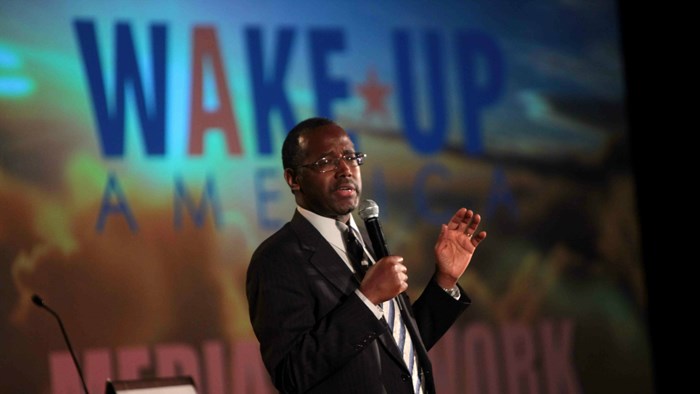 Image: Gage Skidmore / Flickr
Update (May 8):
It's not just young Baptist pastors who are worried about mixing religion and politics when it comes to Ben Carson's campaign for president.
Carson backed out of speaking at a gathering of Southern Baptist pastors recently, after some young pastors objected to his theology and to having a politician speak at their conference. [See previous story below.]
This week, the Seventh-day Adventist Church's North American Division asked its pastors to steer clear of making comments to the media about Carson, a long-time Adventist.
"As church leaders, you may be approached by your local or national media outlets to make comments on Dr. Carson's candidacy, in particular as it relates to his membership in the church," read a statement posted by the Adventist Review.
Instead, the statement, which has since been revised, suggested that pastors refer reporters to the North American Division's office.
Adventists have a long history of promoting religious freedom and advocating for the separation of church and state. Their pastors are all denominational employees, rather than being hired by local congregations, so any comments they make reflect on the entire denomination, said a Seventh-day Adventist spokesman.
The updated statement points out that the church values all its members including Carson, a famed neurosurgeon. Individual Adventists can support whatever candidates they like. But pastors and churches should steer clear of taking sides.
"The Adventist Church has a longstanding position of not supporting or opposing any candidate for elected office," the statement reads. "This position is based both on our historical position of separation of church and state and the applicable federal law relating to the church's tax-exempt status….Care should be taken that the pulpit and all church property remain a neutral space when it comes to elections."
Carson's Adventist faith would likely shape his priorities if elected. Among those beliefs: a strong emphasis on health and wellness, reports Kay Campbell, Huntsville-based religion writer for AL.com.
"Two factual beliefs of Adventists are their health message (thank you, Dr. Kellogg, for concocting dry breakfast cereal, and thank you, other Adventists, for grilling the first vege-burgers to help people become vegetarians) and their keeping the Sabbath on Saturday, sundown Friday to sundown Saturday," Campbell wrote in a recent story on Carson's beliefs. "They definitely do find support for both of those things in the Bible."
Carson, like former US Senator and vice-presidential candidate Joe Lieberman, would also likely take the Bible's teaching about a Sabbath day of rest seriously.
Other Adventist doctrines, such as a belief that the Catholic Church and the Pope are the Anti-Christ, may be more problematic for Carson, Campbell reports.
CT recently reported on the struggle of the Adventists to maintain their distinct beliefs at a time when the church is growing and some members want it to be more evangelical.
-----
[Updated May 4]
A Southern Baptist megachurch pastor blames "theological police" for pressuring presidential candidate Ben Carson to cancel his appearance at a major conference for pastors this summer.
Carson's Seventh-day Adventist beliefs and his politics led a group of young Baptists pastors to object. [See previous story below.]
Perry Noble, pastor of NewSpring Church in Anderson, South Carolina, said he was "shocked" that Carson dropped out.
"No one on the planet had better theology than Jesus, and yet we do not see Him drawing theological lines in the sand and excluding people who do not believe just like Him—in fact, we find Him often sitting with people who were nothing like Him at all—has the Pastor's conference moved beyond the model Jesus demonstrated?" wrote Noble on his blog.
NewSpring draws more than 30,000 worshipers on weekends, according to Outreach magazine, making it one of the largest Southern Baptist churches in the country.
Carson, who announced his run for president today, first gained national attention in the mid-1980s for his role in a successful operation that separated twins who were conjoined at the head. He credits faith with helping him rise from a poor neighborhood in Detroit to become director of pediatric neurosurgery at Johns Hopkins Hospital in Baltimore.
Though an Adventist, Carson has always felt at home among other churches.
"I spend just as much time in non-Seventh-day Adventist churches because I'm not convinced that the denomination is the most important thing," he told Religion News Service in 1999. "I think it's the relationship with God that's most important."
The twice-baptized Carson was deemed a potential president candidate after his 2013 speech at the National Prayer Breakfast, where he advocated for a flat tax and condemned political correctness and the national debt.
Carson is a hero to many of Baptists, Noble wrote, adding that Carson's appearance at the conference was a chance for Baptist pastors to learn about racial reconciliation.
His cancellation paints Baptists as intolerant of other Christians, Noble claimed, which undermines their efforts at evangelism.
"The Southern Baptist Convention claims they want to lead the charge for prayer in Baptist churches in hopes it will lead to a spiritual awakening for our nation," he wrote. "However, I am afraid that prayer isn't what is needed for a spiritual awakening for our nation … but rather repentance of religious people who love theology more than Jesus ... which has caused them to not be able to see people as Jesus saw them."
Leaders of Baptist21, a group of young pastors who objected to Carson's appearance at the conference, also cited worries about evangelism.
"We are concerned because in our evangelical climate it is often easy to confuse what it means to be a follower of Christ with what it means to be a patriotic American," they wrote.
Trevin Wax, a blogger for Religion News Service, said that the controversy over Carson is part of a generation shift among Southern Baptists. Older pastors see American as a nation founded on biblical values, and want to uphold those values by political means. But younger pastors worry about focusing too much on politics and not enough on evangelism. They see themselves as missionaries, rather than cultural warriors.
"Far from being a 'moral majority,'" he wrote, "younger pastors are more likely to see their role as a missionary minority: speaking truth to power, witnessing to the good news of Jesus in a world that is increasingly hostile to a Christian worldview."
In the past, politicians like Carson have been welcome at the Southern Baptist Convention's meetings. Carson signed books at last year's meeting, while Mike Huckabee and former presidents George W. Bush and George H. W. Bush have addressed the convention's meetings. (George W. Bush appeared by satellite in 2002.)
Younger pastors, like those of Baptist21, have asked the convention to ban all future appearances by politicians.
The controversy over Carson is part of a bigger question of Baptist identity in America, according to Thomas Kidd, professor of history at Baylor University and co-author of Baptists in America: A History.
In the country's early years, Baptists were outsiders. Their preachers were sometime jailed for refusing to pay state church taxes or to be licensed by the government.
As Southern Baptists became the nation's largest Protestant group, they became tied to conservative politics. But many are still uneasy with their place in American culture, Kidd wrote in the Washington Post.
"In areas of the South, they still function like a kind of de facto established church. But are they still outsiders, even if they dominate the American religious landscape?"
-----
[First posted April 24]
Ben Carson, a retired neurosurgeon turned pundit, has backed out of plans to speak at a major gathering of evangelical pastors this summer.
Carson, who will likely run for president, had been scheduled to appear in June at the annual Southern Baptist Pastors Conference in Columbus, Ohio.
But a group of young ministers, known as Baptist21, raised concerns this week about his appearance.
The mostly Calvinist preachers objected to the beliefs of Carson's booming Seventh-day Adventist Church—including the claim that worshiping on Sunday is sin and the idea that sinners who are barred from heaven will be annihilated rather than sent to hell.
They also objected to a statement made on Easter by Carson that Jews, Christians, and Muslims are all God's children.
"Certainly, we do not all worship the same God—we worship the Trinity whom Muslims and Jews would deny," leaders of Baptist21 wrote on their blog. "And, the idea that we are all God's children is at best the type of liberalism the Conservative Resurgence sought to address, and at worst, it is universalism."
Politics also played a role in Carson's withdrawal.
Jonathan Akin, a leader of Baptist21 and pastor of Fairview Church near Nashville, said he was concerned about Southern Baptists being too closely tied to the Republican Party.
"I'd suggest that we not invite any politicians to speak in the future," he said in a phone interview.
That concerned was echoed on the Baptist21 blog.
"We are concerned because in our evangelical climate it is often easy to confuse what it means to be a follower of Christ with what it means to be a patriotic American," the blog read.
Several Southern Baptist professor weighed in as well on Twitter.
"Stop inviting politicians and wanna-bees!" tweeted Kevin Smith, a professor at Southern Baptist Theological Seminary (SBTS) in Louisville. Denny Burk, a blogger and professor at Boyce College, the undergraduate arm of SBTS, also tweeted his support.
Willy Rice, pastor of Calvary Baptist Church in Clearwater and president of the pastor's conference, said Carson's appearance had become problematic. The decision to withdraw was mutual.
"It had become a distraction," Rice said in a phone interview. "He didn't need that and we didn't need that."
Rice posted a blog on Friday, explain his rationale for inviting Carson.
"He has spoken at the National Prayer Breakfast twice (the only other person to do so was Billy Graham); he was a frequent guest of James Dobson; he has spoken at several Southern Baptist churches for major events," he wrote. "He loves Southern Baptists and considers them friends. I believe most Southern Baptists equally respect and appreciate him."
Rice said that Carson was not a candidate for president when he was first invited to the conference and that he still is not a candidate.
"It now appears likely that he will announce his candidacy and, though he has never held political office nor to my knowledge engaged in a political campaign, many have voiced their objections at having a declared candidate speak at our conference," he said.
Politicians have spoken at the Southern Baptist pastors conference and the Southern Baptist Convention's annual meeting in the past.
Mike Huckabee, a former governor of Arkansas and former Southern Baptist pastor, spoke at the conference in 2009 and in 2013.
CT recently explored how Adventists, growing at a rate of 1 million members each year, have been wrestling with their identity, trying to keep their distinctive beliefs while also moving closer to other evangelicals.
A Seventh-day Adventist church in Alabama recently even started a Sunday service as an outreach event.
"There has been a continuing tension about whether [Adventists] see themselves as distinct, or as one among many evangelical denominations with a few special emphases," said David Neff, former CT editor and a former Adventist minister, told CT. "There's a dynamic that moves back and forth between those poles."