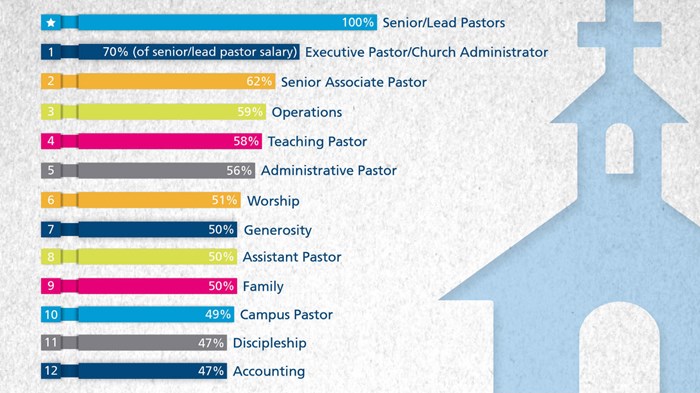 Image: Courtesy of Leadership Network
Two organizations that know megachurches well have released a new study they describe as "by far the biggest-scale, cross-denominational response anyone has ever collected about church finances."
Leadership Network and Vanderbloemen Search Group surveyed 727 of America's largest churches regarding their finances earlier this year. Though the researchers acknowledge their examination of church financial trends is not "randomly based nor is it statistically accurate for all larger churches," they explain the findings "do indicate many general trends, and is likely the most comprehensive financial perspective available on large churches."
Of the 56 million Protestants who worship weekly in the United States, 13 million attend a church of 1,000 or more participants. In North America, 1,650 churches have 2,000 or more participants.
According to the 2014 edition of the Large Church Salary Report, the typical large American church (1,000 to 7,000 members) was founded in 1977, seats 800 worshipers, and offers five weekly services at two campuses. The church's 52-year-old senior pastor was hired in 2005, it employs 25 staff members, and attendance has been recently growing 7 percent per year.
Nearly 50 percent of large churches spend between 39 percent and 52 percent of their annual budget on staffing costs, translating to 1 full-time paid staff for every 51 to 90 attendees. The salary of the senior pastor comprises, on average, 3.4 percent of a church's budget and at least 30 percent higher than the next highest-paid employee.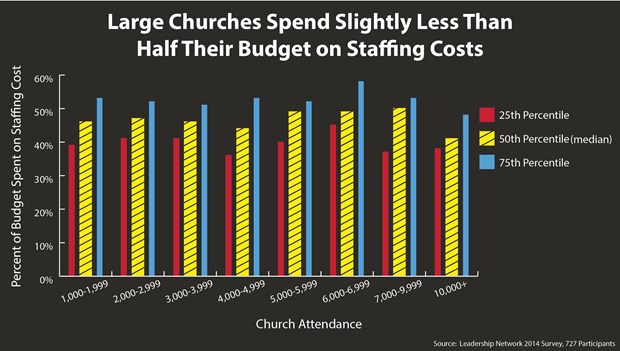 Pastor salaries are influenced mostly by church size (70 percent), with region the only other influential variable (20 percent). Race, age of the pastor, age of the church, and theology do not impact salaries. Southern pastors are among the highest paid, followed by the Northeast and then West and Midwest. Canadian pastors make less than all their American counterparts.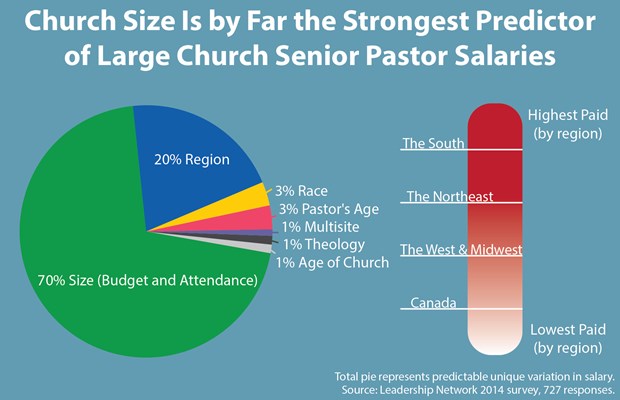 The top three metrics measured by the majority of large churches were total attendance and giving compared to budget. Less than half track adult baptisms/conversions, adults in small groups, or new members.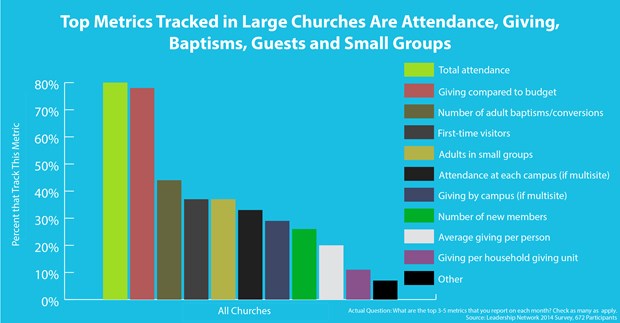 For the largest churches, those boasting attendance of 10,000 or more, nearly 50 percent report "not passing the plate." In contrast, only 20 percent of other large churches indicate that they do not directly solicit tithes during services. Eighty-one percent of churches report offering the opportunity to donate online, which the study concluded led to higher giving rates than churches relying only on traditional means. [Infographic below]
The study also revealed that one-third of churches with 1,000 to 2,000 attendees have adopted the multisite model, as have half of churches with 2,000 to 3,000 attendees.
The full report, which studies a number of other financial categories, is offered as a free download here.
In research director Warren Bird's Q&A with William Vanderbloemen at the conclusion of the study, the hiring expert suggests that churches should consider children's ministry as a key strategy for growing their congregation. Vanderbloemen said:
The most strategic churches we work with are realizing that a premier children's pastor/leader can become one of, if not the largest growth engines for the church. And such churches are paying accordingly. We are seeing an increasing trend of churches who pay the top person over children's ministry more and more. In some cases, the children's pastor is one of the top paid people on staff, higher than the student pastor, worship pastor or small groups pastor.
Of the top 12 highest-paid roles revealed in the study, children's ministry is not listed. [Infographic below]
CT has previously reported on the financial health of megachurches, their pervasiveness throughout America, and how mystery shoppers perceive them.
Ed Stetzer has also analyzed megachurches' finances, the size of their buildings, and common misconceptions they face.