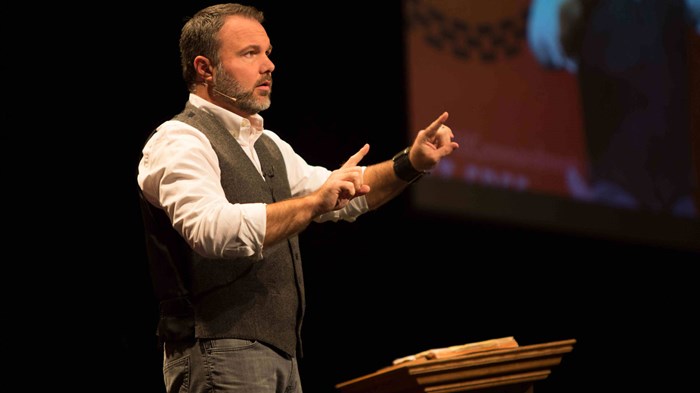 Image: Mars Hill Church
In response to recent controversies, Seattle pastor Mark Driscoll has written a candid letter to his congregation that attempts to clarify the significant staff turnover at Mars Hill Church and the controversial marketing campaign that gave Real Marriage bestseller status.
In short:
Driscoll is voluntarily retracting his claims to "No. 1 New York Times bestseller" status, because he now sees the marketing campaign used for Real Marriage as "manipulating a book sales reporting system, which is wrong."
Driscoll regrets how the recent "significant turnover of key staff members" was handled. "I am deeply grieved and even depressed by the pain we have caused," he writes, and expresses hope for reconciliation with former staff who have recently "chosen to air their concerns online."
Driscoll says his "angry-young-prophet days are over." He plans to "reset my life," starting with quitting social media for the rest of 2014 (and maybe longer). "The distractions it can cause for my family and our church family are not fruitful or helpful at this time," he writes.
Driscoll will likewise do "much less" less traveling, speaking, and writing in order to focus on being a local pastor. "I don't see how I can be both a celebrity and a pastor," he writes, "and so I am happy to give up the former so that I can focus on the latter."
In the lengthy letter via Mars Hill's online network, The City, Driscoll reflects on what he has gotten right and wrong over the past 17 years, which have seen the church he founded grow beyond his expectations to an estimated 13,000 people worshiping weekly in 15 locations in five states. Many praised the statement on Twitter for its humility, while many others said it still left their concerns unresolved.
[UPDATE: The City posting was viewed and republished on Friday [March 14] by Warren Throckmorton, a regular Driscoll critic who often posts original documents. It was also posted to Reddit on Saturday [March 15], and is circulating widely today [March 17].
Mars Hill confirmed to CT that Driscoll did post a letter to The City "as a private family communication," but spokesperson Justin Dean said he could not confirm "whether each instance of the private letter posted online is accurate or not." Dean said Mars Hill has chosen not to publicly release the letter.]
Attempting to "do my best to clarify a few things without, I hope, being angry or defensive," Driscoll explains how he has changed his mind on the Real Marriage marketing campaign. He writes:
My understanding of the ResultSource marketing strategy was to maximize book sales, so that we could reach more people with the message and help grow our church. In retrospect, I no longer see it that way. Instead, I now see it as manipulating a book sales reporting system, which is wrong. I am sorry that I used this strategy, and will never use it again. I have also asked my publisher to not use the "#1 New York Times bestseller" status in future publications, and am working to remove this from past publications as well.
Driscoll has indeed changed his official bio (media bio as well), removing its previous claim to bestseller status. Now it simply reads:
Pastor Mark is the author of over 15 books, and has also written for CNN and The Washington Post, and been featured as a columnist for The Seattle Times.
Driscoll also explains his new view of his ministry calling:
In the last year or two, I have been deeply convicted by God that my angry-young-prophet days are over, to be replaced by a helpful, Bible-teaching spiritual father. Those closest to me have said they recognize a deep change, which has been encouraging because I hope to continually be sanctified by God's grace.
Then, acknowledging former staff whose criticisms recently started circulating online, Driscoll notes how he has been reconciling with many, but the process is not yet complete. He writes:
I understand that people who saw or experienced my sin during this season are hurt and in some cases have not yet come to a place of peace or resolution. I have been burdened by this for the past year and have had private meetings one at a time to learn from, apologize to, and reconcile with people. Many of those meetings were among the most encouraging moments in my time at our church. Sadly, not all of those relationships are yet mended, but I am praying that God is gracious to get us to that place of grace. Now that others have come forward, my desire is to have similar meetings with those who are willing.
Driscoll also states that Mars Hill has recently made "significant improvements to how we are governed and organized as a church." The church's Board of Advisors and Accountability briefly described those changes in a March 7 announcement, noting how Mars Hill joined ECFA in September 2012 and meets ECFA's standards for best practices for governance.
ECFA criticized the marketing techniques used in the Real Marriage campaign as "unethical and deceptive" in comments given to Throckmorton. President Dan Busby cited ECFA's guidelines on "Product Procurement," which conclude:
Where an organization attempts to mask the method of procurement from organizations that determine product ratings, ECFA believes such practices are not in accord with biblical truths and practices.
For his part, Driscoll now plans to "reset my life" and focus on only four things: Loving his wife and family, preaching the Bible, training male leaders, and planting churches. He writes:
Personally, I find this all relieving. The pressure and pace has increased every year since I started in 1996. I don't want to be burned out or angry, and I want to become more like Jesus every year. I want to teach the Bible, love well, and run at a pace to finish my race many decades from now.
The full letter can be read on Reddit, posted despite a strict warning (at bottom) against distributing its "proprietary, confidential or privileged information" beyond the Mars Hill online community.