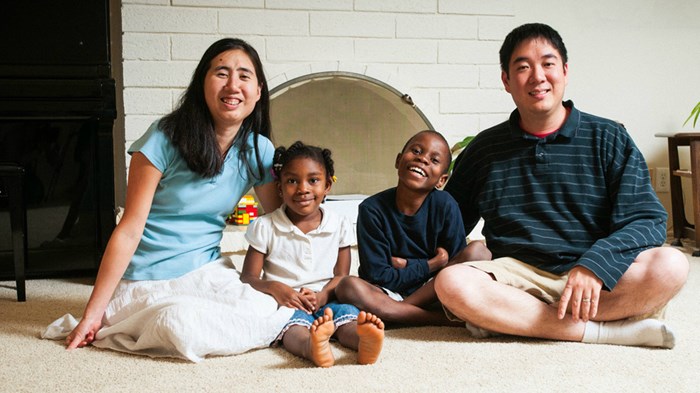 Image: Courtesy of Free Matt and Grace
An American couple living in Qatar has been convicted of the death of their adopted daughter and sentenced to three years in prison.
CT previously reported how Qatari officials accused Matthew and Grace Huang of starving Gloria, who died suddenly last January, in order to harvest her organs. Police were skeptical that American Christians would adopt children who are not "good-looking" or lack the same "hereditary traits."
The couple's defense: Gloria's history of malnutrition from her home country of Ghana had given her an eating disorder.
"We have just been wrongfully convicted and we feel as if we are being kidnapped by the Qatar judicial system," said Matthew Huang in a statement after the trial. "This verdict is wrong and appears to be nothing more than an effort to save face."
The Huangs have endured a grueling series of events since Gloria's death, including an 11-month detention before being released in November, reports The New York Times (NYT) in the Huangs's first public interview. The couple's two other adopted children have been living with their grandmother in Washington State since October. The children use Skype to connect with their parents, who home school them five hours a day. The couple has also lost their California home, selling it to offset legal costs and other expenses.
Observers say the trial has revealed cultural prejudices in Qatar—an important U.S. ally—toward families who adopt children of different races.
"We have been concerned by indications that not all of the evidence was being weighed by the court and that cultural misunderstandings may have been leading to an unfair trial," U.S. State Department spokesperson Marie Harf told Al Jezeera.
The NYT reported that one investigator told the court "the adoption process consists of searching for children who are good-looking and well-behaved, and who have hereditary features that are similar to those of the parents. But the children connected to this incident are all from Africa, and most of the families there are indigent."
The Huangs' lawyer, Sami Abu Shaikha, said the verdict—which could have carried the death penalty—was satisfactory for now.
"What it really means is that we have managed to convince the court (the presiding judge) that the death of Gloria was not an intentional, premeditated murder, which is the narrative presented by the prosecutor," he told Doha News.
The Huangs will appeal the ruling. If it is upheld, the couple will serve 16 months in prison—the remainder of the sentence after their previous stay—followed by deportation.
In addition to reporting on the Huangs, CT regularly reports on Qatar and adoption among Christian families, including how author Kathryn Joyce accuses Christian adoptive parents of creating "horror stories." Qatar ranked No. 19 on the 2014 World Watch List for countries where religious persecution is most severe.
[Photo courtesy of Free Matt and Grace]