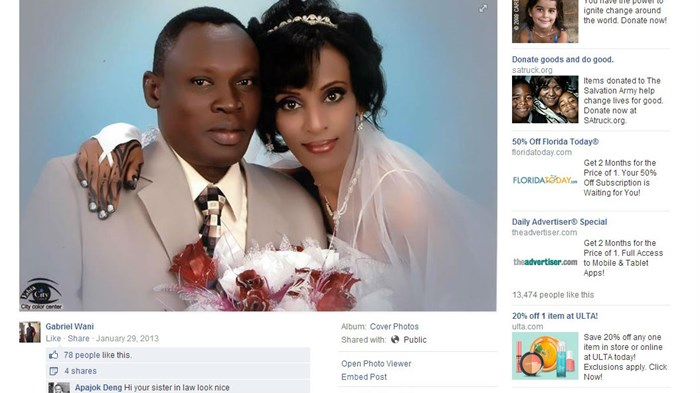 Image: FACEBOOK SCREENSHOT - GABRIEL WANI
Update (July 22): Ibrahim's family has filed another lawsuit against her, this time attempting to annul her marriage. Reuters reports the lawsuit is yet another attempt to keep Ibrahim from leaving Sudan.
If the lawsuit is successful, Wani would no longer be considered the father of his two children, according to World Watch Monitor.
Sudanese officials have assured the U.S. State Department that Ibrahim and her family are safe, and World Watch Monitor reports that she and her children are approved to enter the U.S. when they leave Sudan.
-----
Update (July 17): Meriam Ibrahim could now be free to leave Sudan after her family dropped the lawsuit they filed against her to prove she was the daughter of a Muslim, reports Reuters. Abdel Rahman Malek, the family's lawyer, did not give a reason for dropping the case a day before its first scheduled court hearing.
Ibrahim has been staying at the U.S. Embassy, along with her family.
-----
Update (July 10): Following a grueling week of release and rearrest, Meriam Ibrahim is safe at the U.S. Embassy in Khartoum but is still stuck in Sudan. Ibrahim may face new charges to prove she's part of a Muslim family, according to Reuters and Businessweek.
Meanwhile, CNN reports that a community with ties to South Sudan waits to welcome Ibrahim and her family to Manchester, New Hampshire, her husband's U.S. home, when she reaches the country.
-----
Update (June 26): Meriam Ibrahim has been released on bail and has been transported to a safe location in Sudan, along with her family, according to a United States Department of State press release. The Associated Press, CNN, and Al Jazeera report more details.
-----
Update (June 25): Meriam Ibrahim is still in Sudanese custody, along with her family, according to reports. Ibrahim was trying to leave Sudan using South Sudanese emergency papers, as well as a U.S. visa, which Sudan's National Intelligence and Security Services considered a "criminal violation."
Religion News Service, CNN, and Reuters report more details.
-----
Update (June 24, 5:18 p.m. CDT): Meriam Ibrahim and her family have reportedly been released after being temporarily detained on their way out of Sudan, reports BBC.
-----
Update (June 24, 9:45 a.m. CDT): Sudanese authorities have rearrested Meriam Ibrahim along with her husband, Daniel Wani, as they tried to leave Sudan from a Khartoum airport. About 40 security officers detained the family of four and took them to the headquarters of a Sudanese security agency as they were trying to leave for the United States, according to the BBC. They were not told why they were being arrested, according to the Telegraph.
-----
A court in Sudan has ordered the release of Meriam Ibrahim, the 27-year-old Sudanese woman who was sentenced to 100 lashes and death by hanging for alleged adultery and apostasy.
Sudan's high court in Khartoum canceled the case, the Associated Press reports.
Ibrahim's lawyer, Elshareef Mohammed, said she had been sent "to an unknown house to stay at for her protection and security," the Daily Mail reports. "Her family had been threatened before and we are worried that someone might try to harm her," he said.
Officials promised that she would be released "in a few days" in late May, more than three weeks ago, according to the BBC.
Ibrahim's case incited international outrage over Sudan's treatment of Ibrahim, a wife and mother of two children. After giving birth to her second child in a Sudanese prison in May, Ibrahim was given two years before the courts would enact the death sentence. But the international pressure to free Ibrahim has paid off, a human rights activist told the Daily Mail.
"The Sudanese government was embarrassed by all the attention so they freed her," said Safwan Abobaker of Hardwired, a religious campaign group. "The Sudanese government needs to grant Meriam asylum or find a way to let her come to America right away."
Laws against apostasy — the act of abandoning one's faith — are on the books in 21 countries, and punishments range from fines to death, according to the Pew Research Center. They are most common in the Middle East and North Africa, where more than half of the countries have them, and there are five on the books in the Asia-Pacific region and four in sub-Saharan Africa. Sudan's legal code dictates that a pregnant woman not be executed until she has had two years to raise her child, according to Human Rights Watch.
Blasphemy laws are increasingly important tools for authoritarian governments and extremists in the Muslim world to gain and maintain power, according to Paul Marshall, senior fellow at the Hudson Institute's Center for Religious Freedom. And apostates pardoned from government sanction are often not safe from the court of public opinion, he notes:
While there has been no systematic study of the matter, and many punishments are not publicized, it appears that actual state-ordered executions are rarer than killings by vigilantes, mobs, and family members, sometimes with state acquiescence. In the last two years in Afghanistan, Islamist militants have murdered at least five Christians who had converted from Islam.
Vigilantes have killed, beaten, and threatened converts in Pakistan, the Palestinian areas, Turkey, Nigeria, Indonesia, Somalia, and Kenya. In November, Iranian convert Ghorban Dordi Tourani was stabbed to death by a group of fanatical Muslims. In December, Nigerian pastor Zacheous Habu Bu Ngwenche was attacked for allegedly hiding a convert. In January, in Turkey, Kamil Kiroglu was beaten unconscious and threatened with death if he refused to deny his Christian faith and return to Islam.
U.S. politicians and residents called for Ibrahim's release with official statements and a petition garnering 53,000 signatures. Secretary of State John Kerry criticized the Sudanese apostasy law:
I urge the Sudanese judiciary and government to respect Ms. Ishag's fundamental right to freedom of religion. I also urge Sudan to repeal its laws that are inconsistent with its 2005 Interim Constitution, the Universal Declaration of Human Rights, and the International Covenant on Civil and Political Rights.
CT has chronicled Ibrahim's case, including her initial death sentence as well as the birth of her daughter, Maya, in prison in May, also noting the false reports of Ibrahim's release. CT reported the crackdown of Christians in Sudan following the country's move to become 100 percent Muslim and has also reported on violence against Christians.