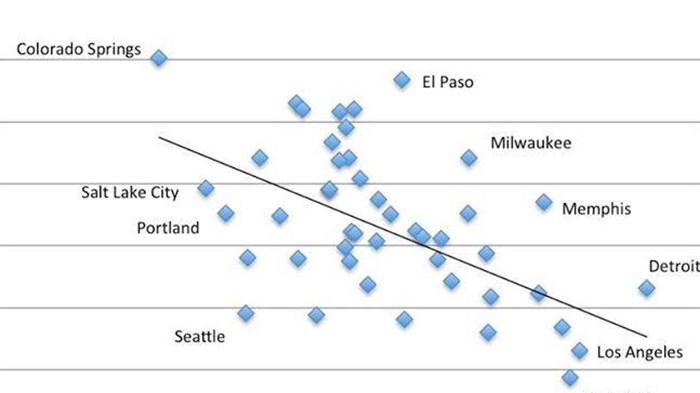 Image: Courtesy of Facebook
Which U.S. city offers singles the best chance at forming a relationship? According to Facebook: Colorado Springs.
While the social network's latest research may not prove useful until next Valentines Day, this week Facebook examined what its vast pool of user data reveals about dating and love among members.
Here are Facebook's top five cities with the "largest probability of relationship formation":
1. Colorado Springs, CO
2. El Paso, TX
3. Louisville, KY
4. Fort Worth, TX
5. San Antonio, TX
Facebook attributes this to the low percentage of singles in Colorado Springs, known as an evangelical stronghold. "In a city where everyone is paired up, the incentive to pair up is even stronger," notes its data science team.
By comparison, the top five cities with the highest percentage of single people:
1. Detroit, MI
2. Los Angeles, CA
3. New York, NY
4. Miami, FL
5. Memphis, TN
A previous Facebook study found that 11 Christian colleges offer the best "chance of finding a spouse".
Facebook also examined the prevalence of interfaith relationships around the world. Its main finding: All countries have low rates of such relationships.
Spain has the highest rate of relationships between people of two different religions, yet only 28 percent of all relationships in Spain are interfaith. And in the United Kingdom, where Facebook expected to find the highest rate of interfaith relationships, a full 73 percent of relationships still exist between people of the same faith.
[Worth noting: Facebook counts Protestants, Catholics, and Orthodox as being from separate religions.]
In the United States, Facebook found that overall, 86 percent of relationships are likely to be between people with similar belief systems. However, the study also found that "people are generally more willing to date people of a different religion than they are to marry them, especially in their twenties."
At age 25, 85 percent of marriages are between two people of the same religion, while only 72 percent of unmarried relationships are likewise.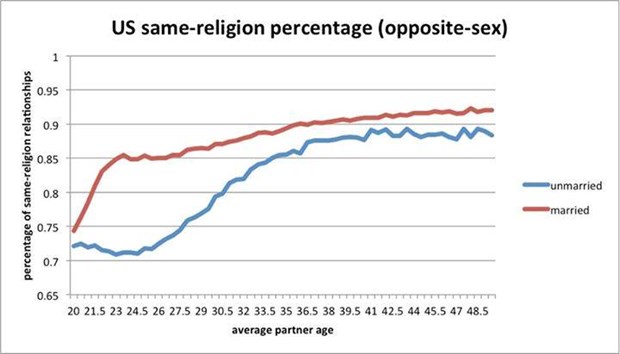 Image: Courtesy of Facebook
Today, Pew Research also offers facts about love and marriage.
CT regularly reports on Colorado Springs, and has explored whether interfaith marriage is always wrong and whether the issue issue deserves greater attention.
CT also noted Facebook's previous study on how Christian colleges were good for marriages