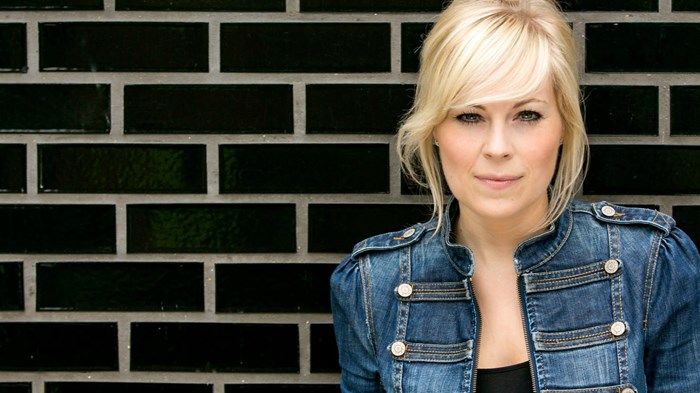 Image: Nicholas Dawkes / VickyBeeching.com
A popular writer and singer of CCM worship songs, Vicky Beeching, came out as gay Wednesday in an interview with the U.K. newspaper The Independent.
"What Jesus taught was a radical message of welcome and inclusion and love," said the 35-year-old Anglican, who recently left the Contemporary Christian Music (CCM) world to become a TV news commentator, but still makes a living from royalties when American churches sing her worship songs. "I feel certain God loves me just the way I am, and I have a huge sense of calling to communicate that to young people."
Beeching is one of the most prominent CCM singers to come out since Jennifer Knapp's much-discussed revelation in 2010.
Beeching, who sings the popular worship song "Glory to God Forever," described experiencing same-sex attraction starting at age 13 and going on to feel conflicted in evangelical settings, where church leaders would pray against the "demon of homosexuality" they believed to be within her.
She studied theology at Oxford and went on to spend much of her 20s in the Christian music scene in the United States, living in Nashville and San Diego. Over the past decade, Beeching has recorded three albums, performed with America's best-known Christian artists, and had her songs appear on popular compilations such as WOW Worship and Here I Am to Worship.
Her official bio notes that "the genre she wrote and played is known as Contemporary Christian Music" and explains:
[Beeching] was offered a recording contract with (what was then) the biggest Christian record label in the world – EMI's Sparrow Records. Accepting their offer, Vicky relocated to the States for almost a decade, living in the 'Bible Belt' of Nashville Tennessee and becoming a familiar face and voice in American Christian media.

Writing songs that appeared on gold albums, Vicky's compositions feature in the 'top 25 most sung' in North American churches. Her lyrics have been translated into a multiplicity of languages and hundreds of thousands of people sing her songs in churches across the globe every month. Her music has been part of the soundtrack to a generation of Christian teenagers' lives.
Today's Christian Music, praising her Eternity Invades album in 2010, described her as "being touted as Christian music's 'next big thing,'" and "having mentored with the likes of Matt Redman and Tim Hughes, Beeching's place in the modern worship scene seemed like a no-brainer."
"Glory to God Forever," which she performs with Steve Fee, is currently one of the 100 most popular songs sung in churches, as measured by Christian Copyright Licensing International (CCLI).
Beeching "still considers herself an evangelical," writes veteran British religion reporter Ruth Gledhill after interviewing the singer, "although she no longer attends charismatic evangelical services and now prefers the more traditional services of London's main cathedrals."
"I am not angry with the Church, even though it has been very difficult," she told Gledhill. "The Church is still my family. Family do not always agree or see eye to eye. But family stick together, and I am committed to being part of the Church, working for change."
Beeching now lives in London, where she discusses church news on the BBC and other news outlets. She came out to her parents earlier this year, and to Justin Welby, the Archbishop of Canterbury, and his daughter, Katharine Welby Roberts. Though the Church of England does not recognize same-sex unions, Beeching has previously vocalized her support for equal marriage and LGBT rights.
"The Church's teaching was the reason that I lived in so much shame and isolation and pain for all those years. But rather than abandon it and say it's broken, I want to be part of the change," she told The Independent.
Beeching still relies on royalties from her worship music to make a living, and she wrote in April that speaking out about LGBT rights is costing her. "As a result of raising my voice to support equal marriage, I've received lots of messages from conservative American churches saying they will 'boycott my songs.' If they don't get sung in the mega-churches of North America, my royalties basically stop."
In recent years, a handful of Christian artists have come out as gay, including Ray Boltz, gospel singer Tonéx, and most famously, Jennifer Knapp, who described her hiatus from Christian music and her decision to come out in an interview with CT. CT covered the resulting debate as well as how Christian retail and radio responded. Knapp is releasing a book about her story, focusing on her faith and sexuality, in the fall.