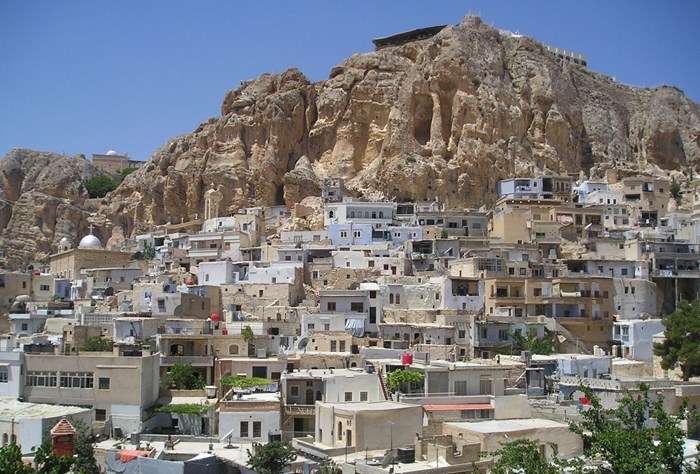 Image: Courtesy of Heretiq/Wikimedia
Update (Sept. 20): Maaloula remains "the first such attack on a notable Christian community since the start of the uprising," but local Christians are "casting doubt on the jihadist threat," reports the BBC.
-----
Update (Sept. 10): The New York Timesassesses the "public relations problem" that Maaloula presents Syrian rebels:
Their incursion into the town, led by extremist Islamists, reinforces the worst fears of Syrian Christians and could bolster President Bashar al-Assad's claims that he is the Christians' protector. It may also complicate President Obama's task as he struggles to convince Americans that a military strike against Mr. Assad will not strengthen Islamic extremists.
Meanwhile, The Economistnotes "why the ravaging of an Aramaic-speaking village is a cultural tragedy as well as a human one."
-----
One of the few places in the world where the language of Jesus is still spoken has become the latest focal point of Syria's ongoing civil war.
The historic pilgrimage destination of Maaloula, a Christian mountain village and UNESCO site located about 40 miles north of Damascus, has exchanged hands three times in six days as Syrian forces and rebels battle to control a key road leading to Homs.
Despite assurances that Christian targets would be spared damage, rebels destroyed crosses on one of Maaloula's famous monasteries, causing a local priest to label the attack as a "declaration of war against the Christian community." Some residents claim rebels have threatened Christians with death if they do not convert to Islam, reports the Associated Press.
Maaloula gained attention in 2008 as one of the world's few cities where Aramaic is still the primary language. Even many Muslims living in Maaloula speak it. A government-supported program to revive and preserve Aramaic began in 2007 so that elders of Maaloula could continue to teach the language to their children.
Once a pilgrimage site for both Christians and Muslims, the town of about 3,000 is now largely deserted as many locals have fled the fighting to find refuge in Damascus.
Other efforts to revive the ancient Semitic language spoken by Jesus include research by linguists to document and preserve Aramaic, as well as Christians in Israel campaigning for its revival.
CT has previously reported on Christians fleeing Syria and taking refuge in Turkey. CT has also reported on Aramaic, including its use in Mel Gibson's The Passion and an Aramaic professor's interactions with Hollywood.