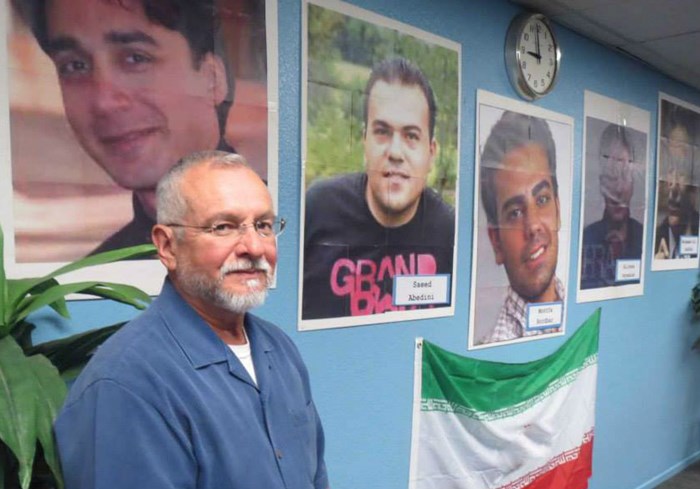 Image: Courtesy of exodus8one
A "gadfly" California pastor tried a novel way to free an Idaho pastor imprisoned in Iran this week.
Eddie Romero sneaked away from his Tehran tour group to later stand outside Evin Prison, repeatedly demanding "Let my people go!" a la Moses while broadcasting the protest live from his iPhone.
Romero, who was arrested and deported back to the United States, also recited the names of four Evin prisoners of faith, including Iranian-American Saeed Abedini, as well as the human rights lawyer who freed Youcef Nadarkhani. He posted 5 minutes of video and 30 minutes of audio live from his phone, demanding the prisoners' release.
"There are five men in there that are undeserving to be behind those walls," said Romero in a video posted on his website. "It's an honor to be arrested today."
Romero spent the night in custody and even spoke to a mullah. He told Agence France-Presse:
"He was a big stern man ... and he just started laughing, and he laughed because he couldn't believe I actually did that."
Romero is the founder of Exodus8one, an organization that seeks to "engage belligerent governments/societies (with respect to faith) directly in order to address the injustice towards Christians and other religious minorities."
"I know that many would ask: 'What's a Chicano pastor from La Puente Ca doing on the other side of the world doing a protest all by himself in such a place?'" said Romero's daughter in a press release. "He simply could not go into retirement and sit idly by while his [Christian] brothers and his sisters waste away in prisons, missing their children's birthdays, and enduring unspeakable abuse. He's there to literally bother the Iranian government, like a gadfly bothering a horse."
This is not the first time Romero has been arrested for protesting for the release of prisoners. In 2008, he led Chinese authorities on a 21-day chase after he painted the walls of a hotel room and demanded the release of five Chinese activists. He finally surrendered in Tiananmen Square and was sent back to America shortly after.
China Aid reported on Romero's 2012 Los Angeles arrest when the pastor called for the release of six Chinese prisoners when China's vice president was visiting.
CT has previously reported on Robert Park, who traveled to North Korea for a similar public protest, prompting concern over whether just methods do more harm than good.
Romero's stunt joins a series of advocacy efforts on Abedini's behalf.
The American Center for Law and Justice has organized more than 175,000 people to send letters on Abedini's behalf—including directly to Evin Prison. President Obama made a historic phone call to Iran's new president, Hassan Rouhani. Billy Graham wrote an open letter in The New York Times. The U.S. House approved a religious envoy. The European Parliament passed a resolution. A Christian rock band even released a music video telling Abedini's story.
Abedini's wife, Naghmeh, has been busy advocating on his behalf from Liberty University to the United Nations in Geneva. Baptist Press notes her opportunities to "share the gospel to representatives of more than 100 countries" at a UN meeting in Geneva, as well as "speak about Jesus to 50 million Muslims" during a "live on the air" interview in Iran. "Saeed also reported that more than 30 people have come to Christ in prison," she said, "so God is using this for the Kingdom and it is not in vain."
Abedini has now been imprisoned for more than one year.
The United Nations's Human Rights Council recently heard how Iran has arrested at least 300 Christians—mainly house church converts—in recent years, jailing at least 42 with another 45 awaiting trial, reports World Watch Monitor. A court in Rasht recently sentenced four Christians to 80 lashes each for drinking wine during a communion service.