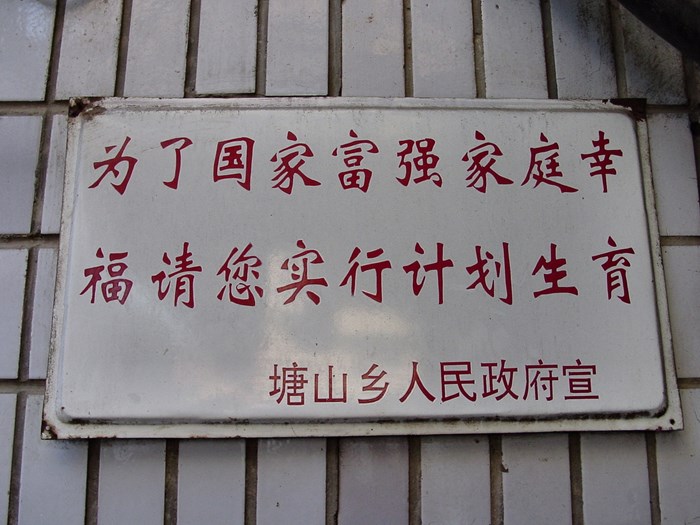 Image: Wikimedia, Creative Commons.
China will relax its longstanding one-child policy, allowing two children in a family in which one parent is an only child, according to Xinhua, the official state news agency.
Human rights groups have recently been pouring cold water on speculation that China would loosen population controls which have "created public anger and international criticism over forced abortions," reportsThe New York Times. Fines for violating the law raised almost $3 billion for local governments last year, according to research by a Chinese Christian lawyer.
But today, Xinhua reported:
China will implement this new policy while adhering to the basic state policy of family planning, according to the decision on major issues concerning comprehensively deepening reforms, which was approved at the Third Plenary Session of the 18th CPC Central Committee held from Nov. 9 to 12 in Beijing. The birth policy will be adjusted and improved step by step to promote "long-term balanced development of the population in China," it said.

...

Wu Cangping, an adviser with the China Population Association, believed the change in China's family planning policy will unlikely lead to a baby boom because of Chinese parents' traditional preference for more children has changed due to rapid social progress in the country.
Among the wave of media coverage, Reuters rounds up reactions from Chinese experts. CT has previously reported the growing calls within China for the policy to be ended, as well as disagreement between advocacy organizations over whether recent changes are actually good news.
All Girls Allowed (AGA), a leading faith-based organization pushing for an end to the one-child policy, previously stated on Nov. 5 that "all previous speculations about a possible relaxation of China's One-Child Policy have now been put to an end, as the Ministry of Health and Family Planning announced on October 29th that the policy will remain unchanged."
Today, AGA released a new statement:
All Girls Allowed welcomes the news of the policy's relaxation, but expresses disappointment that the Chinese government has not gone the logical and compassionate route—abolishing the policy altogether. ... [T]he greatest indictment against the One-Child Policy is the use of coercion in its enforcement. Untold numbers of forced abortions and sterilizations continue to take place to this day, making it the greatest violence against women and children in the world today.
According to the Associated Press:
Last year, a government think tank urged China's leaders to start phasing out the policy and allow two children for every family by 2015, saying the country had paid a "huge political and social cost." The China Development Research Foundation said the policy had resulted in social conflict, high administrative costs and led indirectly to a long-term gender imbalance because of illegal abortions of female fetuses and the infanticide of baby girls by parents who cling to a traditional preference for a son.
The policy has been eased over time. Reports Xinhua:
China's family planning policy was first introduced in the late 1970s to rein in the surging population by limiting most urban couples to one child and most rural couples to two children, if the first child born was a girl. One-child families are entitled to bonuses and other benefits. Official statistics show such families account for 37.5 percent of China's more than 1.3 billion population.

The policy was later relaxed, with its current form stipulating that both parents must be only children if they are to have a second child. Since its implementation, it is estimated the policy has resulted in a reduction of some 400 million people in China.
Another advocacy group, Womens Rights Without Frontiers, issused a statement from its President Reggie Littlejohn:
All the reasons for this adjustment are economic or demographic: China's dwindling labor force, the country's growing elderly population, and the severe gender imbalance. Completely absent from the discussion is the issue of human rights violations. China has not promised to end forced abortion, forced sterilization or forced contraception. The coercive enforcement of China's One Child Policy is its core.
CT has provided extensive coverage of gendercide, a consequence of the one-child policy, including:
+ Waking Up the Church to Gender Injustice