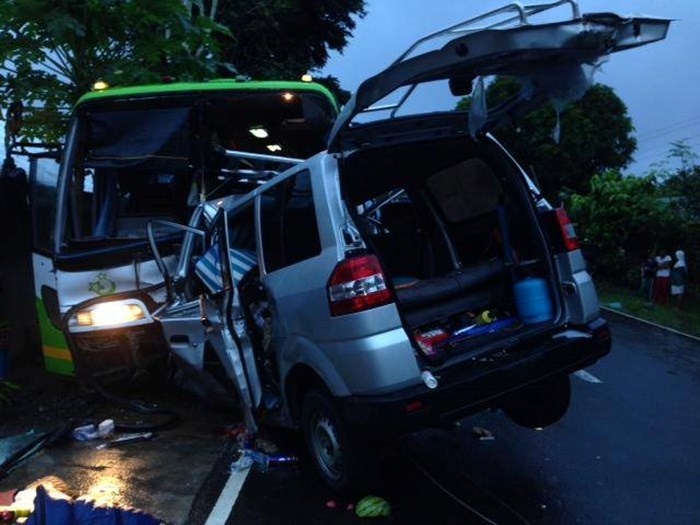 Image: Courtesy: GMA Online
About seven weeks after the devastating Haiyan typhoon in early November, the Christmas relief efforts of volunteers turned tragic as five pastors were killed in a van-bus crash today, Sunday, Dec. 29.
In total, six were killed and five others injured. The group of pastors were returning to Calamba City in Laguna after holding a humanitarian mission in Tonga town, Leyte, in the storm-damage zone.
According to local media reports:
Six persons were killed… when a van collided with a passenger bus before dawn on the national highway in Juban town, Sorsogon. According to Insp. Malou Calubaquid, Philippine National Police spokesperson in Bicol, the van was negotiating the Daang Maharlika Highway in Sitio (settlement) Hoyon-Hoyon in Juban when it collided with a Fortune Star bus. Calubaquid said the six fatalities included the drivers of the two vehicles. They were identified as Rosalito Malig, 56, the van driver, and Danilo Montefalcon, 50, the bus driver. The four other fatalities were all passengers of the van. They were Alfredo Manansala, 46; Jaime Malabanan, 47; Levy Erasga, 57; and Vicente Clarito, 61, all members of the Calamba Pastor Alliance. She said the van driver and passengers, who were all from Calamba City, were leaders of various Christian groups such as Jesus Christ the Fountain Living Water Church, Door of Faith, Messiah Mission International Ministries, Church of God, and Hope of Glory. Initial investigation showed the van driver might have lost control of the steering wheel or might have fallen asleep causing the vehicle to swerve to the opposite side of the road and collide with the bus at 4:30 a.m.
Early on Sunday, Bishop Efraim Tendero, head of the Philipppine Council of Evangelical Churches, posted news of the crash on his Facebook page, saying, "Let us pray for the families of 5 pastors from Laguna who died in this accident this morning in Sorsogon after coming from Tacloban on relief mission!"
During an exclusive interview with me in early November, Bishop Ef said, "Immediately after the typhoon, I asked, 'Lord, why?' I didn't have answers, but I prayed, 'Lord, enable us, increase our capacity to be able to respond to these people in great suffering.'
"After lamenting, I chose to say, 'God you are in charge. You are in control.' I chose to say, 'We will move forward.'
"The focus must be to look at people as survivors. If we look at them as victims, then you are already on the negative side. When you look at them as being survivors, surviving this strongest typhoon ever to hit the world, then ask God to help us help the survivors."
To date, the death toll from Haiyan (known locally at typhoon Yolanda), is now more than 6,100 lives lost.
For more on Haiyan, click here.