Update: Monday, Feb. 9, 12:50 p.m., Chicago time.
AP is now reporting a release order for Philip Rizk has been issued but not yet implemented. AP credits this to international media pressure. CT readers would credit international prayers as well....
––––––––––––––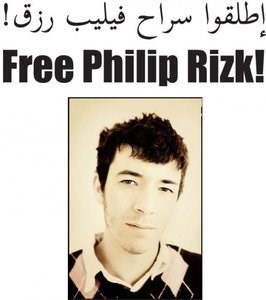 Christianity Today news has learned that Philip Rizk, a well-known blogger, journalist, grad student, and activist currently based in Cairo, is reportedly being held by State Security Investigations officials in Sadr City, a northern suburb of Cairo (see also here and here). His sister reports that police came to the Rizk household at 1:30 a.m. this morning searching for evidence related to Philip's activism and attempted to take Philip's father Maged with them. They left empty-handed at 5 a.m.
On Friday, Feb. 6, Rizk was present during a protest march focusing on the situation in Gaza. Apparently, others were also taken into custody, but have since been released.
These details are just emerging and not independently confirmed as yet.
According to one web account:
Phil's parents went to the Police Headquarters to file a missing persons complaint. There they were told it might take 2 or 3 days to process the paperwork and get Philip out. A lot of friends have gathered outside the Police headquarters to show support and solidarity.
For one account of the protest march, published in the Egyptian media, click here.
Here's one comment from Rizk:
"We anticipated that when Israeli bombing stopped, the momentum would end and we were right," Rizk said, "but we wanted to follow up on this momentum with a series of popular actions."
I have met Phil several times, including in November 2006 in Gaza. He is a graduate of Wheaton College and at one time worked for Anglican Canon Andrew White, who has been quite active in faith-based reconciliation work in the Middle East, especially Iraq.
If you are in Egypt and have additional information about this, email me here.
For additional information, see Phil's blog.
His last posting was on Wednesday, Feb. 4. The website created to detail the protest march has been taken down. Rizk recently has been doing graduate work at the American University, Cairo.
Click here for the AP report and here for the Reuters report.
Family and friends have created a group on Facebook for updates. Click here.
AUC student media is actively covering the story.
There is one eyewitness account to his abduction and alleged kidnapping. Click here.
....All hell broke out at 11 p.m. [Friday] The lawyers rang down to say that Philip had been kidnapped: state security officers had told him that they wanted him for questioning without the lawyers in a room next door. They took him downstairs and put him in a Suzuki microbus which, when it appeared at the police station's exit, we attempted to prevent moving by blocking its path. It forced its way through while state security officers frenziedly threw us out of the way.
CT has been in contact with a member of the Rizk family and will update this account as events warrant.
Photo via Facebook.