The Obama campaign just launched a line of merchandise, most of which specifically target Christians.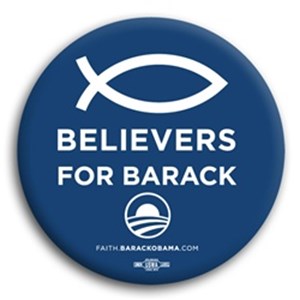 The campaign is selling "Believers for Barack," "Pro-Family Pro-Obama," and "Catholics for Obama" buttons and bumper stickers for $3 each and signs for $2.50 each.
The "Believers for Barack" button includes the ichthys, the fish outline that became a secret symbol for persecuted Christians in the early church.
"When threatened by Romans in the first centuries after Christ, Christians used the fish mark meeting places and tombs, or to distinguish friends from foes," Elesha Coffman wrote for Christian History, CT's sister publication.
Also, I've only heard "believers" apply only to Christians. The campaign seems to be targeting Christians specifically, since it usually uses broader terms like "people of faith."