Food for the Soul?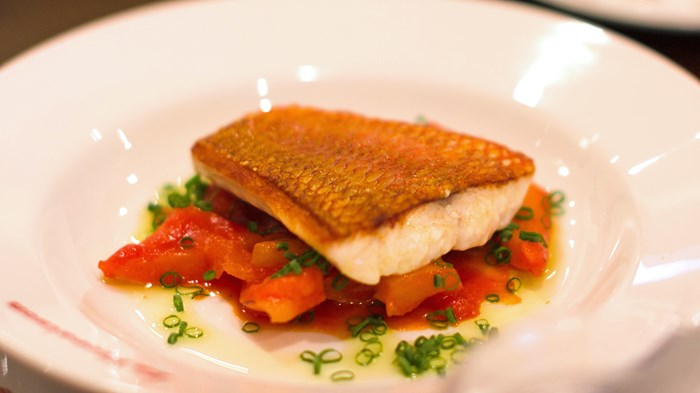 Though very few Catholics attended my rural Indiana high school, students took special notice of them every spring when the Friday hot lunch menu shifted from pizza, corn, pears, and a cookie to fish sandwich, tater tots, pears, and a cookie. People grumbled, because pizza (even icky cafeteria pizza) beat fish sandwich hands down. But compared to lenten fasters of the past, we got off easy.
Lent, the period of fasting in preparation for Easter, has been on the church calendar since the first or second century. It has not, however, always occupied the same dates. According to Irenaeus (c. 130-c. 200), cited by Eusebius in his Ecclesiastical History, the lenten fast originally lasted only two or three days. The 40-day period, first mentioned in the Canons of Nicea (325), was probably adopted to parallel the 40-day fasts of Moses, Elijah, and Jesus, though it may also have reflected the 40 hours Jesus spent in the tomb. These days were spread out in various ways by different churches before settling, in the West, into the familiar Ash Wednesday-to-Holy Saturday (minus Sundays) pattern in the seventh century.
Not all early Christians fasted in the same way. The Greek historian Socrates (380-450) records, "Some abstain from every sort of creature that has life, while others of all the living creatures eat of fish only. Others eat birds as well as fish, because, according to the Mosaic account of the Creation, they too sprang from the water; others abstain from fruit covered by a hard shell and from eggs. Some eat dry bread only, others not even that; others again when they have fasted to the ninth hour (three o'clock) partake of various kinds of food." The fast grew stricter as Easter approached; the typical Holy Week diet consisted of dry food, bread, salt, and vegetables.
Of course, almost as soon as dietary restrictions were put in place, people started looking for ways to evade them. Many medieval churches allowed parishioners to eat eggs and milk products during Lent in exchange for pious acts or charitable contributions. These contributions proved so profitable for France's Rouen cathedral that one of the steeples was known as the Butter Tower. The practice of giving Easter eggs hearkens back to this ovo-lacto prohibition.
The fish exception occasioned boundless creativity in the Middle Ages. Seafood arrived at the table in numerous dishes, including bouillabaisse, which was invented by a French abbess. But eating the same type of fish all the time got old, so monasteries and royal houses kept enormous aquariums to keep the supply abundant and various. Also, for Lent only, birds were considered fish, especially if they could be prepared with almond "scales" or other tricks to make them look like fish. A legend sprang up about the barnacle goose that it was, in fact, an adult barnacle and therefore an edible sea creature. Otters and turtles got to be fish for 40 days, too.
Tasty as all of this could be, I would not have trusted the cooks at my high school with preparing bouillabaise or barnacle goose. They might have done better with another Lenten innovation: the pretzel. Christians in the Roman Empire made this simple bread treat out of flour, salt, and water—no eggs, milk, or other forbidden ingredients required. Then they folded it in the shape of two arms crossed in prayer. They called the bread "bracellae," or "little arms." Later, German Christians called it "brezel" or "prezel," which is where we got our word for it.
A short-term diet of seafood, vegetables, and pretzels doesn't sound half bad, but of course this isn't the point. The Bible, which gives no lenten menu suggestions, does offer this: "Therefore, prepare your minds for action; be self-controlled; set your hope fully on the grace to be given you when Jesus Christ is revealed" (1 Peter 1:13). That's a goal we all can strive for, no matter what we're having for lunch.