A New Kind of Leader, Part 3
What does it mean to value people over production?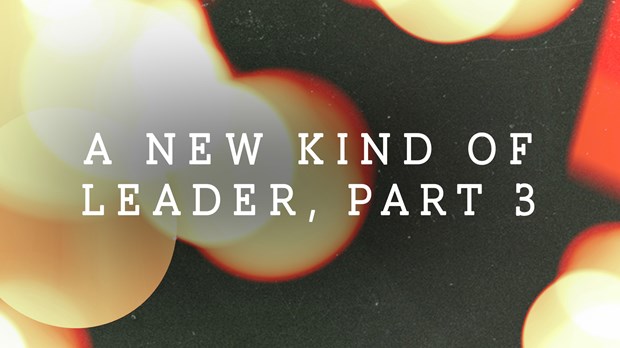 Image: Erick Hodge
Last week I began a series on the Beatitudes and leadership called "A New Kind of Leader." You can read the earlier posts here: Part 1, Part 2
What is leadership?
Leadership is not telling people what to do. Leadership, first and foremost, is about embodying what you want others to become. In our Western context, leadership is seen as a position of power and authority.
By contrast, in Jesus' first-century Jewish context, leadership was about serving others in a selfless, sacrificial way. Sure, Jesus had all power and authority, but he used it not for his advantage or gain but for the benefit of those who followed him. Consider his words to his disciples:
"You know that the rulers in this world lord it over their people, and officials flaunt their authority over those under them. But among you it will be different. Whoever wants to be a leader among you must be your servant, and whoever wants to be first among you must become your slave. For even the Son of Man came not to be served but to serve others and to give his life as a ransom for many" (Matt. 20:25–28, NLT).
According to Jesus, the eternal Son of God, leadership is about servanthood.
The Blessed Leader
In Matthew 5:1–9, Jesus describes what humanity looks like at its best––what "kingdom-of-God" people look like in real life. If God's people are to look like kingdom people, then we need leaders who embody the kingdom of God. I want to be this kind of leader, what I call "the blessed leader." On Monday, we looked at the first two characteristics of a blessed leader: humility and compassion. Today we will look at a third quality.
Blessed leaders do not serve others for personal gain. America typically has a consumeristic, transactional culture. This means that our culture shapes us to use people for our advantage or gain and to do something for others if they do something for us. When we live by consumeristic and transactional values, we devalue others and ourselves.
Even in Jesus' church, the staff and volunteers can become a means to an end, not viewed as people made in the image of God and created to be shepherded to maturity in Christ.
During my NFL days, after a win some of my coaches would hug me and tell me that they loved me. But after a loss, some of them wouldn't even talk to me. I remember after a game that I didn't play so well in, one of my coaches walked up to me and looked at me with disgust and disdain, then just walked off. This incident tightened my grip of faith in Jesus and loosened the grip of my idolatry of playing in the NFL. I thought to myself, "Jesus has seen my life, and it is really yucky. I am a sinner, yet he didn't turn away from me in disgust or disdain. He ran toward me with love and grace."
"But God shows his love for us in that while we were still sinners, Christ died for us" (Rom. 5:8, ESV).
"But because of his great love for us, God, who is rich in mercy, made us alive with Christ even when we were dead in transgressions—it is by grace you have been saved" (Eph. 2:4–5, NIV).
At Transformation Church we describe this value as "people over production." It means that the elder-pastors, are committed, by the Spirit's enabling power, to value people for more than what they can produce. We will not prostitute people over and against their spiritual health and transformation.
Things are meant to be used, not people. People were created to be loved. The blessed leader loves people.
Things are meant to be used, not people. People were created to be loved
The blessed leader is meek. Strong in Christ, he or she does not have to use people to get physical, emotional, or financial needs met. Jesus is more than enough for blessed leaders.
Blessed are the meek, for they shall inherit the earth (Matt. 5:5).
Marinate on that.