When God asks us to do something beyond our abilities.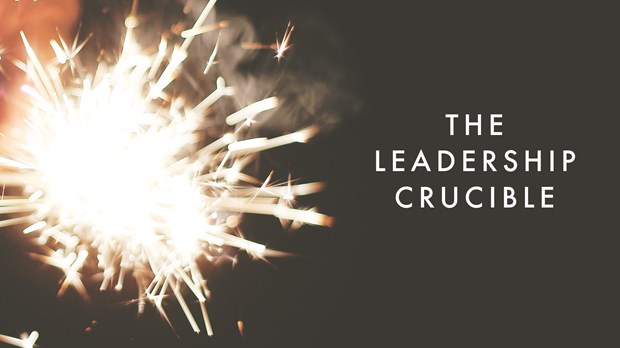 Image: Unsplash & Erick Hodge
Sometimes God, in his sovereign wisdom, will place us in a situation or allow circumstances to descend upon our lives that will batter and shatter us. We will find ourselves in an emotional storm that will wring our hearts. Often, we will be asked to do something for the glory of God that is far above our weak abilities.
I call this experience "the leadership crucible." A crucible is a severe test or trial that refines us, just as the goldsmith melts impurities from gold under intense heat. I'm in the crucible right now, and perhaps I'm writing this blog more for me than you. But, I have been in the crucible before and when the crucible season passes––and it will––I will look back and see that I've grown in wisdom, love, and integrity. However, when you are in the midst of the pain, it is so easy to look at the situation rather than the one who is sovereign over the situation.
Moses in the crucible
Moses knew about the leadership crucible. When God heard the cries of his people who were oppressed and enslaved in Egypt, he appeared to Moses and announced his intention to deliver them. God himself—the Great I AM––said that he would deliver his people from Pharaoh. I'm sure Moses was thankful and relieved until God said, "Come, I will send you to Pharaoh that you may bring my people, the children of Israel, out of Egypt" (Ex. 3:11, ESV). Did you catch that? God said he would deliver his people, but he was sending Moses to do it. This is the leadership crucible!
God will do it, but he's sending us
This is how God often works: He declares he will to do something epic, yet he gives you and me the honor of being the conduit through which his power is displayed. Just like Moses, we look at our puny, weakened state and make excuses for why we can't do what God is saying he will accomplish through us.
So, what's your excuse?
Overwhelmed by the task, Moses said the people would not listen to him (see Exodus 4:1). Have you ever felt that way? By faith, remember that God will use our ordinary abilities and make them extraordinary abilities: "The LORD said to him, 'What is that in your hand?' He said, 'A staff'" (Ex 4:2, ESV). And then God showed him how he could use an ordinary thing, like Moses' staff, to bring glory to himself by turning it into a snake before Moses' eyes.
By faith, remember that God will use our ordinary abilities and make them extraordinary abilities
I'm not sure what your staff is, but God will use it. So give God your abilities and watch him work.
Next Moses says, I can't go because I'm a stutterer: "I am slow of speech and of tongue" (Ex. 4:10-12, ESV). But God can use our weaknesses, too.
In the fall of 1999, I had recently retired from the NFL, and I received my first speaking invitation from the Southern Baptist Convention in Columbia, South Carolina. I didn't want to go because I had been a terrible stutterer my whole life. I remember being in the shower crying and asking God to send someone else––someone who could talk. In the midst of the leadership crucible, I sensed God say, "If I can raise my son from the dead, I can make your mouth talk."
My young family and I drove down to Columbia, and God "made my mouth talk." Hundreds of students gave their lives to Jesus and my itinerant evangelistic ministry was born.
Out of my misery, a ministry was birthed.
In my weakness, Jesus was strong.
Give Jesus your weakness and watch him work. As Paul writes, " But he said to me, 'My grace is sufficient for you, for my power is made perfect in weakness.' Therefore I will boast all the more gladly of my weaknesses, so that the power of Christ may rest upon me. For the sake of Christ, then, I am content with weaknesses, insults, hardships, persecutions, and calamities. For when I am weak, then I am strong" (2 Cor. 12:9–12, ESV).
God is going to do great things! He will do them, but he's sending you and me.
Marinate on that.