April 23, 2015
|
Discipleship
What's God's Will For My Life?
Finding true purpose starts with understanding your identity in Christ.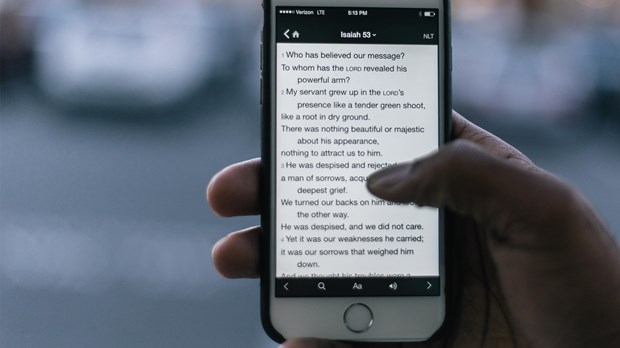 Image: Erick Hodge
If I had a five-dollar bill for every time I've been asked, "What's God's will for my life?," I would be a wealthy man. The frequency with which this question comes up gives insight into just how important it is to many people. They want to know, "Why am I here and what should I be doing?"
When I was in my late 20s, that question, among others, haunted me like a bad dream: "What will I do after my NFL career is over? How will I provide for my young family? Will I be good at what I do? Will my post-NFL career bring me joy? Will what I do really matter and make a difference?"
Perhaps you are asking similar questions about your purpose. Our vocations and jobs are not our purpose; they are a conduit for how our purpose is expressed.
The first and most important question we need to answer is: "Who am I to be in the world?" Another way of saying that is, "What self-identity will determine my function?" A person's identity determines his or her function in life. Unfortunately, the great majority of humanity focuses on their function instead of their identity. Thus, a lot of people are functioning in life in areas where they do not have ultimate joy because they are trying to establish who they are based on what they do.
Who we are is vastly more important than what we do. And when we know who we are, we will be able to know what we are supposed to do in this world. When our identity is shaped by Jesus, his thoughts, his character, and his actions become ours.
When our identity is shaped by Jesus, his thoughts, his character, and his actions become ours.
When I think of loving my wife, children, and the Transformation Church family with Jesus' thoughts, character, and action, the circuits in my heart explode with "Yes, I want that!" Let these identity-defining words forge your heart to reflect the heart of the one who created you for himself:
The Mind of Christ
"Do nothing from selfish ambition or conceit, but in humility count others more significant than yourselves. Let each of you look not only to his own interests, but also to the interests of others. Have this mind among yourselves, which is yours in Christ Jesus" (Phil. 2:3–5, ESV).
The Character of Christ
"Since God chose you to be the holy people he loves, you must clothe yourselves with tenderhearted mercy, kindness, humility, gentleness, and patience. Make allowance for each other's faults, and forgive anyone who offends you. Remember, the Lord forgave you, so you must forgive others. Above all, clothe yourselves with love, which binds us all together in perfect harmony. And let the peace that comes from Christ rule in your hearts. For as members of one body you are called to live in peace. And always be thankful" (Col. 3:12–15, NLT).
The Actions of Christ
"And whatever you do or say, do it as a representative of the Lord Jesus, giving thanks through him to God the Father" (Col. 3:17, NLT).
The Power of Christ
"That's why I work and struggle so hard, depending on Christ's mighty power that works in me" (Col. 1:29, NLT).
People who are shaped by Jesus live without limits. Understand that to live a limitless life does not mean you will be made famous, but it does mean that Jesus will be famous through your life. And when that happens, joy will fill your soul. We've been created to live without limits. Let's go claim our divine birthright by finding our purpose.
So, what is our purpose?
Let God the Father love you.
That's your purpose for existing. Does this excite you? Were you looking for something more?
If you were, disappointment and disillusionment with life will cling to you like your skin.
Think about it: America is the richest country in the history of humanity and we are still miserable. Why? Because we've found our purpose in not being loved by God the Papa, but by loving the prosperity with which God the Papa has blessed us. And that blessing is now a curse, because the blessing was not designed to give us purpose. Rather our purpose is found in the one who blessed us.
True joy is found in living in our purpose, and our purpose is to let God love us. Then and only then will we know our individual path in life. As David proclaimed, "You reveal the path of life to me; in your presence is abundant joy; in your right hand are eternal pleasures" (Ps. 16:11, HSCB).
Marinate on that.
To read more about moving from purposeless to purposeful, check out my book Limitless Life: You are More Than Your Past When God Holds Your Future.