How Can Enemies Now Be Friends?
Seeing salvation in high-definition.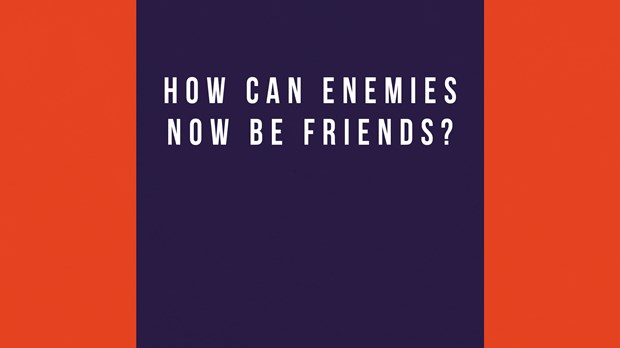 Image: Erick Hodge
How can enemies now be friends?
When the people of first-century Ephesus looked at its multiethnic congregations of Jews and Gentiles, this question must have been on their minds. The apostle Paul wrote his letter to encourage these ethnically diverse congregations of former enemies that were struggling with getting along with each other as God's people. It was out of pastoral concern that he wrote so these Jew–Gentile local churches could be an expression of the glory of God by living in unity and love. As local churches, they would be living testimonies to God's grace. They would display to the world the beauty of reconciliation.
Don't we need that kind of testimony today?
I propose that one of the primary reasons the overwhelming majority of churches in America are made up of mostly one ethnic group is because we've missed the beauty and purpose of Ephesians 2:8–9 by reducing it to an individualistic ticket to heaven: "For by grace you have been saved through faith. And this is not your own doing; it is the gift of God, not a result of works, so that no one may boast."
Paul is teaching something bigger, greater, and way more beautiful than just a trip to heaven when an individual Christ-follower dies.
Paul is teaching something bigger, greater, and way more beautiful than just a trip to heaven when an individual Christ-follower dies. In Ephesians 2:1, Paul says that "you"––meaning the Gentiles––were spiritually dead people controlled by the devil, under God's impending judgment. But God, who is rich in mercy and love, made them alive with Christ, and they were saved by grace and seated in the heavenly realms with Christ (Eph. 2:1–6). In an act of incomprehensible grace, the Gentiles are united to the Jewish Messiah; His life becomes their life. God completes this act of magnanimous love so he can point to the Gentiles as his trophies of grace for all eternity (Eph. 2:7).
Paul then says that it is by grace that the Gentiles were saved through faith in the Christ. This is the great gift in which no one can boast. Jesus the Messiah did it all. Typically we stop there, but Paul doesn't. He sees in high definition the bigger, greater, and more beautiful story of what our triune God is accomplishing through the work of Jesus.
In Ephesians 2:10, Paul writes: "For we are God's handiwork, created in Christ Jesus to do good works, which God prepared in advance for us to do." What are these "good works" the apostle Paul is talking about? Based on Ephesians 2:11–22, these good works are the fulfillment of God's promises to Abraham in Genesis 12:1–3. God promised Abraham that all the families (both Jew and Gentile) on earth would be blessed through him. The great blessing is Jesus––the seed of Abraham––and through Jesus, a new multicolored family called the church would be blessed in him (Eph 1:3–5). In Galatians 3:7–9 Paul writes,
"Know then that it is those of faith who are the sons of Abraham. And the Scripture, foreseeing that God would justify the Gentiles by faith, preached the gospel beforehand to Abraham, saying, 'In you shall all the nations be blessed.' So then, those who are of faith are blessed along with Abraham, the man of faith."
The heartbeat of salvation is that Jesus is faithful to his covenant with Abraham and creates "in himself one new man in place of the two, so making peace, and might reconcile us both to God in one body through the cross, thereby killing the hostility" (Eph. 2:15–16, ESV ).
The beautiful story of salvation by grace through faith is that God has created colonies of reconciliation and ethnic diversity on earth as it will be heaven. In his book Paul and the Faithfulness of God, N.T. Wright says:
But whereas much western understanding has seen the individual as the goal, Paul sees individual Christians as signs pointing to a larger reality. He describes his own mission vividly in verse 20: We implore people on the Messiah's behalf, he writes, 'to be reconciled to God.' He longs to see the heaven-earth event, the temple event ... the new temple is to be the place to which all nations will come to worship the God of Abraham and Jacob. ... The reconciliation of Jews and Greeks was obviously near the heart of Paul's aim.
In light of this understanding, how could we not want to join God in colonizing earth with multiethnic congregations if the demographics make it possible?
May Jesus raise high-definition leaders that proclaim a gospel that creates multiethnic local churches that cover the face of not just America, but the world, for the glory of God as a sign and foretaste of that great day!
Marinate on that.
To learn more about my forthcoming book, The High-Definition Leader: Building Multiethnic Churches in a Multiethnic World, click here!