Pope Francis
The former archbishop of Buenos Aires, Argentina, Cardinal Jorge Mario Bergoglio succeeded Pope Benedict XVI following his retirement in early 2013. Pope Francis represents many firsts for the Catholic Church, including the first pope from the Americas, the first from the Jesuit tradition, and the first to take the name Francis, after St. Francis of Assisi.
Featured Articles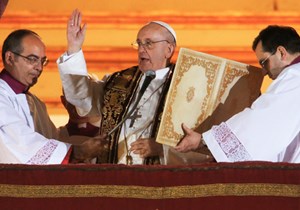 Why Pope Francis Excites (Most) Evangelical Leaders
Bergoglio expected to focus on poverty and set a friendlier tone in Protestant-Catholic relations.
loading more