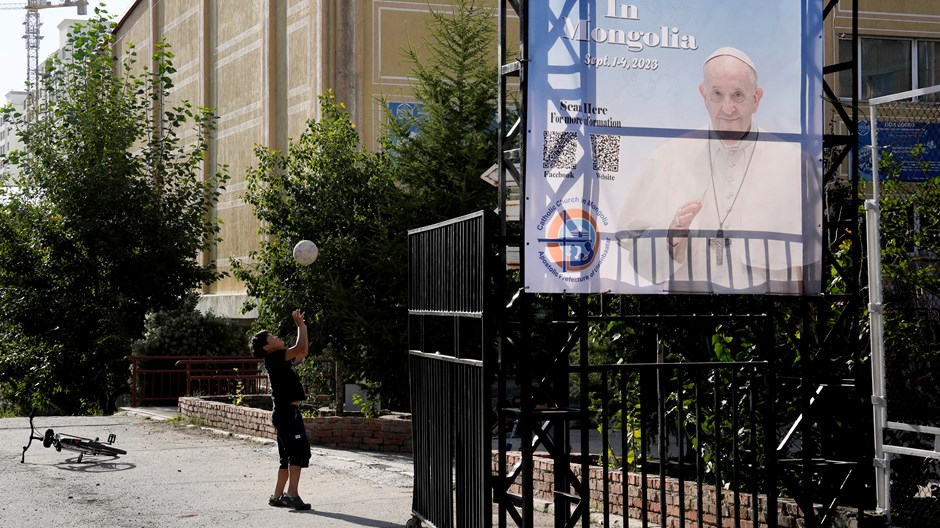 Image: Ng Han Guan / AP Images
When Mongolia opened up in 1990 after seven decades of Communist rule, the country had only four known Christians.
Heavy religious suppression under the Mongolian People's Republic had all but wiped out Christianity in the country, where the population was then about 2.1 million. But even before that, the faith had failed to secure a lasting foothold among the nomadic people.
Today, while most Mongolians are either Buddhist or nonreligious, the Protestant church has grown to 63,600, making up two percent of the population, according to the World Christian Database. Catholics, on the other hand, have seen more meager growth with a community of less than 1,500 people.
Yet on Thursday, Pope Francis arrived in the capital of Ulaanbaatar—the first time a pontiff has ever stepped foot on Mongolian soil—to visit "a Church that is small in numbers but vivacious in faith." Last year, Francis named Archbishop Giorgio Marengo as the first cardinal based in Mongolia. The country only has two native Mongolian priests.
Mongolia is in a strategic position as it maintains close ties to China, with whom the Vatican has a tense relationship: Recently, the Communist government transferred bishops without consulting the Holy See, violating bilateral accords. To Mongolia's north, the Vatican is walking a delicate tightrope in responding to Russia's invasion of Ukraine. Both countries will be watching his visit closely.
But beyond geopolitics, Mongolians are excited for the historic visit as the Vatican first made contact with leaders of the Mongol Empire in the 13th century, said Bolortuya Damdinjav, head of the research department of Mongolia Evangelical Alliance.
"Finally, 800 years later the pope is visiting Mongolia by the invitation of the Mongolian president," she said. "I think our current president really wanted to make this happen because it's very significant historically. And so to our surprise, the pope actually responded to his invitation."
The pope is expected to meet with religious leaders, including Buddhist lamas and evangelical pastors, during his trip. In the past, Vatican officials have sought to learn from Mongolian evangelicals how the church had grown so quickly. Pastors point to a wave of young people coming to Christ through the ministry of missionaries from the West and South Korea, which led to an organic movement of local believers spreading the gospel throughout the nation.
Yet today, Mongolia's young church is facing challenging growing pains as it seeks to figure out its identity, develop strong leaders, evangelize, and disciple new believers.
"In our country, we don't need many believers, but we need many disciples who apply the Word of God in their lives, who really can be light and salt in the community, and who can testify to Christ and bring glory to God," said Damdinjav. "If we have many disciples, I think we would see a lot of positive changes in our culture."
Christianity's long legacy in Mongolia
The history of Christianity in Mongolia is a long string of deaths and rebirths. Nestorian Christians brought Christianity to Central Asia through the Silk Road as early as the 6th century, and several people groups, including the Khereed, Naiman, and Uyghur, embraced the Christian faith. The unification of the Mongol Empire under Genghis Khan in the 13th century brought these tribes together, and Nestorian Christians held official positions in the Khan government.
At the same time, Catholic missionaries began arriving and were surprised to find Nestorian Christians in the courts, although they often criticized them for syncretizing their faith. In 1271, Kublai Khan asked Pope Gregory X to send 100 of his best missionaries to Mongolia, agreeing that if they could prove Catholicism was stronger than Buddhism, the Mongol Empire would convert. Yet the Pope only sent two missionaries, neither of whom made it to the area.
Instead, Kublai Khan embraced Tibetan Buddhism, which 58 percent of Mongolians practice today. Christianity ended in the 14th century when China's Ming dynasty conquered the Mongol Empire and eradicated the faith.
In the subsequent centuries, Christianity was largely absent in Mongolia, although some Catholic and later Protestant missionaries came to the region. While they didn't see many converts or churches built, they faithfully worked to translate the Bible into Mongolian. In 1846, missionaries from the London Missionary Society printed the first completed Bible in literary Mongolian. Then in the 20th century, a Soviet-backed revolution led to the formation of the People's Republic of Mongolia, the world's second independent socialist nation. Leaders purged all religions.
Then in 1990, young people began protesting for democracy, resulting in a peaceful transition to a multi-party system. For the first time, the country was open to the outside world, including missionaries.
"Mongolia [before 1989] was like today's North Korea—everyone outside knows about it a little, but you don't really know, it's so dark and everything is closed," said Bolorhuu Ligden, founder of Asia Leadership Development Network, which connects and equips Mongolian Christian leaders.
When the country opened up, the Soviet Union withdrew all of its investment in the country. They took "wires [from] the walls, they picked up pipes that were buried in the street, they took everything possible," Ligden said. As nearly all of Mongolia's trade had been with the Soviet bloc, its economy was devastated: "The country was like a war zone, [there was] poverty and unemployment, everything was crushed."
While Ligden grew up in Inner Mongolia, an autonomous region in China, his wife, Bilguun Ganbold, was a teenager in Ulaanbaatar in the early 90s and remembers waking up every morning at 6 a.m. to wait in line for daily rations of a loaf of bread and two potatoes.
Missionaries from the West and South Korea came into the country and engaged in humanitarian work, taught English, and spread the gospel with the help of media—including the Jesus film and Christian TV and radio stations. United Bible Societies had also just finished translating the New Testament into colloquial Mongolian in 1990, which helped with their evangelism.
God's work among Mongolia's youth
In the early 90s, many Mongolians still distrusted the West. Yet young people were interested in the new ideas entering the country. Many came to Christ after watching the Jesus film in movie theaters that once played Communist propaganda, Ligden says. Afterwards, local Christians would invite the newcomers, most of them teens or college students, to church gatherings where they became followers of Jesus.
Bat-Orgil Gantumur, pastor of Iveeliin Gerel (Light of Grace Christian Congregation) in Ulaanbataar, remembers his first encounter with Christianity when he was six years old in the mid-90s. He was playing in the street with his friends when suddenly, a group of people invited them to watch an episode of the Christian cartoon Superbook, which depicted the story of Samson. Gantumur, who said he didn't have many opportunities to watch TV at that time, was so touched by the story that he wanted to be like Samson, "the first superhero that I watched."
Soon after, he and his family moved to another part of the city. A few years later, he was playing on the streets again when he saw some other children clutching toys they had received. He asked them where the toys were from, and they pointed to a church passing out gift-filled shoeboxes from Samaritan's Purse. When he arrived, there were no more presents left, but he started visiting the church. Later he found out it was the same church that had shown him the cartoon. "God was following me," he said. "Since [then], I have been a Christian for a long time."
He was attracted by how the church gathered people of all ages and how they spoke differently from people outside. The people in the church were kind, loving, and forgiving, and they weren't angry. "Going to the church was like a wonderful thing to me," he said. "Have you ever seen Alice in Wonderland? It was like that, very incredible and [something] I [had] never seen before."

He started asking the pastor questions about the world, religion, and life. He had so many questions that the pastor began to set aside time just to respond. The pastor encouraged him to become a theologian so he could find the answers himself.
Meanwhile, Damdinjav noted that she became a believer in college in 1993 when she began to regularly interact with Christians. At her university, her English teacher was a missionary from Sweden. She found that a church was meeting on the first floor of her apartment building, and she grew curious as to why all these teenagers and young people were gathering and singing songs. Then her neighbor shared the gospel with her and her sister. "God really opened my eyes to his Word when my neighbor came to my home," she said. "As I look back, I just see how God was so gracious to us; he brought the gospel so close to us. … I didn't have any reason to reject."
Growing pains for the young church
Christianity has been able to grow largely unimpeded in Mongolia thanks to provisions protecting freedom of religion in the country's constitution. In 2000, all 10,000 copies of a newly released Bible translation sold out within a day, as eager churches and Christian groups snatched them up. In 2005, there were an estimated 20,000 Christians in the country.
However, Christians have faced barriers in applying for registration of their churches, making it difficult to legally hire staff and sponsor foreign missionaries. According to a recent report by Gordon-Conwell's Center for the Study of Global Christianity, one Christian group said their registration was denied because the government said there were too many registered churches, which comprise more than half of all registered institutions in the country.
Still, most of the challenges facing the young church are internal. In recent years, the number of Christians has plateaued and even decreased, Ligden said. He points to a shallow and wide faith among believers. Some see Jesus as one more god to add to the list—as long as he is useful. And if God doesn't answer a prayer, maybe a Buddhist lama or a shaman will provide better help.
This idea of religious syncretism is deeply engrained in Mongolian culture, and while religion was heavily suppressed during Communist rule, it has revived since the start of the democratic period. A majority of Mongolians consider themselves Buddhist, and their beliefs are mixed with shamanism, which connects the physical world with the spirit world. For instance, Buddhist monks will visit homes to heal illness, which is typically the work of shamans.
With this pluralistic mindset, they see Jesus as an add-on. "You have 1,000 gods, you add Jesus and then it's 1,001—which is probably better," Ligden said. "So a lot of people raise their hand and say, 'I want that, [I want] one more security.'"
The idea that Buddhism is part of Mongolian identity also makes evangelism difficult. Most people find it impossible to separate the cultural from the religious in Mongolian traditions. Many of the holidays celebrated in the country are infused with Buddhist rituals. For instance, during Tsagaan Sar, Mongolia's Lunar New Year, families walk in the direction prescribed in the zodiac to bring good luck, light candles to symbolize enlightenment, and leave ice chunks outside their home on the day before to provide water for the horse of the Buddhist god Palden Lhamo.
"Mongolians think Buddhism is our culture and tradition, so this intellectual thought is most challenging," Gantumur said. Because Buddhism requires work to reach nirvana, many Mongolians find it difficult to accept grace, thinking that Christianity is "too easy."
To help the church mature and grow, there's a need for discipleship and mentorship in the church, including for church leaders, who are mostly first-generation Christians in their 30s and 40s. Gantumur added that leaders need more theological training as well as better support. Financially, the Mongolian church relies heavily on foreign missionaries. Most pastors are unpaid and need to find other jobs to support their families, Gantumur said.
Some Christian groups from outside Mongolia have tried to pass the baton to local Christians, but found that organizations floundered after the groups left. Ligden believes the church needs more time to grow and figure out who they are.
"I describe the Mongolian church as in the pre-teen stage—we just came out of our crawling and baby stage," he said. "But with 30 years of Christianity, what could we be?"
Through Damdinjav's research, she's also found a great need for church plants. Of the 330 counties of Mongolia, almost half of them don't have a church. With half of Mongolia's population of 3.3 million living in Ulaanbaatar, she said, "We need more equipped and trained harvest workers, and that's something that we really pray for: mobilizing and encouraging people to dedicate their lives to the establishment of churches."
Last September, the Billy Graham Evangelistic Association (BGEA) put on a crusade in the capital. During the worship set, a local worship band, Nomadic Spirit, used traditional instruments like the morin khuur (a two-stringed bowed instrument) to lead the crowd in worship. Franklin Graham gave a sermon and an altar call. Derek Forbes, director of Asia Festivals for BGEA, said more than 17,000 people attended the two-night Festival of Joy, and more than 2,000 made a decision to follow Jesus. Forbes said the organization connected them with local churches and trained pastors to follow-up and provide discipleship.
Gantumur's church received four new believers from the event, although today only one of them still attends his church. The man also happens to be the father of one of the members.
Lidgen noted that while large evangelistic events can attract a lot of people, they go to a local church and find that it's not as "fun." "The challenge is still day-to-day life. … What does 'gospel in life' mean—not just in that heightened emotional experience?" he said. "Not many … churches are thinking through that: How do I wrestle with the boring stuff, wrestle with the things that truly make people build a solid foundation?"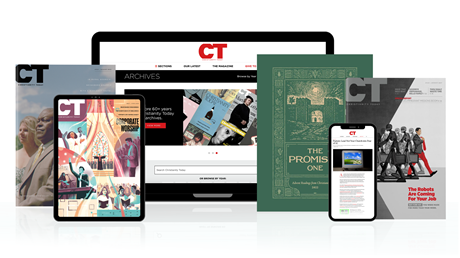 Annual & Monthly subscriptions available.
Print & Digital Issues of CT magazine
Complete access to every article on ChristianityToday.com
Unlimited access to 65+ years of CT's online archives
Member-only special issues
Subscribe
As Mongolia Catholics Welcome Francis, Evangelicals Wrestle with Growing Pains
As Mongolia Catholics Welcome Francis, ...