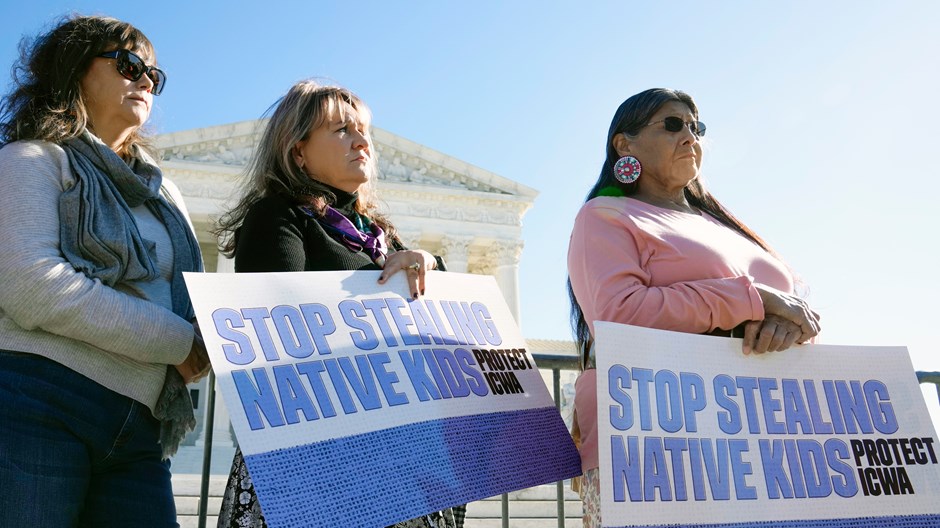 Image: Associated Press
Carol Bremer-Bennett loved her adoptive parents. And the Dutch Reformed family in Michigan was intentional about studying and celebrating her Navajo culture and history from the time they welcomed her into their family in 1969.
But when Bremer-Bennett grew up and moved to New Mexico and went to work at a school near the Navajo Nation, she learned she couldn't become a Navajo citizen because of the adoption. She found relatives through genealogy websites and DNA tests and got a little documentation from the facilitation agency, Bethany Christian Services. But she wasn't able to find her father to establish what clan she was from to complete her tribal enrollment.
"Then the loss really sinks in," she told CT. "I didn't have the language. I didn't have the culture. I did not know my Navajo clans. I had no relatives. I just wept."
In 1978—nine years after Bremer-Bennett's adoption—Congress passed a law sharply restricting the separation of Native children from their families. The Indian Child Welfare Act (ICWA) sought to address the long history of Native American children who were separated from their families and sent to boarding schools or to white Christian families, obliterating tribal cultures and connections. The ICWA prioritized placement with extended families, then with families in the Native child's tribe, and then with a family in another tribe. Adoption by outsiders became a last resort.
The United States Supreme Court is currently weighing whether that law is constitutional. The court heard arguments in Brackeen v. Haaland in November and is expected to rule this summer.
The Brackeens are a white evangelical family who adopted a Navajo boy. They have been trying to adopt his half sister, who was removed from her mother at birth after testing positive for methamphetamine. But priority goes to extended family, and a great-aunt on the Navajo reservation wanted custody of the child.
The Brackeens and their fellow plaintiffs say the law should consider the best interests of the child and not make the decision on the basis of race. They argue the ICWA is discriminatory, since it disfavors non–American Indian adoptive couples and denies children "the best-interests determination they otherwise would receive."
Native children might be shuttled around the system for longer periods of time because of the requirements of ICWA, they argue, or they might be placed in worse situations just to maintain tribal connections.
Christian adoption agencies largely did not weigh in on the case.
The National Council For Adoption, which is not a Christian organization, supported the challenge to the law, arguing that it is not in the best interest of children, and puts "tribal security" over parental decisions.
But in practice, an adoption of a Native child might not be so different from other adoptions with their own hurdles. Gladney Center for Adoption general counsel Heidi Cox, whose organization has facilitated Native American adoptions, told CT that any child custody case is complicated when there are multiple jurisdictions. Even working out an adoption where a child moves between states is complicated. Adoption facilitators need experience with the different placement rules in different jurisdictions, whether state or tribal.
There are also 497 tribes that support the law, along with the American Medical Association, the American Academy of Pediatrics, and others. They have told the court that prioritizing family and tribal connections is in the best interest of the children.
The case hits many raw nerves in American culture, from tribal sovereignty to child abuse to historic Christian racism. The Supreme Court justices hearing the case seemed, based on the questions they asked, most concerned with what "welfare of the child" means. Is keeping a child in a tribal community important for that child's welfare, or should finding a stable home be the priority over any cultural connections?
Answers to those questions can be quite complicated.
Charles Robinson, who is Choctaw, and Siouxsan Robinson, who is Lakota and Blackfoot, care for 11 Native children—some biological, some adopted, some under guardianship. Both have parents who were forced into boarding schools, so the couple felt called by God to create an alternative for children in need. They lead a Christian ministry to Native communities called The Red Road. But they've also helped non-Native families adopt Native children in a way that preserves cultural ties.
Different parts of society have different ideas of what is best for a child, Charles Robinson said. Children that go to a non-Native family may get more opportunities for education. But they will lose their tribal connections.
"That's the rub," Robinson told CT. "There are values that are more important than being a scholar. There's tribal values and culture."
ICWA, Robinson said, has good and bad aspects, but "I'm weighing it more on the side of good."
For some white Christians, adoption has seemed like a quick fix for the systemic, generational problems in Native American communities, providing children with an exit from cycles of poverty, addiction, and violence. But some evangelicals are pushing for more believers to get involved in the hard work of helping whole communities.
Mary Granberry and her husband, for example, have lived on the Yakama Indian Reservation in Washington State for 20 years while leading a church and community development program called Sacred Road Ministries. They have been around long enough that children from their kids club in the early days are now working for the ministry.
The Granberrys became enmeshed in the reservation community and let neighbors know their door was open to people in need. Their home became a refuge. Mothers fleeing domestic violence would come stay for a few days or drop their children off. Those emergency stays sometimes extended months or years.
"They get reminded that they're loved and the Lord loves them, and they go back in where they're from and they can make it a little longer," Granberry told CT.
Eventually the Yakama Nation officially approved the Granberrys to house the tribe's foster children. The couple currently has one Yakama foster daughter, and they still get emergency placements and help children who would otherwise be lost between jurisdictions. When local and tribal law enforcement disagree about responsibility, the Granberrys' door is open.
The open-door approach also had problems, according to Morgan Johnson, the Granberrys' biological daughter who grew up on the reservation and is now a social worker. Some of the informality was unsafe, she said. The couple got stricter with more experience.
But people dropping kids off at the Granberrys' home always knew the couple would keep the children connected to family and the tribe, Johnson said. That made them a better option than the alternatives. However long children ended up at the Granberrys', Yakama families could count on the children making it to tribal gatherings where they would learn about ceremonial rules and preparing traditional foods.
"[Parents] seek kinship care, community care, and then go outside," Johnson said, which is similar to a lot of other placement systems. The ICWA reflects those priorities and doesn't prevent white Christians from coming alongside Native communities.
A Yakama family working with the ministry recently brought a bag of wild celery they harvested to share with the Granberrys and some staff from Sacred Road Ministries. It's a "first food," with a long Yakama tradition. They cleaned, prepared, and ate it together.
"To share that food is to treat someone as if they are your blood relatives. That food was shared by your peoples, put there by God," Granberry said. "I want the kids in my house to crave that taste and see the love in that community. It overrides the dysfunction and abandonment they have experienced."
Emily Belz is a CT news writer.
Have something to add about this? See something we missed? Share your feedback here.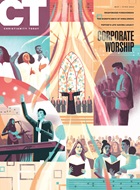 This article is from the May/Jun 2023 issue.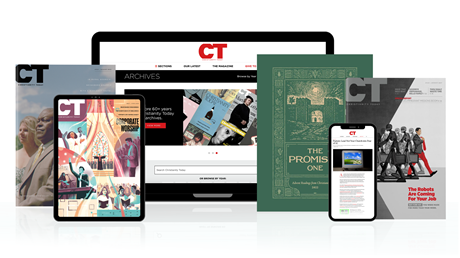 Annual & Monthly subscriptions available.
Print & Digital Issues of CT magazine
Complete access to every article on ChristianityToday.com
Unlimited access to 65+ years of CT's online archives
Member-only special issues
Subscribe
Debate Flares Over the Meaning of 'Indian Child Welfare'
Debate Flares Over the Meaning of 'Indian Child Welfare'