I recently received a handwritten letter from a pastor in India.
His name is Roy, but I didn't know this gentleman, and we had never corresponded. Somehow he contacted me and told me about the two congregations he leads in Andhra Pradesh and of his great desire to study the Bible.
His ending struck me: "I have no money."
Roy is not alone. Countless pastoral leaders worldwide are eager to faithfully lead their churches, but they lack access to training. This is especially the case in majority world contexts in Latin America, Africa, and Asia where the gospel continues to rapidly grow—with hundreds of new congregations birthed daily.
Founded in 1846, the World Evangelical Alliance (WEA) now represents churches in over 130 countries and estimates there are 50,000 new baptized believers each day. These believers need pastoral leaders who are trained to effectively lead their congregations.
The challenge is highlighted when we draw a contrast with the United States, where there is one trained pastor for every 230 people. By comparison, majority world churches have one trained pastor for every 450,000 people.
This colossal leadership imbalance will only expand as the majority world church continues to surge and spread. Already, theological education is struggling to keep up, and unless something changes, the gap will only increase in the future.
If we are to meet the training needs of thousands of pastors like Roy, the worldwide trajectory must be reset. Theological education, no matter the form, has a long history of being fragmented, with most programs operating in silos, lacking a sense of collegiality. Regrettably, this inward posture makes training even less accessible to local ministries, weakening the collective capacity to prepare leaders for the Lord's church.
A new theological education posture is needed.
Last November in Izmir, Turkey, it was evident. The 18th consultation of the International Council for Evangelical Theological Education (ICETE), first launched by the WEA in 1980, gathered roughly 500 leaders from 80 countries—representing over 290 worldwide training ministries—to envision an integrated global approach for the leadership demands of the church today and in the years to come.
Uniting a network of nearly 1,000 seminaries from every region of the world, ICETE has historically been viewed as a service umbrella for the formal sectors of theological education. American examples include Lancaster Bible College, Wesley Biblical Seminary, and Moody Bible Institute, alongside international counterparts such as the Ethiopian Graduate School of Theology, Asian Theological Seminary, and Bethlehem Bible College.
But over the past three years, our constituency base has expanded significantly to include nonformal and less-structured theological education. In fact, at that time we had none of these institutions.
Recently welcoming training ministries such as the Cru-based International Leadership Consortium, Trainers of Pastors International Coalition (TOPIC), and Increase Association's network of training programs for church leaders throughout Asia, ICETE honors their desire to benefit from our global interconnectedness. This includes creating relationships with the traditional seminaries to share with nonformal students the tools and short courses often associated with higher education—such as Bible commentaries, simplified theology, and innovative homiletics.
Additionally, many of these programs want to ensure quality control, validated under the guidance of academic leaders. By elevating their credibility, nonformal programs offer pathways toward not only better ministry effectiveness but also more rigorous education.
Today, nearly half of our associate members are nonformal institutions.
The formal side of theological education has also welcomed greater interaction. Seminaries worldwide have struggled to operate at full strength, especially since COVID-19, and have gradually diminished in their capability to understand and meet contextual church leadership needs.
Through dialogue with nonformal leaders who are usually more closely connected to church life, seminaries become better aware of pew-level realities and can adjust their programs to produce more field-ready graduates. Inspired by the ICETE conference, Shalom Bible Seminary in India has already collaborated with parachurch organizations to create a new course for next-generation church leadership.
Around the globe, leaders from every region and from all types of ministries are growing in their conviction that whatever the task before them, it is too large for any one of them alone. The theme in Izmir was "Formal and Nonformal Theological Education: Beyond Dialogue," and we already see hints of practical renewal taking place.
Standards to measure effective spiritual formation training are being developed in Nigeria and India. Oral pastoral leadership programs have started in South Sudan, Uganda, and Ethiopia—and will soon in Tanzania and Senegal. And regional collaboration hubs are being established in South America and Africa, to link partners in similar local contexts.
ICETE has also been asked to gather key leaders to discuss quality assurance through micro-credentials and competency-based theological education. As these innovative approaches are further refined, they will open new opportunities to certify a wider number of programs, strengthening collaboration across the sectors of theological education.
In every region ICETE represents, we hear reports on how our conference stimulated serious reflection that has already set our agenda for the next global consultation in March 2025: How can the whole of theological education come together to equip the next generation?
Though we know the Lord Jesus will ultimately build his church, during our present era we must do all we can to come alongside this effort, that it may be strengthened to stay on mission until Christ's return. We cannot continue with disconnected, fragmented theological education and expect to meet the needs of church leaders like Roy in India and countless others like him. Renewal has begun, and ICETE will serve to cultivate it.
On the opening night of our week in Izmir, I led the gathering to recite with me the following plea: "Lord, may our consultation not be measured by our numbers, but by our mutuality in one common aim—to strengthen Christ's church."
May this be our ongoing prayer.
Michael Ortiz is the ICETE international director.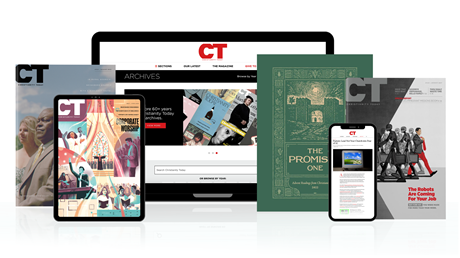 Annual & Monthly subscriptions available.
Print & Digital Issues of CT magazine
Complete access to every article on ChristianityToday.com
Unlimited access to 65+ years of CT's online archives
Member-only special issues
Subscribe
Theological Education Can't Catch Up to Global Church Growth
Theological Education Can't Catch Up to Global Church Growth