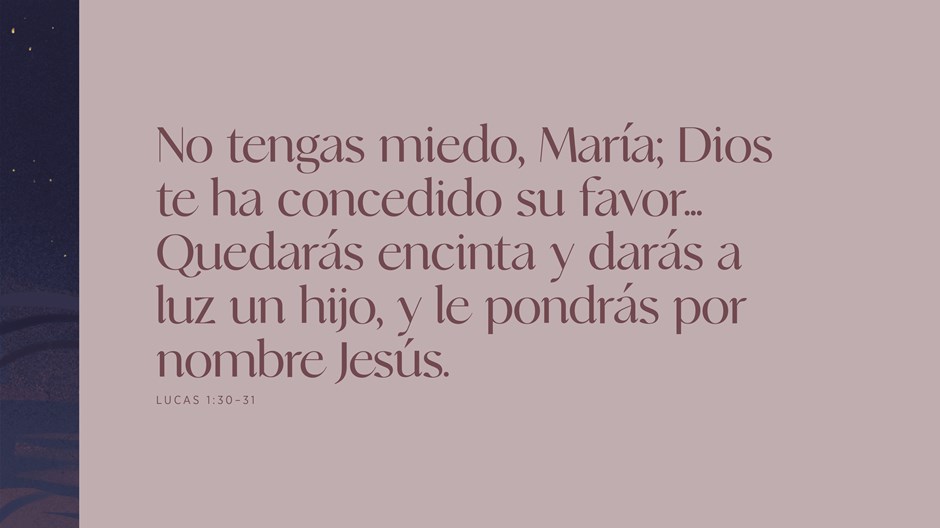 Para descargar nuestro devocional «El Evangelio de Adviento» completo, ingrese en este enlace.
Lea Lucas 1:26-38
La obediencia sería fácil si lo que se nos pide tuviera sentido. Y si estuviéramos de acuerdo. O si pensáramos en el plan nosotros mismos. Pero supongo que entonces no sería realmente obediencia, ¿verdad?
Cuando leemos las historias de mujeres y hombres de gran fe, nos imaginamos que no tuvieron ningún conflicto, que escucharon la palabra del Señor y se apresuraron a obedecer de inmediato. Pero la verdad es que, incluso cuando la palabra del Señor es clara, la obediencia es un desafío.
Un ángel del Señor se le apareció a María. ¡Un ángel! Podríamos decirnos a nosotros mismos que si tuviéramos una visita angélica, la obediencia sería fácil, pero nos estaríamos engañando. María, nos dice la Biblia, «se perturbó» (Lucas 1:29, NVI). Más que eso, María tenía algunas preguntas serias. «Entonces María dijo al ángel: "¿Cómo será esto, puesto que soy virgen?"» (v. 34, NBLA). Buena pregunta.
En muchos aspectos, la pregunta de María no es tan diferente de la de Zacarías. Cuando el ángel le dijo que él y su esposa, igualmente anciana, iban a tener un hijo, Zacarías preguntó: «¿Cómo podré estar seguro de esto?» (v. 18, NVI), también traducido como «¿Cómo podré saber esto?» (NBLA). Sin embargo, Zacarías se quedó mudo.
Podríamos analizar la gramática de sus respectivas preguntas y buscar pistas en el lenguaje, pero sospecho que la respuesta no está tanto en la respuesta inicial como en sus reacciones posteriores. No tenemos ninguna razón para pensar que Zacarías fue más allá del desconcierto o la incredulidad durante este encuentro inicial. (Aunque con el tiempo, por supuesto, lo hizo.) Pero en los versículos 26-38, María parece pasar rápidamente a una disposición de rendición. «Entonces María dijo: "Aquí tienes a la sierva del Señor; hágase conmigo conforme a tu palabra"» (Lucas 1:38, NBLA).
Más adelante, Pablo pediría en oración que Cristo sea formado en nosotros, los seguidores de Jesús (Gálatas 4:19). Pero fue María quien realmente recibió a Cristo para que fuera formado en ella, ¡en su propio vientre! Si bien el nacimiento virginal y la Encarnación son milagros fundamentales en la confesión cristiana, también encontramos en este momento de María un paradigma de formación espiritual. Para que Cristo sea formado en nosotros, al igual que María, debemos atravesar nuestras turbulencias, incertidumbres y dudas hasta llegar a la sumisión. La participación en Cristo se produce cuando oramos: «Aquí tienes al siervo del Señor; hágase conmigo conforme a tu palabra». Incluso cuando seamos tentados a fijarnos en la pregunta «¿Cómo podrá ocurrir esto?», que Dios nos dé la gracia para llegar a decir «Hágase conforme a tu palabra» en fe.
Glenn Packiam es pastor asociado de la iglesia New Life en Colorado Springs. Sus libros incluyen Worship and the World to Come y The Resilient Pastor (febrero de 2022).
Traducción por Sofía Castillo.
Edición en español por Livia Giselle Seidel.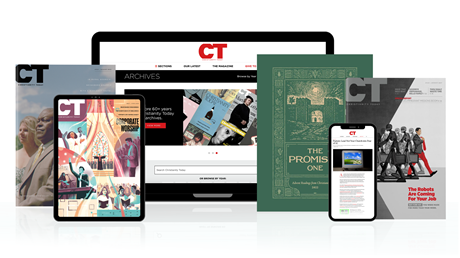 Annual & Monthly subscriptions available.
Print & Digital Issues of CT magazine
Complete access to every article on ChristianityToday.com
Unlimited access to 65+ years of CT's online archives
Member-only special issues
Subscribe
Que así sea
Que así sea