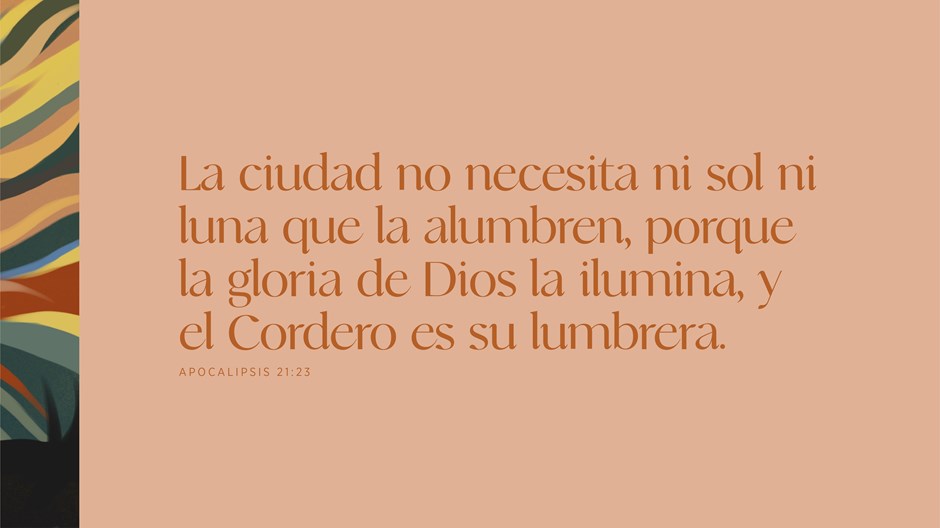 Para descargar nuestro devocional «El Evangelio de Adviento» completo, ingrese en este enlace.
Lea Apocalipsis 21:9 – 22:5
Cuando me mudé de Inglaterra para vivir en Escocia, una cosa que me resultó difícil fue la reducción de los periodos de luz de día durante el invierno. En los días nublados, podía parecer que no había luz en absoluto. Esto me parecía ligeramente deprimente, pero a algunas personas les afecta gravemente y tienen que sentarse frente a lámparas que imitan la luz del sol. Todos dependemos de la luz solar para nuestra salud física y nuestro bienestar mental.
No es de extrañar que en muchas culturas se haya adorado al sol, y a veces también a la luna. ¿Por qué un día soleado nos levanta el ánimo? ¿Por qué a mucha gente le gusta tomar sol? La ciencia confirma que la distancia que existe entre nuestro planeta y el Sol, con la luz y el calor que proporciona, es esencial para la vida en la Tierra.
En esta creación, las bendiciones de Dios nos llegan a través de las cosas creadas, entre ellas, la luz del sol. En la nueva creación, viviremos en la presencia misma de Dios, inmersos en ella como lo estamos ahora en la luz del día, y no habrá noche.
Imagínese: una ciudad llena de luz. Imagínela como una brillante joya cristalina (Apocalipsis 21:11), la luz reflejada en todas las piedras preciosas de muchos colores enumeradas en los versículos 19 y 20. Imagine, si puede, la forma en que la luz brilla a través del oro transparente del que está hecha la ciudad (vv. 18, 21). Contemple la ciudad desde la distancia. Esta se encuentra en la cima de una montaña (v. 10) y brilla sobre todo el país circundante. Es la luz del sol de ese mundo. Es la luz gracias a la cual la gente vive (v. 24).
Ahora piense en una vidriera o vitral de una iglesia con vívidas representaciones de figuras bíblicas o de otro tipo. La vidriera en sí misma es bastante hermosa en todo momento, pero cuando el sol brilla a través de ella, resplandece. ¡Sus intensos colores se iluminan! En la Nueva Jerusalén, la belleza de todas las criaturas de Dios será un deleite para todos. Las veremos tal como son en realidad. La luz de la presencia directa de Dios no anulará sus formas y colores, es decir, su realidad creada, sino que las iluminará, transfigurándolas.
A lo largo de la Biblia, la luz es un símbolo de Dios y de Jesús (quien dijo: «Yo soy la luz del mundo» en Juan 8:12). Piense en las formas en que la luz de Dios ya está brillando en nuestras vidas en este mundo —cómo ilumina nuestras vidas, cómo podemos caminar en esa luz—. Si vemos la luz ahora, alumbrará el camino que podemos recorrer hacia la ciudad de luz. ¿Qué podemos llevar con nosotros para presentar ante Dios y para contribuir a la vida de esa ciudad eterna (Apocalipsis 21:24, 26)?
Richard Bauckham es profesor emérito de estudios del Nuevo Testamento en la Universidad de St. Andrews, Escocia, y autor de numerosos libros, entre ellos The Theology of the Book of Revelation.
Traducción por Sofía Castillo.
Edición en español por Livia Giselle Seidel.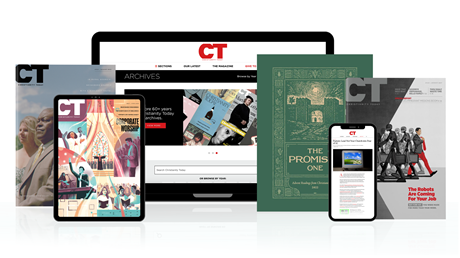 Annual & Monthly subscriptions available.
Print & Digital Issues of CT magazine
Complete access to every article on ChristianityToday.com
Unlimited access to 65+ years of CT's online archives
Member-only special issues
Subscribe
La ciudad de luz
La ciudad de luz