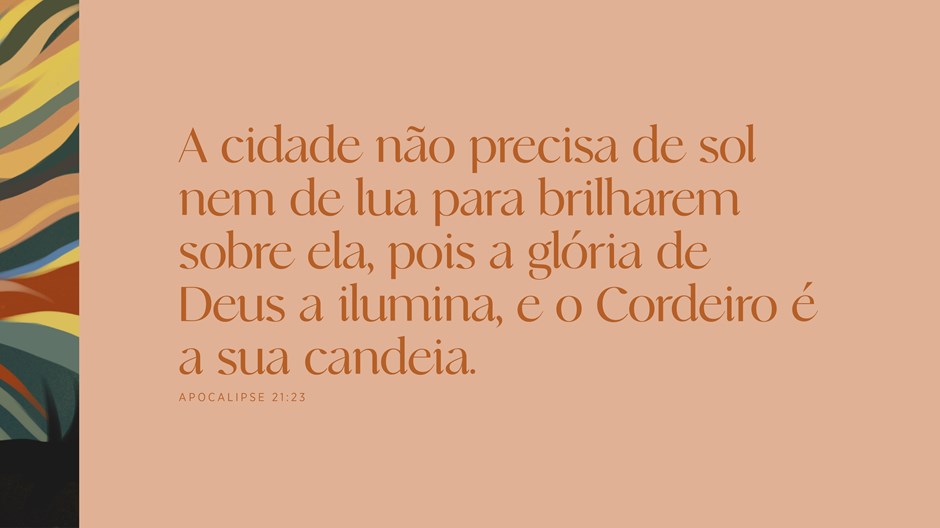 Image: Nicole Xu
Clique aqui e faça o download gratuito do nosso devocional diário "O Evangelho do Advento".
Leia Apocalipse 21.9—22.5
Quando me mudei da Inglaterra para morar na Escócia, uma coisa que achei difícil foram os períodos mais curtos de luz do dia durante o inverno. Em dias nublados, chega a parecer que nunca houve luz alguma. Achei isso um tanto deprimente, mas algumas pessoas são seriamente afetadas por essa condição e precisam se expor a lâmpadas que imitam a luz do sol. Todos nós dependemos da luz do sol para nossa saúde física e nosso bem-estar mental.
Não é surpreendente que em muitas culturas as pessoas tenham adorado o sol e às vezes a lua também. Por que um dia ensolarado eleva nosso ânimo? Por que muitas pessoas gostam de tomar sol? A ciência confirma que a distância de nosso planeta do Sol, com a luz e o calor que ele fornece, é essencial para a vida na Terra.
Nesta criação, as bênçãos de Deus são mediadas para nós por coisas criadas, e a luz do sol está entre elas. Na nova criação, viveremos na presença imediata de Deus, imersos nela como agora estamos na luz do dia — e não haverá noite.
Imagine isto: uma cidade cheia de luz. Imagine-a como uma joia cristalina brilhante (Ap 21.11), a luz refletida em todas as pedras preciosas multicoloridas listadas nos versículos 19 e 20. Imagine, se puder, a maneira como a luz brilha através do ouro transparente de que a cidade é feita (v. 18,21). Observe essa cidade de longe. Ela fica no topo de uma montanha (v. 10) e brilha sobre toda a região circundante. É a luz do sol daquele mundo. É a luz pela qual as pessoas vivem (v. 24).
Pense, agora, em um vitral de uma igreja com representações vívidas de figuras bíblicas ou outras. O vitral em si é bonito o tempo todo, mas, quando a luz do sol brilha através da janela, ele brilha. Suas cores intensas se iluminam! Na Nova Jerusalém, a beleza de todas as criaturas de Deus será um deleite para todos. Vamos vê-las em suas verdadeiras cores. A luz da presença imediata de Deus não cancelará suas formas e cores, sua realidade criada, mas vai iluminá-las, transfigurando-as.
Em toda a Bíblia, a luz é um símbolo de Deus e de Jesus, que disse: "Eu sou a luz do mundo", em João 8.12. Pense nos modos pelos quais a luz de Deus já brilha em nossa vida neste mundo — como ela ilumina nossa vida, como podemos andar nessa luz. Se virmos a luz agora, ela iluminará o caminho que podemos percorrer até a cidade de luz. O que podemos levar conosco para apresentar a Deus e contribuir para a vida dessa cidade eterna (v. 24,26)?
Richard Bauckham é professor emérito de estudos do Novo Testamento na Universidade de St Andrews, Escócia, e autor de muitos livros, entre eles Theology of the Book of Revelation.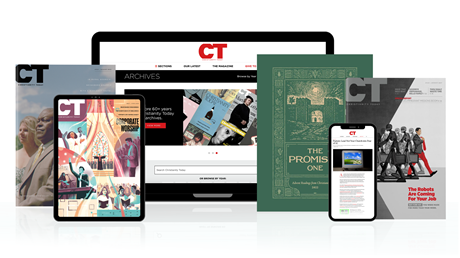 Annual & Monthly subscriptions available.
Print & Digital Issues of CT magazine
Complete access to every article on ChristianityToday.com
Unlimited access to 65+ years of CT's online archives
Member-only special issues
Subscribe
Cidade de luz
Cidade de luz