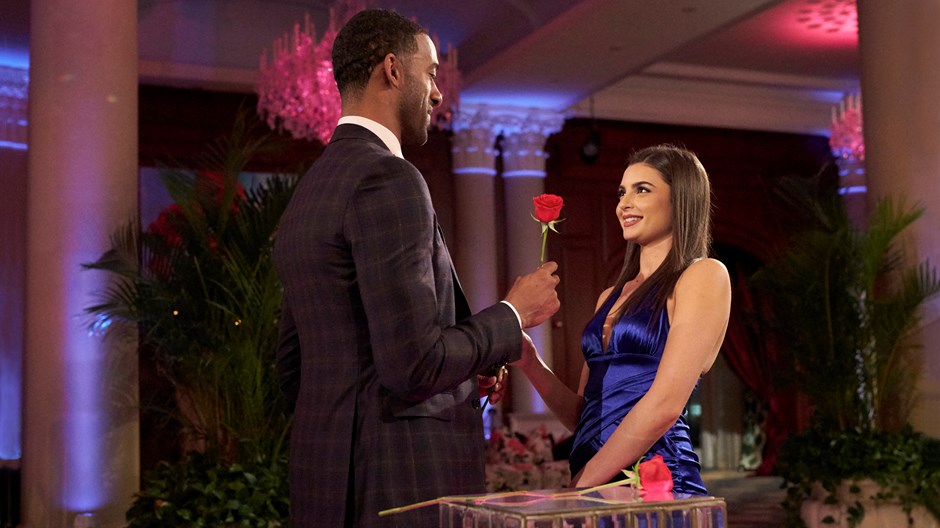 Image: © 2021 Disney General Entertainment Content. All rights reserved.
Reality television's iconic host of The Bachelor, Chris Harrison, won't be hosting the "After the Final Rose" episode on Monday night, or the next season of The Bachelorette. The 20-year veteran of the show announced he would step away for an unspecified period of time after a conversation between Harrison and former bachelorette and TV personality Rachel Lindsay on her entertainment show. During the 13-minute interview, Harrison addressed a controversy around Rachael Kirkconnell, one of bachelor Matt James's final picks.
While the show was airing, Reddit users found social media posts by Kirkconnell that included racially insensitive Native American costumes and alleged support for conspiracy theories. But the controversy came to a head when photos surfaced of Kirkconnell at an "Old South" themed fraternity party in 2018.
When Lindsay, the first black lead of a Bachelor franchise show, asked Harrison in the interview about Kirkconnell's social media posts, he railed against "cancel culture" and "the woke police." "We all need to have a little grace, a little compassion, a little understanding because I've seen some stuff online," he said. "Again, this judge-jury-executioner thing where people are just tearing this girl's life apart … it's unbelievably alarming to watch."
Lindsay pushed back that a picture at the 2018 antebellum party was "not a good look," to which Harrison quipped: "Well, Rachel, is it a good look in 2018? Or is it not a good look in 2021? Because there's a big difference." Lindsay responded: "It's not a good look ever."
Instead of hearing the criticisms leveled against Kirkconnell as a call for accountability for her harmful actions, Harrison leaned into a familiar refrain of those who get caught up in "call out culture": Do not focus on the past. Give us grace, compassion, and understanding.
Of course, there are many insidious forms of cancel culture driven by self-righteousness or hatred rather than by wise judgment and correction. But at its very best, what if being "canceled" is a form of grace? What if the most compassionate thing a person in the wrong could receive is correction? What if they have to show humble understanding after receiving criticism and correction? Public confrontation is not a new phenomenon, and there is grace for those who face it.
Godly repentance and holy correction is a means of grace—whether we like the means or not. While many view cancel culture as solely de-platforming a leader or public shaming, the best of cancel culture happens in a context where people hold the well-being of others in mind and call for accountability in a spirit of loving correction.
When a celebrity or social media personality is rightly confronted for harmful actions, the means of the confrontation should not be dehumanization, violence, or abuse. Harassment and spiteful responses are not the same kind of "cancellation" as corrective grace. Done well, the goal of public rebuke should be that the person would step back, learn from the hurt they caused, and change for the better.
Consider the prophets of the Old Testament—men who were called to denounce the wrongs of those in power, regardless of their own safety or comfort. Before the infamous showdown with the prophets of Baal in 1 Kings, King Ahab had a familiarly dismissive tone toward the judgment of the prophet Elijah: "Is that you, you troubler of Israel?" (1 Kings 18:17). For the king, Elijah's judgment was problematic, even though he came in the name of the Lord.
Elijah's response was direct and corrective: "I have not troubled Israel, but you have, and your father's house, because you have abandoned the commandments of the Lord and followed the Baals" (1 Kings 18:18, ESV). Elijah continued to call out the king and his supporters, because his ultimate goal was to convey God's heart and will for his people.
After Ahab and Jezebel had a man murdered over a vineyard, God pronounced gruesome judgment over them through Elijah. But instead of doubling down, this time Ahab repented. And because of that, he receives mercy from the Lord: "Have you noticed how Ahab has humbled himself before me?" the Lord says to Elijah. "Because he has humbled himself, I will not bring this disaster in his day, but I will bring it on his house in the days of his son" (1 Kings 21:29).
It is human nature to reject correction, even if it comes from rightful authorities in our lives. In our defensiveness and pride, we hate to be called out for negative behavior. It's uncomfortable, and the consequences can be inconvenient and unpredictable. Many fans believed that Harrison and Kirkconnell have been treated unfairly. Harrison's announcement of stepping down caused some of the show's fans to lash back at those who publicly criticized and "canceled" Harrison. Rachel Lindsay received so much negative backlash that she temporarily deactivated her Instagram account.
In the same way that we are prone to defensiveness when we are on the receiving end of cancel culture, self-righteousness runs rampant when there is someone to call out. Instead of wanting their repentance, we lean into a self-righteous response that calls for their ruin. But as Christians, our responses should mimic what Jesus said to the woman accused of adultery by the mob that was out for her blood: "Let any one of you who is without sin be the first to throw a stone at her" (John 8:7). We aren't called to pile on any more than the men who wanted to cast stones.
The goal of public rebuke should be that the person would step back, learn from the hurt they caused, and change for the better.
The apostle Paul reminds the Corinthian church of the results of correction in those who accept it: alertness, earnestness, zeal, concern, and a desire to seek justice (2 Cor. 7:11). In other words, when we call out the wrongs of one another, we have a chance to restore virtues like empathy, justice, wisdom, and humility in our culture.
Since the Harrison-Lindsay interview, both Harrison and Kirkconnell have apologized, and many contestants have come forward with statements denouncing racist behavior and standing with Lindsay. The franchise tapped former NFL linebacker, sports analyst, and bestselling author Emmanuel Acho to host the "After the Final Rose" special on March 15. Acho's web series about confronting racial prejudice and book, both titled Uncomfortable Conversations with a Black Man, make him a timely choice.
In a world of "I'm sorry you were offended" apologies, Kirkconnell's is a rare display of leaning into her faults instead of providing excuses for her behavior: "I deserve to be held accountable for my actions. I will never grow unless I recognize what I have done wrong. I don't think one apology means that I deserve your forgiveness, but rather I hope I can earn your forgiveness through my future actions."
Kirkconnell's apology reads like one from a person who has accepted and been moved to action by the critiques leveled at her. With all grace, it's the choice of the receiver to accept it and the consequences that follow­ or reject it. A true apology is followed by corrective actions (repentance) that come from a contrite heart (Ps. 51:17). Amid all of the Instagram statements, one line from former bachelorette Jillian Harris stood out: "Being held accountable is LOVE; it allows us to grow, learn, and ultimately become better people."
As Christians, we are called to offer one other grace and mercy. Excusing someone's offensive actions is not grace. Being restored without taking the time to grow is not a triumph. And in our age of social media, public sin sometimes calls for public confrontation and public repentance.
Christians can strive to do so in a way that stands apart from the vitriol of the Twitter mob or Facebook trolls. For those who aim to offer corrective grace, we should remember that none of us is without sin. We shouldn't call out with the intent to wound or destroy. We should correct out of the grace we've received. Godliness calls for contrition that leads to life-giving repentance (2 Cor. 7:10), but when we fan the flames of destruction and harassment, we stray from God's desire in correction.
As believers, we are called to speak truth to one another in love (Eph. 4:15). And for the wrongdoer: "Whoever conceals their sins does not prosper," says Proverbs 28:13, "but the one who confesses and renounces them finds mercy."
Patnacia Goodman is an acquisitions editor at Baker Books, a division of Baker Publishing Group.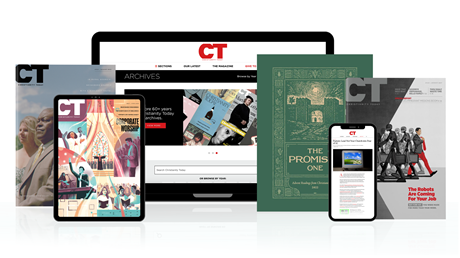 Annual & Monthly subscriptions available.
Print & Digital Issues of CT magazine
Complete access to every article on ChristianityToday.com
Unlimited access to 65+ years of CT's online archives
Member-only special issues
Subscribe
Blessed Are the Canceled? Finding Redemption in 'The Bachelor' Controversy
Blessed Are the Canceled? Finding Redemption in ...