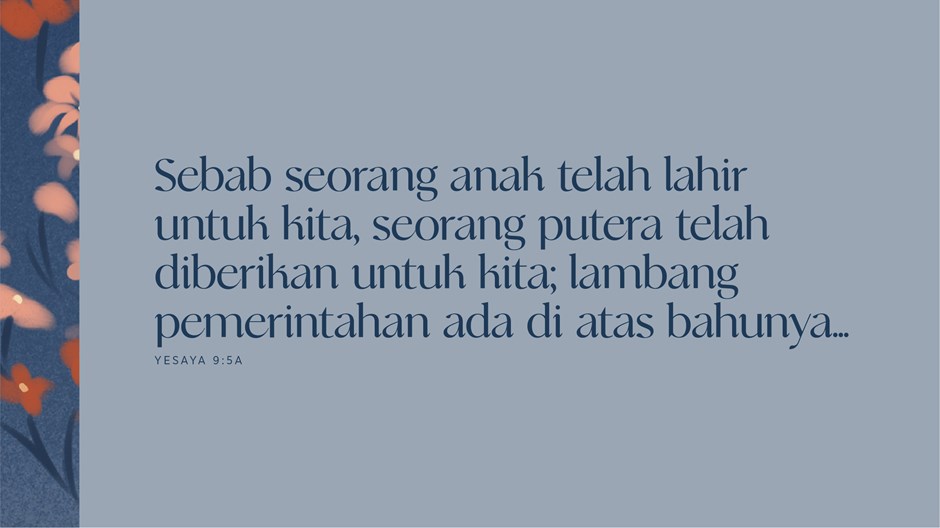 Untuk mengunduh kumpulan renungan "Berita Injil di Masa Adven," klik di sini.
Baca Yesaya 9:5–6
Dalam pengalaman saya, menonton film kartun adalah bagian yang penting dari peran saya sebagai ayah bagi tiga anak laki-laki. Boss Baby adalah salah satu film tersebut. Film ini menggambarkan seorang bayi yang "sudah dewasa" dan terus memerintah saudara laki-lakinya yang berusia tujuh tahun tanpa diketahui oleh orang tuanya.
Ironinya, Yesaya 9:5–6 adalah penjajaran yang serupa: seorang bayi baru lahir yang "sudah dewasa." Yesaya menggambarkan pribadi yang dijanjikan ini sebagai anak yang baru lahir, seorang pemimpin pemerintahan, "Penasihat Ajaib, Allah yang perkasa, Bapa yang kekal, Raja Damai."
Kesaksian yang menakjubkan dari teks nubuatan ini adalah bahwa Yesuslah pribadi dari semua sebutan ini, dan bahkan lebih banyak lagi. Yesus, lahir sebagai anak manusia, sepenuhnya manusia dan sepenuhnya ilahi: Manusia-Allah, sang Bayi yang adalah Raja.
Saat itu Yesaya sedang berbicara kepada komunitas Yahudi yang berkecil hati, meraba-raba dalam kegelapan, berharap menemukan jalan yang membebaskan mereka dari "kesesakan dan kegelapan, kesuraman yang mengimpit" (8:22). Dalam konteks ini, ia bernubuat, "Besar kekuasaannya, dan damai sejahtera tidak akan berkesudahan di atas takhta Daud dan di dalam kerajaannya, karena ia mendasarkan dan mengokohkannya dengan keadilan dan kebenaran dari sekarang sampai selama-lamanya" (9:6). Referensi pada tahta Daud ini memperdengarkan kembali janji Tuhan kepada Daud: "...Aku akan membangkitkan keturunanmu,...Aku akan mengokohkan kerajaannya...Aku akan mengokohkan takhta kerajaannya untuk selama-lamanya" (2Sam. 7:12–13). Tuhan adalah Allah yang memelihara kovenan-Nya. Dan tidak ada yang akan menghalangi janji ini: "Semangat TUHAN alam semesta, yang meluap-luap bagi umat-Nya akan membuat semua hal ini terjadi" (Yes. 9:6, AVB). Tuhan bersemangat menjaga kovenan Dia dengan umat-Nya.
Tuhan juga bersemangat dan bergairah tentang Injil. Kabar baik dari Yesus yang menjadi manusia adalah bahwa di dalam Kristus tidak ada lagi kegelapan (Yes. 9:1; Yoh. 1:4–5, 14).
Tuhan sedang bekerja, di seluruh dunia, di setiap benua dan bangsa, menyingkapkan kegelapan melalui kuasa kedatangan Kristus yang pertama dan kedatangan-Nya yang kedua akan segera terjadi. Inkarnasi Yesus ke dalam dunia menandakan suatu hari baru, "Sebab seorang anak telah lahir untuk kita, seorang putera telah diberikan untuk kita" (Yes. 9:5)!
Inilah Kabar Baik, yaitu Injil, yang harus kita bagikan kepada dunia. Terang telah datang; Terang itu adalah Yesus! Kita tidak lagi hidup di dalam kegelapan dan kita bisa membagikan terang ini kepada dunia yang perlu mendengar tentang "Allah yang Perkasa," sang "Raja Damai" kita. Kiranya kita memproklamirkan hal ini dengan bebas: Yesus, sang Bayi yang adalah Raja, hadir di sini, dan Ia ingin memerintah di dalam hatimu.
Matthew D. Kim adalah profesor Preaching and Practical Theology-George F. Bennett, di Gordon-Conwell Theological Seminary dan penulis buku Preaching to People in Pain.
Diterjemahkan oleh: Helen Emely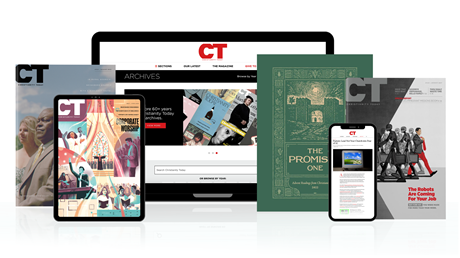 Subscribe to Christianity Today and get access to this article plus 65+ years of archives.
Home delivery of CT magazine
Complete access to articles on ChristianityToday.com
Over 120 years of magazine archives plus full access to all of CT's online archives
Subscribe Now
Sang Bayi yang adalah Raja
Sang Bayi yang adalah Raja