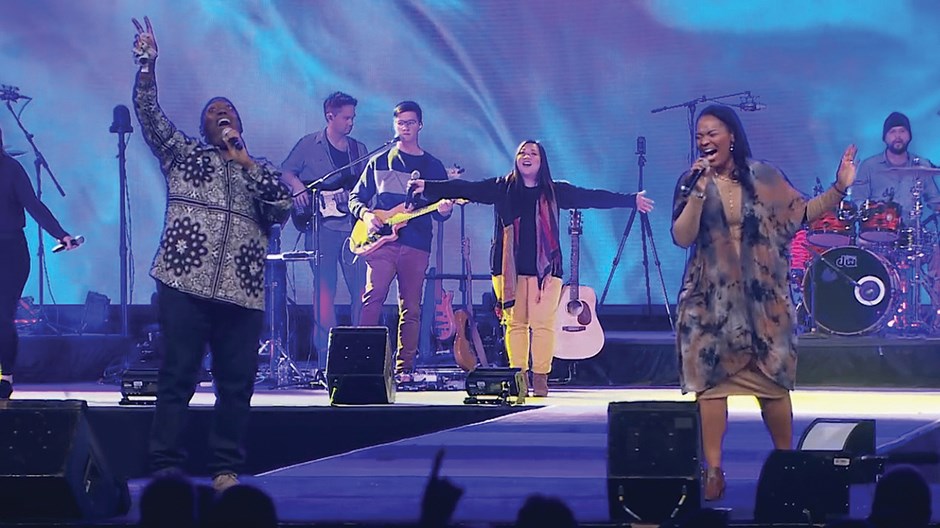 Image: Courtesy of Eric Lige
The first time Eric Lige stood in front of Ethnos Community Church to lead worship, he noticed something he had never seen before: Worshipers at the San Diego church were from all over the world.
Lige, an African American, had plenty of experience leading worship at different churches, but most of those congregations had been majority white. Looking out at the Ethnos community that Sunday in 2012, Lige changed.
"I thought, 'I can't sing the songs I have been singing. I have to do something else,' " he said.
He isn't alone. As the United States becomes more multicultural, evangelical churches increasingly reflect the diversity of the larger population. In 1998, only about 10 percent of evangelical churches had a lead pastor who was African American, Asian, or Hispanic. Today, that has grown to nearly 30 percent.
And congregations are more diverse too. Roughly a quarter of evangelical churches are now considered ethnically diverse, meaning 20 percent or more of the congregation comes from different ethnic or racial groups. And more than half of megachurches are ethnically diverse according to a new study from the Hartford Institute for Religion Research. Nearly 90 percent say that is something they are actively pursuing.
Part of that push towards diversity includes multiethnic and intercultural worship music. They want to sing new songs to the Lord—diverse songs, reflecting the diversity of God's people and the global church.
How to do that, it turns out, is a little trickier. Lige's first approach was to have someone sing one verse of a contemporary American worship song in another language. Contemporary Christian Music (CCM) is a global phenomenon, after all.
"Thanks to the internet," said Jaewoo Kim of Proskuneo Ministries, an organization fostering multicultural worship, "Western worship music has found its way into churches around the world."
But it's still Western worship music. Consider the international popularity of "The Blessing," Kim said. The US song was released by Elevation Worship in March, and more than 100 virtual choirs have translated the lyrics into dozens of languages. "The Blessing" is now "La Bendición," "A Bênção," "Benediksyon," and "Ha Bracha."
But just because believers around the world sing "The Blessing" in their native languages doesn't mean the song reflects their imagery, instrumentation, or culture. Multicultural worship requires more than representation. It takes real relationships.
"I interpret 'global' as a reciprocal approach—I am shaping you, and you are shaping me," Kim said.
According to Kim, the best examples of multicultural worship music come out of relationships that cross borders and speak to the truth of a gospel that transcends nationality. Proskuneo worked with Karen refugees in Clarkston, Georgia, to write songs to praise Jesus in the Karenic languages. The songs found their way back to Christians in Thailand, and now their churches worship with the same music as the believers who've gone to the US.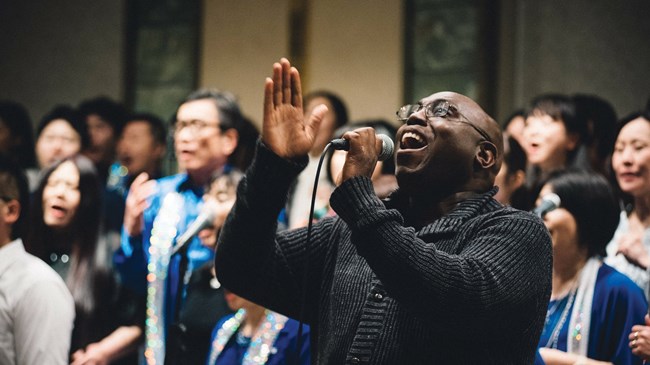 Image: Courtesy of Eric Lige
Music from outside the US does occasionally enter mainstream American evangelical churches, but it's only really successful when it doesn't seem too "different." Nigerian gospel singer Sinach recorded "Way Maker" in 2016, for example, but the song did not gain a wide US following until it was recorded by Michael W. Smith and the band Leeland.
"The longer CCM is the sound of worship music, then the more we start to believe that is the sound of heaven and the sound God likes," said Nikki Lerner, a consultant in Columbia, Maryland who helps churches pursue healthy multiculturalism. "We need to see the expression of our brothers and sisters globally and our brothers and sisters of other cultures here."
Lerner warns pastors that multiculturalism should not start with music. It starts with leadership casting a vision for worship services that more closely reflect the vision of heaven depicted in Revelation 7. She adds that churches will have to be willing to learn some things and change others.
Saehee Duran has found that to be true. An Assemblies of God minister who grew up in South Korea, she founded Life360 Intercultural Church in Springfield, Missouri, in 2015. From the beginning, the vision was for a multicultural church, bringing together the minority Christian cultures that are so often siloed in the city.
Today, the church has about 100 members, including people of a dozen different nationalities on a given Sunday. Duran said the church attracts the children and grandchildren of immigrants who have grown up with diversity all around them—except at church.
"This generation believes that churches don't reflect God's love for all nations anymore. Churches don't look like schools, workplace, even Walmart. The disconnect tells them something is wrong," Duran said.
With so many different cultures coming to worship, however, there are conflicts. The leadership tries to sift through the disagreements to make sure the church does not spend time arguing about nonessentials. When African members objected to passing around the offering bucket—as though God were a beggar in need of charity—the church changed the format so that members can joyfully bring their gifts to the front of the church, sometimes with dancing.
"It's about dying to our own cultures every week so that the kingdom culture can live," Duran said.
Multicultural worship without relationships is like a resounding gong or a clanging cymbal. At Ethnos Community Church, Lige embraces the idea of having at least two languages in every service. But the diversity goes beyond that. He credits the larger vision to the church's founding pastor, Yucan Chiu.
Chiu said a multicultural worshiping community should be intentionally diverse—not just in composition, but in operation. Lige realized his previous experiences of diverse congregations had always had one group in charge and one culture that dominated. Ethnos Community Church was something new for him, a place where he could grow and heal.
Lige started diversifying the worship music by having people sing a few verses of familiar songs in different languages. As those relationships developed, he started asking church members about worship in other contexts and countries. What songs did they sing? What instruments did their home churches use? Could they teach Lige those songs?
Quickly, intercultural worship meant a lot more. Lige and the church put together three volumes of multiethnic music recordings. Lige said they document his evolving understanding of multicultural worship, with Volume 3 containing worship songs composed in nine languages, from Armenian to Zulu. The songs include diverse styles and instrumentation.
A lot of university students attend Ethnos Community Church, so Lige is also training a constant stream of musicians and worship leaders who come to the church for a few years before spreading out all over the world.
It's hard work to build those relationships and help dismantle preconceived ideas about what worship is and isn't. It's hard work for the students to learn new styles and new approaches. But Lige tells them that this is God's vision of global worship, where voices are raised in praise "from every nation and from every family and from every kind of people and from every language" (Rev. 7:9, NLV).
They get to do that now, Lige says. Right now.
Megan Fowler is a contributing writer to Christianity Today.
Have something to add about this? See something we missed? Share your feedback here.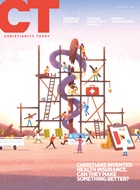 This article is from the November 2020 issue.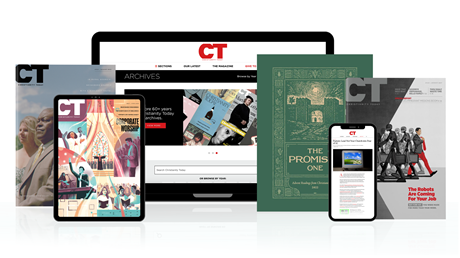 Annual & Monthly subscriptions available.
Print & Digital Issues of CT magazine
Complete access to every article on ChristianityToday.com
Unlimited access to 65+ years of CT's online archives
Member-only special issues
Subscribe
Churches Search for Sounds of Heaven
Churches Search for Sounds of Heaven