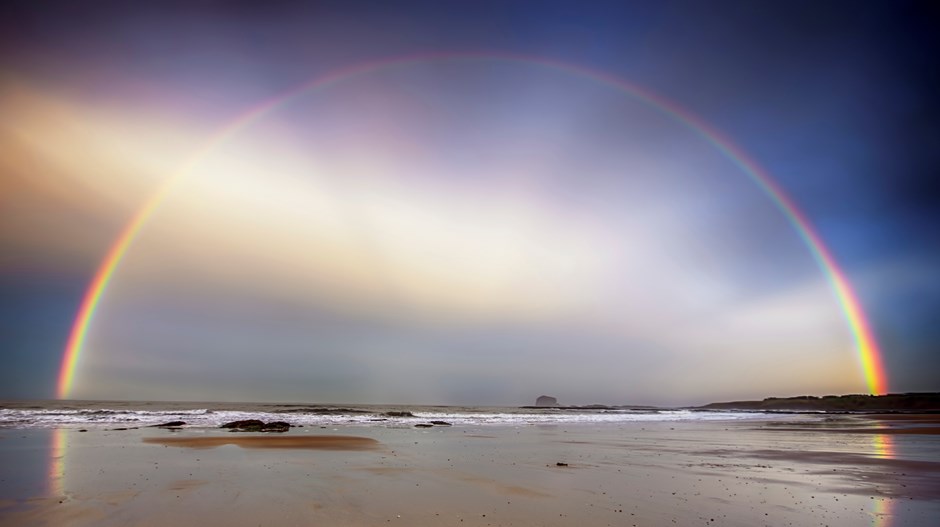 Image: Westend61 / Getty
There is more to a rainbow than meets the eye. In one sense, I mean that literally: The human eye cannot see the colors at either end of the spectrum, despite the pictures you see in children's Bibles. But in another sense, I mean it symbolically. The rainbow carries a number of meanings in Christian thought to which many of us are blind. I count at least five.
Rainbows mean beauty. This is true for everyone, whether or not they have ever heard of Noah. Few things in creation compare to the beauty of sunbeams colliding with waterfall spray, as refracted shards of color scatter in all directions. When Ezekiel is trying to describe the indescribable—"the appearance of the likeness of the glory of the Lord" (1:28)—he draws on the most splendid images in creation, like an expanse of glittering crystal (1:22) or a sapphire throne (1:26). But his portrait culminates in the dazzling brightness of "a rainbow in the clouds on a rainy day" (1:28). Rainbows testify to the abundant beauty of the God who makes them.
Their gorgeous appearance results from the fact that they display unity in diversity. In a rainbow, one color (white) is shown to be many (red, indigo, yellow, and the rest), and many come together into one. That fusion of color is one way of looking at the ecclesiology of Revelation: The people of God are pictured as warriors, witnesses, worshipers, and wedding guests wearing white, yet also as a multicolored, multiethnic multitude, a city adorned by precious stones of all colors, from jasper to sapphire, emerald to amethyst. (This point is obscured today, because we use the word white to refer to people who patently aren't. Nobody called themselves white until the 17th century, and if you put my skin on a color palette, it would register as peach in the winter and beige in the summer.) The church is the true rainbow nation, the place where people are many and one at the same time.
Staying in Revelation, rainbows also reflect unapproachable light. When God reveals himself in the Bible, we often find two images: the sun and clouds. The sun speaks of the dazzling radiance of God, the brilliant light of his purity, excellence, and perfection. Clouds speak of the hiddenness, the concealed majesty, of the immortal, invisible, only wise God who no one has seen or can see. But when light and unapproachability come together—when the midday sun shines brightly through thick cloud cover—you get an explosion of rainbows. That is why, when John first sees the Holy One enthroned in heaven, "a rainbow that shone like an emerald encircled the throne" (Rev. 4:3).
For all this, Scripture only gives the rainbow one explicit meaning: a sign of God's covenant. "And God said, 'This is the sign of the covenant I am making between me and you and every living creature with you, a covenant for all generations to come: I have set my rainbow in the clouds, and it will be the sign of the covenant between me and the earth' " (Gen. 9:12–13). Covenants in Scripture are accompanied by signs. In this case, the rainbow signifies a covenant made not just with God's people but with creation itself: a commitment never again to destroy all flesh in a flood. But unlike most other biblical covenants, in which we have to do something, the rainbow is entirely one-sided. It appears in the sky unilaterally, gratuitously; no response is required or even possible. Rainbows remind us that no matter what we do, God keeps his promises.
Finally, rainbows mean peace. Consider that phrase again: "I have set my rainbow in the clouds." The Hebrew term means "bow," as in the weapon that fires arrows. In other words, God has holstered his weapon. He has committed not just to limiting rainfall but to peace. Which raises the question: How? How will God destroy evil and live at peace with humanity at the same time? And that question forms the backdrop to every subsequent covenant, until the day when the God of the rainbow took on flesh, broke bread, and poured out his blood for the forgiveness of sins.
Rainbows speak of perfection, plurality, purity, promises, and peace. Next time you see one, pause for a moment to consider the multicolored wisdom of the God who made it.
Andrew Wilson is teaching pastor at King's Church London and author of Echoes of Exodus (Crossway). Follow him on Twitter @AJWTheology.
Have something to say about this topic? Let us know here.
Have something to add about this? See something we missed? Share your feedback here.
Spirited Life
Spirited Life is a collision between biblical reflection and charismatic practice, aiming to make people happier in God.
Andrew Wilson is teaching pastor at King's Church London and author most recently of
Spirit and Sacrament: An Invitation to Eucharismatic Worship
(Zondervan). Follow him on Twitter
@AJWTheology
.
Previous Spirited Life Columns: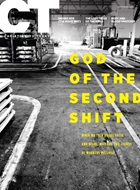 This article is from the October 2018 issue.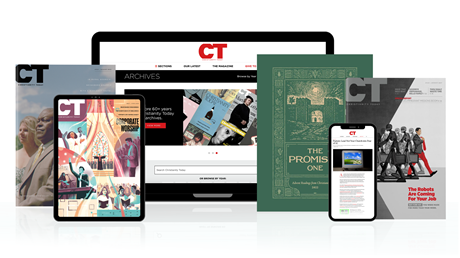 Subscribe to Christianity Today and get access to this article plus 65+ years of archives.
Home delivery of CT magazine
Complete access to articles on ChristianityToday.com
Over 120 years of magazine archives plus full access to all of CT's online archives
Subscribe Now
When God Makes Sunbeams Collide with Waterfall Spray
When God Makes Sunbeams Collide with Waterfall Spray