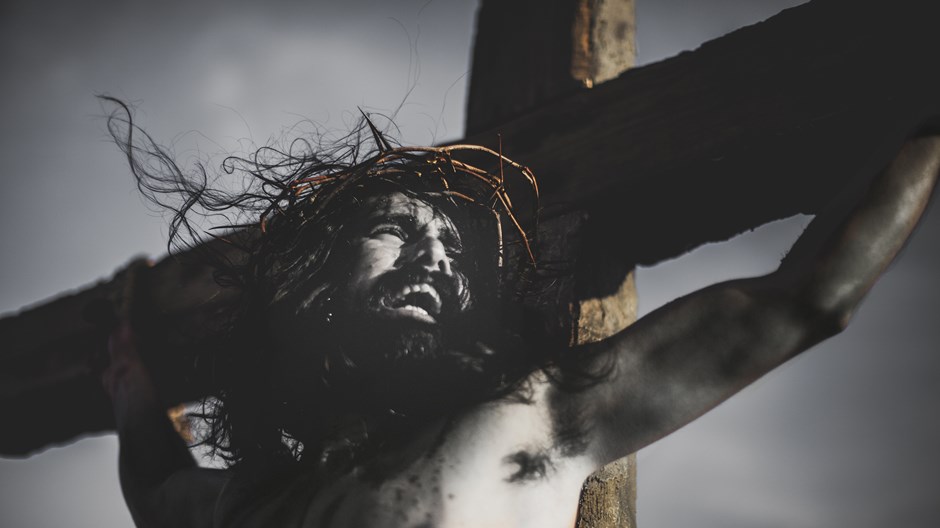 "My God, my God, why have you forsaken me?" These words come from the lips of Jesus as he hangs on the cross (Matt. 27:46; Mark 15:34). They are powerful and haunting, and they are surely very important. But what do they mean—how are we to understand them?
Here is one line of thinking that has recently become very popular in some circles. According to C. J. Mahaney, this cry from the lips of Jesus is the "scream of the damned." He takes this line from R. C. Sproul who exclaims that when Jesus is crucified it is "as if a voice from heaven said, 'Damn you, Jesus.'" This is because Jesus becomes the "virtual incarnation of evil" and even "the very embodiment of all that sin is." Thus God abandons Jesus, turns his back on him, "curses him to the pit of hell" and "damns" him.
For many who hold this view, the Trinity is somehow "broken" as the communion between the Father and the Son is ruptured in the darkness of that Friday afternoon. And this is said to be good news and the heart of the gospel because Jesus absorbs the wrath of God in taking the exact punishment we deserve. God is changed from wrath to mercy and can no longer justly punish those for whom Christ died.
Such preaching is very powerful. But is it right? We should, of course, want to proclaim all that the Bible says about the work of Christ (at least as much as we are able), and we should be committed to affirming all that this teaching implies (what older theologians called "good and necessary" consequences). But we should also be very cautious about going beyond what is explicitly taught or implied— especially where the Christian tradition warns us. And we should strive to avoid anything that goes against biblical teaching and theological orthodoxy. So what are we to make of such teaching?
The Scream of the Damned?
We should be faithful to proclaim all that Scripture teaches, but we should be cautious about going beyond it. And here we must be blunt: Scripture nowhere says that Jesus's cry of dereliction is "the scream of the damned." Sproul says that "it is as if" there is a voice from heaven that says "Damn you, Jesus," but in fact, there is no such voice. Jesus Christ is nowhere said in Scripture to be the "virtual incarnation of evil" or "the very embodiment of all that sin is." To the contrary, he is the incarnation of goodness—he is holiness incarnate as truly human.
There is no biblical evidence that the Father-Son communion was somehow ruptured on that day. Nowhere is it written that the Father was angry with the Son. Nowhere can we read that God "curses him to the pit of hell." Nowhere is it written that Jesus absorbs the wrath of God by taking the exact punishment that we deserve. In no passage is there any indication that God's wrath is "infinitely intense" as it is poured out on Jesus. Such statements may pack a lot of rhetorical punch, but they go far beyond what Scripture teaches.
Of course, not all "going beyond" is going against, but sometimes the tradition warns us that "beyond" has become "against." I have argued elsewhere that important patristic, medieval, and Reformation teaching denies these claims, but consider these statements (from theologians well known for their defense of a version of the doctrine of "penal substitution"). John Calvin says that "we do not admit that God was ever hostile to him, or angry (iratum) with him. For how could he be angry with his beloved Son, 'in whom his soul delighted?'"
Similarly, Charles Hodge denies that the atoning work of Christ "consist[s] in an exact quid pro quo, so much for so much," and he says that Christ "did not suffer either in kind or degree what sinners would have suffered." It is tough to argue against Hodge here, for if sin deserves eternal separation from God and eternal conscious punishment (as traditional Reformed and much evangelical theology insists), then clearly this is not what Jesus receives.
One Triune God
Just as we must be cautious not to go beyond what Scripture says, so also we should not proclaim anything that goes against biblical teaching (or its "good and necessary" entailments). I have made the case elsewhere that while it is clear that the Father abandoned the Son to death on the cross, there is no good reason to think that this causes a rupture— or even a "strain" or "tension"—within the Triune life.
Not only is there no biblical text that says that the Father "turns his face away" from the Son, the passage that most plausibly speaks to the matter actually says that God did not do so. For if we take Psalm 22 to be important for our understanding of the cry of dereliction (as both Mark and Matthew clearly do), then we find these words: "he has not hidden his face from him but has listened to his cry for help" (Ps. 22:24). And the steady drumbeat of the apostolic preaching of the gospel has this consistent refrain: You killed him, but God raised him from the dead.
Finally, the "broken Trinity" and "God against God" views run aground on the doctrines of divine impassibility and simplicity as well as the doctrine of the Trinity. According to Christian orthodoxy, it not even a possibility that the Trinity was broken. If we know anything about the Trinity, we know that God is one God in three persons, and we know that God's life is necessarily the life of holy love shared in the eternal communion of the Father, Son, and Spirit. To say that the Trinity is broken—even "temporarily"—is to imply that God does not exist.
The Just For the Unjust
We must not go beyond or against Scripture, but we should do our best to affirm all that Scripture says. So then, what can we say of the cry of dereliction? First, we should see that the biblical depiction of the human condition makes it clear—painfully and depressingly clear—that we are sinners. We are all sinners (Rom. 3:23), and we are helpless to rescue or repair or somehow save ourselves. We have the problem of what we've done and the wreckage we've caused; our sin and guilt and shame are undeniable and unshakable. But this isn't all, for we have the further problem of who we are, what we've become, and what we will continue to do if we are not radically transformed. To use the language of older theology, we are both polluted and guilty.
Death is the consequence of sin (Rom. 6:23). And because of our sin, the wrath of God is being revealed (Rom. 1:18). Our days "pass away" under God's wrath (Ps. 90:9). God's wrath comes on those who are disobedient (Eph. 5:6; Col. 3:5–6). Indeed, we are "children of wrath" (Eph. 2:3, ESV).
Second, we should understand the work of Christ on our behalf within the storyline of Scripture: "Christ died for our sins according to the Scriptures" (1 Cor. 15:3). His work addresses our condition— both the guilt and the pollution. Jesus Christ reverses the disobedience and unfaithfulness of Adam and Israel. Drawing on an ancient theological insight, we can say that in becoming human the divine Son of God "recapitulates" (or "re-heads") humanity. The incarnation is itself redemptive, and it is his entire life, death, and resurrection (as well as his ascension and session—Jesus being seated at the right hand of the Father in heaven) that brings salvation to us.
In becoming fully human as Jesus Christ, the Son enters our brokenness and takes upon himself the "curse" caused by humanity's sin. Thus the incarnate Christ unites himself to those under the wrath of God and suffers death. Christ's work on our behalf is thus grounded in his incarnate person; it includes his teaching and example (1 Pet. 2:21) and culminates in his glorious defeat of sin and death (e.g., 1 Cor. 15:54–57; Heb. 2:14).
To say that Christ "died in accordance with the Scriptures" is to see his work within the broad biblical storyline that begins with Adam and focuses on Israel. More precisely, this includes seeing it in light of the Old Testament witness to both the wrath of God and the sacrifices offered for sin. The New Testament draws these connections, and it presents Jesus as the one who is both priest and sacrifice, both representative and substitute.
Jesus has come to ransom others (e.g., Mark 10:45). His suffering is not merely physical (Matt. 26:38), as his intimate union with humanity makes him deeply aware of their sin and its consequences. His death was "the righteous for the unrighteous" (1 Pet. 3:18). He came "in the likeness of sinful flesh" to be a "sin offering" and to "condemn sin in the flesh" (Rom. 8:3). He redeemed us from the curse of the law by "becoming a curse for us" in his death (Gal. 3:13). We are "saved from God's wrath" by Christ (Rom. 5:9; 1 Thess. 1:10). The one who was sinless (e.g., Heb. 4:15) and who "had no sin" became "a sin offering" (not a sinner) on our behalf (2 Cor. 5:21). Jesus Christ, the sinless Son of God, "'bore our sins' in his body on the cross, so that we might die to sins and live for righteousness" (1 Pet. 2:24; compare Isa. 53:5–6).
Note carefully the statement "so that we might die to sins and live for righteousness." We cannot afford to miss the union and participation here—Christ lived with and for us and died for our sins so that we might die to our sins and live with and for him. Nor can we afford to miss the intention; it is so that we might be transformed, so that we might be truly righteous.
Christ was a sacrifice for us so that we might live as people who are holy (e.g., Eph. 5:2–21). His sacrifice was to "do away with sin" (Heb. 9:26). It was to cleanse us from sin—the "acts that lead to death" (Heb. 9:14; 10:10). Christ was a "sin offering" precisely so that we will "not live according to the flesh but according to the Spirit" (Rom. 8:4)—so that "we might become the righteousness of God" (2 Cor. 5:21). As a result of Christ's work, we can be "freed from our sins" by the one who loves us (Rev. 1:5).
We should be committed to proclaiming all that Scripture says about what Christ did for us. So we should not shrink from clarity about sin and its awful and horrific consequences. Indeed, we should be faithful to point out that "wrath remains" on all who reject the Son (John 3:36). At the same time, however, we are not at liberty to restrict our understanding of the intents, purposes, and breadth of Christ's work.
Narrowing Christ's work to the limited sense of taking the punishment for our sins can cause us to miss (much of) the point. Yes, Christ came to get us out of hell, but he also came to get hell out of us and to make us holy as we walk in communion with the Triune God. We should be faithful to proclaim that while Christ's sacrificial work saves us from the wrath of God, it does so precisely as it radically transforms and changes us.
To say or imply that the Trinity is broken is to say or imply that God does not exist. This is exactly what we should seek to avoid saying on Good Friday and every other day. To the contrary, the holy love of the Triune life is the ground and wellspring of salvation: God "demonstrates his love for us in this: While we were still sinners, Christ died for us" (Rom 5:8). "God is love," and "this is how God showed his love among us: He sent his one and only Son into the world ... as an atoning sacrifice for our sins" (1 John 4:8–10). This we joyfully proclaim.
Thomas H. McCall is professor of biblical and systematic theology at Trinity Evangelical Divinity School and professorial fellow in analytic and exegetical theology at the University of St Andrews. His most recent book is An Invitation to Analytic Christian Theology (IVP Academic, 2015).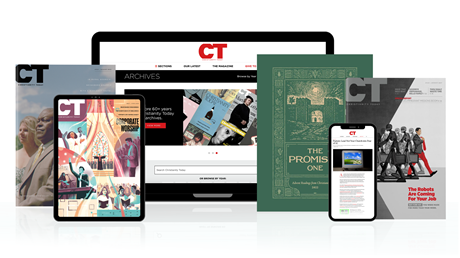 Annual & Monthly subscriptions available.
Print & Digital Issues of CT magazine
Complete access to every article on ChristianityToday.com
Unlimited access to 65+ years of CT's online archives
Member-only special issues
Subscribe
Is the Wrath of God Really Satisfying?
Is the Wrath of God Really Satisfying?