true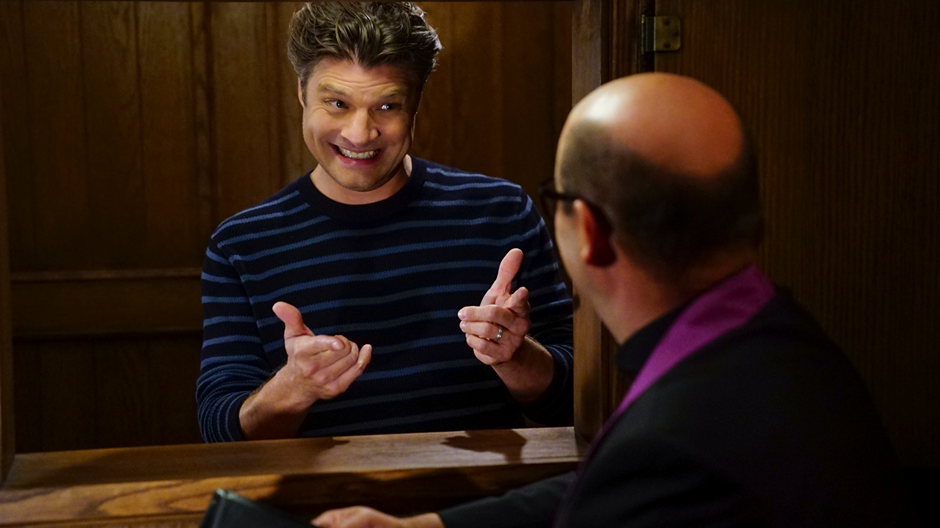 Image: Sonja Flemming / CBS / Getty Images
Can a rabbi, a priest, and a TV writer known for edgy comedies like It's Always Sunny in Philadelphia make a network sitcom about the Bible that everyone will want to watch?
That's what CBS is betting with the new half-hour sitcom Living Biblically, which premieres tonight.
The show is based on A. J. Jacobs's The Year of Living Biblically, the 2007 bestseller that journaled the author's experiences interacting with religious communities and attempting to follow scriptural prescriptions in a modern-day context.
The book was a hit with Christians when it debuted more than a decade ago. Books & Culture reviewed the release, and Jacobs was interviewed multiple times in Christianity Today about how the experiment—which he called "an ethical makeover"—taught him about faith and showed him more of the evangelical world.
There was a little something for everyone in Jacobs's endeavor: some Christians appreciated his interest in understanding and obeying the Bible, others applauded him for recognizing where legalism can fall flat, and nonbelievers saw him as calling out the seemingly ridiculous aspects of some Old Testament rules.
The creators of the Living Biblically TV adaptation wanted to keep religious viewers interested in their project too. Clearly Christians will go for shows like The Bible miniseries and movies like War Room, but will the "faith audience" get behind a program with a looser approach to Christian themes?
"If you're not religious, [the fear is], 'I'm going to be preached at. What is this doing on my TV?' and if you are religious, it's, 'Oh, you're going to make fun of me and my beliefs,'" Living Biblically's executive producer, Patrick Walsh, told CT.
Walsh, whose other show credits include HBO's Crashing and CBS's 2 Broke Girls, gathered a mix of writers of faith and no faith for the show's writing staff. They had each script vetted by a rabbi and a Jesuit priest who served as show consultants.
Throughout production, the creative team thought hard about how to balance their approach to religion and kept Christian viewers in mind. "What I hope they come away from the show with is … it's not a mean-spirited show by any means," Walsh said. "I think quite the opposite."
Like in Jacobs's book, the show's protagonist Chip Curry (Jay R. Ferguson) resolves to live his life "100 percent" by the rules of the Bible. "I'm becoming a better man, one verse at a time," he says in the intro.
"I knew emotionally that was not going to be enough if the lead character was just doing this to write a book, so I had to build in the emotional stakes of his best friend dying and his wife having a baby," Walsh said.
Chip attends a Baptist church, but relies on a "God squad," a rabbi (David Krumholtz) and Catholic priest (Ian Gomez), for advice on how to apply biblical commands to his day-to-day life. For example, Chip attempts to turn away from his idols, like his smartphone, and to dedicate himself to prayer in some of the early episodes.
Future episodes will deal with verses about "submitting to thy husband," and Walsh also hopes to incorporate beliefs outside of Christianity.
Living Biblically makes an effort to bring up broader ethical teachings from Scripture—not just concepts pulled from Levitical obscurity—which could have wide appeal if the setups weren't so flat.
Take the entirely preventable dilemma when Chip struggles to buy tickets for an important anniversary date because he can't buy them through his phone (which he's avoiding as he would an idol). I'd like to think that attempting to integrate biblical principles into real life doesn't make me this stupid.
And while Living Biblically succeeds in avoiding mocking Christian ideals, it fails to be clever, cutting, or even just creative in its humor. The first episode includes a line about the church always being open, "like Heaven-11." Both dated and shallow, this joke represents the tone of the series.
In another episode, Chip announces, "prayer wise, I'm two for two now," after getting seemingly instant responses to his requests. The show nods to the possibility prayer works, but also acknowledges that Chip's results could have been correlation, not causation.
As Chip's atheist wife, Leslie (Lindsey Kraft), says: "The idea that a few kind words can affect the physical world, I can't go there. But it did make me feel better when I needed it most."
In context, Leslie's beliefs make more sense than Chip's do. Chip is "trying out" biblical living. Similarly, Jacobs, who has described himself as an agnostic Jew and writes "quest" books frequently (the subtitle of A Year of Living Biblically is "one man's humble quest to follow the Bible as literally as possible"), approached the challenge as partly a stunt.
The show is trying to have it both ways: Chip wants to have faith, but trying to live by the letter rather than the spirit of the Bible comes off as insincere.
Despite their good intentions, the creative team behind Living Biblically seems to still be searching for the right tone.
This show may appeal to an audience that finds the live audience laughter and simplistic plots soothing. It fits in well with the rest of the CBS lineup and may even stand out for its deliberate intent to be family-friendly. Living Biblically has minimal cursing in its first few episodes and does not include the sex jokes that come up in shows like Mom or even The Big Bang Theory, which has topped Nielsen rankings for years.

The Christian entertainment site Movieguide summed it up as charming, not-quite-funny, and "not hyper-theological, but it treats the Christian faith respectfully and places high value on it."
As USA Today pointed out, Living Biblically is part of a recent batch of TV shows explicitly addressing religious themes: Young Sheldon continues to contrast the budding scientist's skepticism with his mother's Christianity, Disney Channel's Andi Mack just ran a bar mitzvah episode, and the Fox comedy The Mick took a serious turn with a church episode this week.
"After years of 'sword and sandals' epics and saccharine family fare, modern consumers of faith-based entertainment are eager for fresh perspectives like these," said TV writer Patrick Ryan.
But if shows are going to turn to religion—and Scripture itself—as inspiration, viewers deserve a higher bar for quality than inoffensive and respectful. As one reviewer remarked, Living Biblically's "failures are a shame because religion is a powerful enough presence in our culture to be approached with honesty and genuine wit."
Any "people of the Book" know that the Bible offers endlessly relevant, challenging, and nuanced themes—but rarely do they keep us as comfortable as an episode of Living Biblically.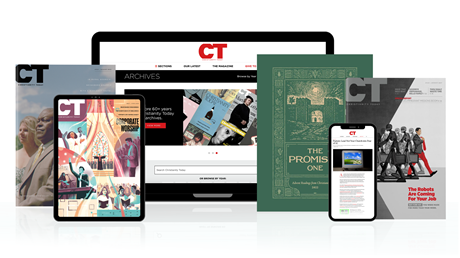 Annual & Monthly subscriptions available.
Print & Digital Issues of CT magazine
Complete access to every article on ChristianityToday.com
Unlimited access to 65+ years of CT's online archives
Member-only special issues
Subscribe
Unlike the Bible, 'Living Biblically' Plays It Safe
Unlike the Bible, 'Living Biblically' Plays It Safe