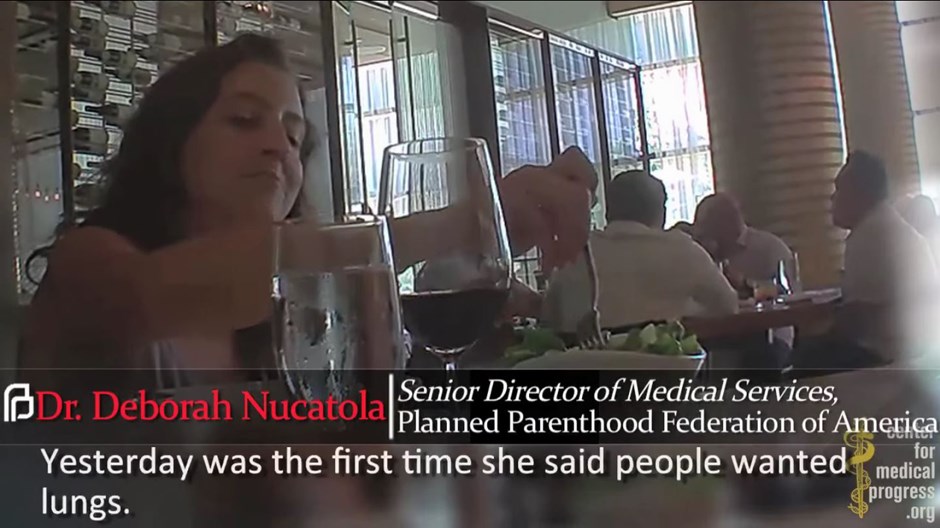 ­­­
In the summer of 2014, two actors, posing as representatives of an organ donation firm, sat down with Deborah Nucatola, senior director of medical services at the Planned Parenthood Federation of America.
The two-hour conversation was covertly recorded by a group called the Center for Medical Progress.
Over white wine and salad, they discussed the details of fetal tissue and organ donations—the cost and the gruesome specifics of how specific tissues are collected.
At one point, Nucatola discussed the demand for liver and brain tissue, and how a fetus's head can be removed intact with forceps.
The conversation is horrifying, in part because it takes place in such a matter-of-fact manner, said Francis Beckwith, professor of philosophy and church-state studies at Baylor University in Waco, Texas.
"I can't imagine anyone who does organ donation talking like this—as if there was a menu of options," said Beckwith.
An 8-minute version of the video has caused outrage nationwide, with calls for federal and state investigations into Planned Parenthood's practices.
"It is stomach-churning to hear a top doctor for the national Planned Parenthood organization admit, on videotape, that Planned Parenthood abortionists can and will alter late abortion procedures to facilitate the harvesting of intact baby body parts—she specifically mentioned hearts, lungs, livers, even intact heads—in order to fill specific pre-orders," said National Right to Life president Carol Tobias in a statement. "Numerous statements by Dr. Nucatola cry out for probes by Congress and other investigatory agencies—and quickly."
The video is disturbing and troubling—especially because many of the practices Nucatola describes have been legal since the 1990s.
Is the video real? Yes.
Nucatola's role has been cited in a number of Planned Parenthood press releases in the past and the group acknowledged that she appears in the video. Planned Parenthood denies any wrongdoing.
The video is part of a three-year investigation funded by the Life Legal Defense Foundation.
"Planned Parenthood's unconscionable acts are recorded and proven. But it will take a lot of pressure to bring consequences to bear," said Katie Short, Life Legal's vice-president for legal affairs in a statement. "After these revelations, the first thing every public official should be asked is why a penny of taxpayer money is going to fund any part of Planned Parenthood's work."
Does Planned Parenthood admit selling fetal tissue for profit? No.
At least not according to the transcript of the video posted by the Center for Medical Progress.
"This is not—nobody should be 'selling' tissue. That's just not the goal here," Nucatola told her lunch companions.
Planned Parenthood also appears to be wary of setting up a national system for tissue donation, because of the legal restrictions involved.
"So, we tried to do this, and at the national office we have a Litigation and Law Department that just really doesn't want us to be the middle people for this issue, right now," she told the actors from the Center for Medical Progress.
"There is no financial benefit for tissue donation for either the patient or for Planned Parenthood," said Eric Ferrero, vice president of communications for Planned Parenthood Federation of America, in a statement Monday. "In some instances, actual costs, such as the cost to transport tissue to leading research centers, are reimbursed, which is standard across the medical field."
But at least one Planned Parenthood affiliate leader has promoted the financial benefits that tissue donations bring, as the law allows clinics to be reimbursed for their costs.
A flyer from a company called StemExpress, entitled "Easy to Implement Program + Financial Profits," touts those benefits.
"StemExpress promotes biomedical research providing a financial benefit to your clinic. By partnering with StemExpress, not only are you offering a way for your clients to participate in the unique opportunity to facilitate life-saving research, you will also be contributing to the fiscal growth of your own clinic," the brochure reads.
The brochure also includes an endorsement from a Planned Parenthood medical director in California.
StemExpress's website was down for maintenance Wednesday. An archived version of the site from June 2014 showed its products, derived from fetal tissue and organs, include a vial of 5 million frozen fetal liver stem cells for $24,250.
Is it legal to sell fetal remains? No.
Under federal law, "It shall be unlawful for any person to knowingly acquire, receive, or otherwise transfer any human fetal tissue for valuable consideration if the transfer affects interstate commerce."
And there are strict guidelines on how tissue can be donated. The woman having an abortion must give her consent, she must be made aware of all the risks, and "no alteration of the timing, method, or procedures used to terminate the pregnancy [can be] made solely for the purposes of obtaining the tissue."
Still, no federal agency tracks how much tissue is donated or the details of those donations. And groups like Planned Parenthood can collect fees to reimburse their costs. Federal law allows for "reasonable payments associated with the transportation, implantation, processing, preservation, quality control, or storage of human fetal tissue."
That's when things get complicated. In the taped conversation, Nucatola described the process almost like haggling:
You know, I would throw a number out, I would say it's probably anywhere from $30 to $100 [per specimen], depending on the facility and what's involved. It just has to do with space issues, are you sending someone there who's going to be doing everything, is there shipping involved, is somebody gonna have to take it out. You know, I think everybody just wants, it's really just about if anyone were ever to ask them, What do you do for this $60? How can you justify that? Or are you basically just doing something completely egregious, that you should be doing for free? So it just needs to be justifiable.
As CT reported in 2000, payments for fetal tissue donations are allowed under a loophole in the 1993 rule that bans the sale of fetal remains.
Here's how the system worked then:
American biomedical researchers began experiments as early as 1928 using fetal tissue to treat disease, according to American Life League, a prolife organization. In 1988, Congress enacted a measure to outlaw the explicit sale of fetal tissue or organs. In 1993, one of Bill Clinton's first official acts as President was to lift the ban on federal funding for fetal-tissue experimentation. The law itself, under the National Institutes of Health Revitalization Act of 1993, restates the ban on the overt sale of baby body parts. But the wording deftly allows "reasonable payments associated with the transportation, implantation, processing, preservation, quality control or storage of human fetal tissue." The act did not define "reasonable payments."
Thus, the actual bodies of aborted babies themselves are donated by the pregnant mothers and abortion clinics. An intermediary agency pays an "onsite" fee to the abortion clinic and processes the fetal tissue to order for its research clinics, which in turn pay a significant fee to the go-between.
Could Planned Parenthood be in trouble due to this video? Yes.
Nucatola seems at times to waver on the question of tailoring the abortion procedures given to clinic clients in order to meet the needs of tissue and organ procurement groups. That may violate federal law.
She described, at one point, talking to a representative of a tissue donor group in her clinic:
You know I asked her at the beginning of the day what she wanted. Yesterday she wanted, she's been asking, a lot of people want intact hearts. These days, they're looking for specific nodes. AV nodes; yesterday I was, Like wow, I didn't even know, good for them. Yesterday was the first time she said people wanted lungs. And then, like I said, always as many intact livers as possible.
Pro-life groups are calling for a congressional investigation into Planned Parenthood's practices.
Why has this video caused such outrage?
The callous approach in the video was shocking, said Beckwith, with talk of harvesting tissue from fetuses over sips of wine and bites of salad.
It shows no respect for the human body, he said, and feels like those involved are buying and selling human flesh.
"It may be legal, but it feels like a business proposition," Beckwith said.
Russell Moore, president of the Southern Baptist Convention's Ethics and Religious Liberty Commission, said in a blog post on his website that the video left him speechless:
If this does not shock the conscience, what will? It is not only that infants, in their mother's wombs, are deprived of their lives, but also that their corpses are desecrated for profit. This is not only murderous; it is murderous in the most ghoulish way imaginable.

For years, many of us have called on government leaders to see to it that no taxpayer funds, of any kind, go to Planned Parenthood. Is it not clear that these are not health-care providers but pirates and grave-robbers of those who have no graves? The Department of Justice and the United States Congress should undertake a thorough investigation of this.
Has this issue been raised before? Yes.
In 2000, after a series of media reports, a congressional sub-committee held a hearing to investigate claims that fetal tissue was being sold for profit.
At the time, Rich Cizik, then–vice president of governmental affairs for the National Association of Evangelicals, blamed the Clinton administration for a 1993 decision to lift a ban on using fetal tissue in research.
"They lifted the ban," Cizik told CT in 2000. "Abuse is something they should have anticipated. If they see nothing wrong in carving up human beings and selling their parts for profit, then nothing would embarrass them."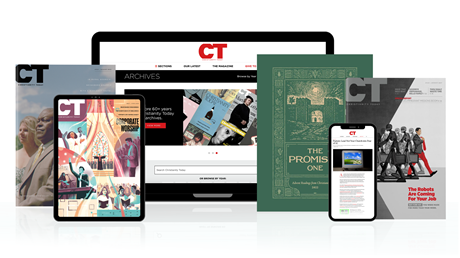 Annual & Monthly subscriptions available.
Print & Digital Issues of CT magazine
Complete access to every article on ChristianityToday.com
Unlimited access to 65+ years of CT's online archives
Member-only special issues
Subscribe
Abortion Video Leads to Claims of Modern Day Grave Robbing
Abortion Video Leads to Claims of Modern Day Grave Robbing