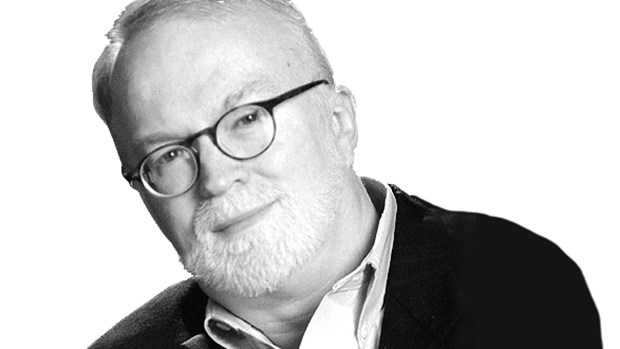 As I drove south on Interstate 65 one hot summer day, headed for Birmingham, I was uncertain about what lay at the end of my 376-mile trek. I had spent ten wonderful years in Louisville, Kentucky, teaching at a Baptist seminary where I had wonderful students and colleagues. I loved what I did and intended to stay there until I died. But a stirring deep within—an unexpected prompting from God, I believed—had set me on this journey to a future yet unknown to me.
One of the great metaphors of life with God is that of a journey. The journey from Egypt to the Promised Land. The journey from Babylon to Jerusalem. The journey of the wise men to Bethlehem. This theme resounds not only throughout Scripture but also throughout the Christian tradition. For example, one of Augustine of Hippo's favorite words was peregrinatio, Latin for "pilgrimage," which appears almost 100 times in his classic work The City of God.
In the evangelical tradition, we might resonate more deeply with John Bunyan's allegory, The Pilgrim's Progress, about a character named Christian who leaves his home city, bids farewell to his family and friends, and journeys to a place where he has never been. Along the way, Christian is confronted with dangers and demons of the dark. But he trudges on until, at last, he reaches that city "with foundations whose builder and maker is God," which can be glimpsed but never occupied until he crosses the river of death.
My own journey began in Chattanooga, Tennessee, in 1950. My father was an alcoholic and died in prison when I was 12. My mother suffered from polio and struggled to care for my younger sister, Lynda, and me. For several years, Lynda lived in a Christian children's home while I was left in the care of two great-aunts. We lived in a section of town called Hell's Half Acre.
Back in the 1950s, before the civil rights era, our neighborhood was already integrated, since both whites and blacks there were simply too poor to live anywhere else. I know what it is like to go to bed hungry and to go to school wearing raggedy clothes.
Every Sunday, my great-aunts took me to a small Baptist church near our home. The worship was expressive, the prayers fervent, and the love palpable. There I learned John 3:16 and the chorus "Jesus loves me, this I know, for the Bible tells me so." Sunday school was a big deal, and so was the preaching. In that church, I first connected with one of the Bible's great journey stories: Abraham and Sarah's pilgrimage from an old home to a new one, from an old country to a different one (Heb. 11:8–16).
Our pastor, Brother Ollie Linkous, loved to preach from Hebrews 11. He would tell the stories of the great heroes of the faith mentioned in this chapter: Abel, Noah, Jacob, Joseph, Moses, Rahab, Gideon, David, Samuel, and all the others. But Abraham and Sarah made a special impression on me.
With God's Word—especially the story of Abraham and Sarah—dwelling in my heart as I grew up, my mind began to fill with questions that preoccupy many young Christians: How do I discern the will of God when faced with an important life decision? Should I go to this school or that one? Do I marry this person, or someone else, or remain single? Is this the right job for me?
Some believers say we shouldn't worry about trying to discern God's will. "God gave you a sound mind," they say, "so use it and you will likely make a wise decision." But that response never satisfied me. The God in that scenario sounds like the distant God of deism—aloof and hands-off—rather than the intrusive God of the Bible who interrupts our lives.
As a young Christian, I was given good counsel about divine guidance. "Seek advice from wise and godly friends," I was told. "Spend time in prayer and claim the promise of James 1:5: 'If any of you lacks wisdom, you should ask God, who gives generously to all without finding fault, and it will be given to you.'" And, "Immerse yourself in Scripture, because God's Word is 'a lamp for my feet, a light on my path'" (Ps. 119:105).
I have tried to follow this advice when facing tough decisions. And on two separate occasions, intense meditation on Hebrews 11:8–16 has helped me in the decision-making process, shaping my life significantly.
From Certainty to Trust
The first situation occurred as I struggled to decide which seminary to attend. As a dyed-in-the-wool Southern Baptist preacher boy, everyone assumed I would choose one of our six denominational seminaries. My wife, Denise, and I visited one and met some of the professors. But after a long process of discernment, we decided to move to Boston, where I would attend Harvard Divinity School.
Countless people asked me, "Why did you go to liberal Harvard?" Denise and I sensed that God was leading us there, but we had no infallible verification in advance. The decision was hard. While I earnestly prayed for direction, the counsel I received from others was decidedly mixed. Some friends thought I would likely lose my faith if I studied at such a school. (This had happened to others, so their concern was legitimate.) Others warned that I would forfeit all opportunities for ministry by leaving our cozy denominational cocoon. In this context, Hebrews 11:8–16 fastened itself to my mind and heart.
As I read this text in light of the Genesis narrative (11–25), it became clear that the journey of Abraham and Sarah was made in response to a summons: "By faith Abraham obeyed when he was called to go out" (Heb. 11:8, ESV). We are not told exactly how that call came to Abraham and Sarah. Whether it was like Moses' bush, glowing with supernatural fire, or like Ezekiel's psychedelic vision, a whispered voice along a mountain trail, or someone calling their names in the middle of the night—we do not know. But one thing is sure: The call came from outside them. Abraham and Sarah did not take a personality or spiritual gifts test and then decide to become pilgrims. They were summoned, and they knew it. We, too, knew we were summoned.
But a journey always involves displacement—and usually uncertainty. I was struck by the number of negatives in this passage. "And he went out, not knowing where he was going" (v. 8, ESV, emphasis mine). When they died, they had not yet received what was promised (v. 13). They saw the celestial city at a distance, from afar, and for that reason they acknowledged "that they were strangers and pilgrims on the earth" (v. 13, KJV). Not knowing, not having, not receiving, not possessing. The great theologian John Calvin once wrote, "We cannot imagine any certainty that is not tinged with doubt, or any assurance that is not assailed by some anxiety."
There are times when Christ followers want to sing with all the gusto in their souls that wonderful hymn by Fanny Crosby: "Blessed assurance, Jesus is mine / Oh what a foretaste of glory divine!" But other times, the great hymn by John Henry Newman is more appropriate: "Lead, kindly light, amid the encircling gloom, lead thou me on. / The night is dark, and I am far from home; lead thou me on." I'm sure that was the case for Sarah and Abraham. It certainly was for Denise and me. Two aspects of their journey seemed to portend our own pilgrimage of faith.
The Way of Vulnerability
First, theirs was a journey from certainty to trust. Back in Ur of the Chaldees, Abraham and Sarah were persons of substance. Consider the number of animals and servants they had. They knew who they were and where they stood in society. Their sense of identity was shaped, no doubt, by generations of acquired wealth, status, and privilege. But on the journey, they could no longer rely on such certainties. The dangers of the road required the discipline of trust. Trust—a major theme in Scripture—appears 134 times in the King James Bible and basically means "to lean on" or "to cling to."
Abraham and Sarah also made a journey from security to vulnerability. They became nomads. Like the Bedouins who still live in the Middle East, they were tent-dwellers, moving from place to place, with no walled city to keep them safe from marauders searching for easy prey.
During the seven years Denise and I spent in Boston—a thousand miles away from our home and families—we learned trust and vulnerability the hard way. I will never forget that empty feeling in my stomach when I came out of class one day to discover that my car had been stolen. Our house and the adjacent church building were broken into on five separate occasions, our few valuable items stolen. And the cultural difference was enormous: imagine trying to find grits in a Boston grocery store!
In Hebrews, the honor roll of faith begins with Abel (11:4) and concludes with Jesus Christ (12:2). Like Abraham and Sarah, Jesus too was a sojourner. John 1:14 describes the Incarnation this way: "The Word became flesh and dwelt [literally, pitched his tent] among us" (ESV). Though Jesus found respite in the home of his friends Mary, Martha, and Lazarus, his ministry took place on the road. His was a life of itinerancy. Jesus said of himself, "Foxes have holes, and birds of the air have nests, but the Son of Man has nowhere to lay his head" (Matt. 8:20, ESV). At the end of his life, he found himself, as Dietrich Bonhoeffer put it, "crowded out of the world and on to a cross." To follow the pilgrim pathway of Jesus, to take up our own cross on a daily basis, means that we walk in his way of trust and vulnerability.
Summoned in a Cemetery
After completing my studies at Harvard, I joined the faculty of the Southern Baptist Theological Seminary in Louisville. Our time there was among the best in our lives. I loved teaching and had hundreds of wonderful students. Denise's own writing career began to flourish. And one of the benefits of teaching at Southern is the privilege of being buried in the nearby Cave Hill Cemetery. I loved walking through the cemetery and often took my students there on "field trips" to stand near the resting places of the seminary founders and other saints. I even chose the plot where I hoped to be buried.
There was a kind of communion of saints in the cemetery that day, and I knew I had come there by special appointment.
Then, one day, I received an unexpected call from the president of Samford University, Tom Corts. He said, "We are thinking about starting a new divinity school here in Alabama, and we want to talk with you about becoming its founding dean." I was taken aback. I had never been a dean, and had never wanted to be one. I was a scholar and a teacher. Seminary administration was the last thing that either I or those close to me thought that I would do. But Corts was persuasive, and I agreed to an interview. I met the school's benefactor, Ralph Waldo Beeson, and was impressed with his vision for theological education.
Faced with the decision, I consulted friends and again got mixed advice. I prayed and decided to spend an entire day at Cave Hill. I walked among the grave markers I had come to know so well. Some were elaborate monuments memorializing those who had done daring deeds of faith. But one of my favorite markers was that of the great New Testament scholar A. T. Robertson. His has a single verse inscribed on it: "To me, to live is Christ and to die is gain" (Phil. 1:21). Hebrews 11:4 says of Abel that "through his faith, though he died, he still speaks" (ESV). There was a kind of communion of saints in the cemetery that day, and I knew I had come there by special appointment.
From early morning until sundown, I walked, prayed, and read two Bible passages over and again. The first was Psalm 119. In repetitive stanzas, like waves breaking against the shore, the psalmist extols the Word of God. This psalm is a paean to the righteous ordinances of the Lord, to his testimonies, statutes, precepts, promises, and commandments. God's law, we are told, is an expression of his steadfast love and faithfulness. That day in the cemetery, my sense of vocation was confirmed as I allowed this psalm to shape me.
I also read and recited once again the story of Abraham and Sarah. When they were called by God, they obeyed, not knowing where they were going, not having received the things promised, but seeing them from afar and trusting that God would lead them at last to that city with foundations whose builder and maker is God (Heb. 11:10).
As I drove from Louisville to Birmingham to begin the work of Beeson Divinity School on June 1, 1988, I cannot say I was free from twinges of doubt. But I was sure of two realities: that God's Word will stand forever, for his promises cannot fail, and that I had once again been summoned by the same God who called Abraham and Sarah to pick up stakes and set out into the unknown.
More than 25 years later, those convictions sustain me still.
Timothy George is the founding dean of Beeson Divinity School of Samford University and the general editor of the Reformation Commentary on Scripture (IVP Academic).
Have something to add about this? See something we missed? Share your feedback here.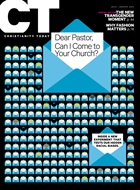 This article is from the Jul/Aug 2015 issue.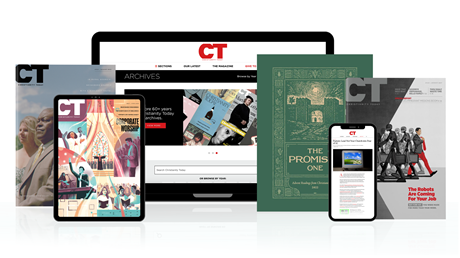 Annual & Monthly subscriptions available.
Print & Digital Issues of CT magazine
Complete access to every article on ChristianityToday.com
Unlimited access to 65+ years of CT's online archives
Member-only special issues
Subscribe
My Own Pilgrim's Progress
My Own Pilgrim's Progress