Image: Peter Murphy
Kneeling at her bedside after three years of family strife, my mother surrendered me in prayer to Jesus. While she was still there, the phone rang. I had just been arrested for smoking hash in the drive-through of a bank while the driver was trying to cash a stolen check. I was getting high while committing bank fraud. That's how out-of-my-mind stupid I was at age 16.
My mother was relieved—not because of the arrest, but because she finally knew where I was. I hadn't called home in days. It was 1980 and the off-season in my seaside hometown of Point Pleasant Beach, New Jersey. Some friends and I were at a deserted motel on a drug binge. When it was time to rustle up funds to keep the party going, I'd followed a guy through the window of a senior citizen's house. There was nothing else worth stealing, so we took the checkbook.
After being arrested I moved back home, but other drama followed until I landed in a juvenile shelter. Free of the drugs and relationships that had clouded my thinking, I realized my life was going nowhere fast. After a month at the shelter, I went to stay with a family who offered transitional housing to wayward teenagers through a 4-H program.
Pat and Carl were born-again Christians. In court, I had complained that my mother and stepfather were trying to "shove Christianity down my throat." Now it seemed like I couldn't get away from Christians. But there was no tension with my hosts. Compared to the faith that had transformed my home life after my father died and my mother married into a Baptist family, Pat and Carl's piety was laid-back.
They didn't go to church much, but were so moved by the ministry of televangelists Jim and Tammy Faye Bakker that eventually Carl went to work for the Bakkers' Praise the Lord ministry. Their Christianity didn't seem inordinately focused on rules and right doctrine like some of the Baptists I knew. Theirs was an eclectic approach that provided me a fresh lens through which to consider the gospel.
After a couple weeks, I returned home and began pursuing a future without drugs. On a subsequent visit, I found myself kneeling in prayer on the opposite side of the coffee table from Pat while the Bakkers preached on TV. Pat raised her hand toward me and began praying. Though she never touched me, I was thrown backwards into the couch by an invisible force. With tears streaming down my face, I raised myself up and surrendered my life to Jesus. I would no longer live for myself. Instead I would devote myself to following him.
Driving home, I wondered why I didn't feel much different. The Holy Spirit had simply startled me into acknowledging that I had reached the end of myself.
A Horrible Pit
Some folks in my tiny hometown were skeptical. Could the wild child really have been born again? In my senior year of high school, I became a model student as well as a compulsive perfectionist. I had been really "bad," so now I would be really "good."
The first Christian book I read was Dietrich Bonhoeffer's The Cost of Discipleship, a worthy place to start for someone who is not a perfectionist. But for me, it inspired failed two-hour prayer sessions before school, misguided evangelism attempts, and excessive judgment of my parents' and my own faults.
I was introduced to the idea that I could lose my newfound salvation if I died with unconfessed sin or didn't persevere in following Jesus. I was unprepared for the challenge this doctrine posed to my softly Reformed faith.
I hurt and offended people with my zealotry. Having sworn off other pleasures, the only safe indulgence was at the table. I packed 20 extra pounds onto my slender frame. I took the SATs and did just well enough for Eastern Mennonite University (EMU) to admit me.
At EMU's Virginia campus, I was introduced to the terrifying idea that I could lose my newfound salvation if I died with unconfessed sin or didn't persevere in following Jesus. I was entirely unprepared for the challenge this Arminian doctrine posed to my softly Reformed faith.
Being far from home in a closed community didn't help. While I earned mostly As in class, I grew seriously anxious about my eternal security. It got so bad that I couldn't read the Bible without applying every negative verse to myself.
In my sophomore year, I gave up the struggle and sank into depression. Thinking it might make me feel better, I entered a brief relationship with a classmate. The emptiness of it reminded me that I didn't want my former life. But following Jesus felt impossible.
I pored over the only Scripture I could read:
I waited patiently for the Lord;
And he inclined to me,
And heard my cry.
He also brought me up out of a
horrible pit,
Out of the miry clay,
And set my feet upon a rock,
And established my steps. (Ps. 40:1–2, NKJV)
I prayed, "God, I don't even know if I'm really a Christian. But I know that if I am, you didn't save me to leave me in this pit."
Love Incarnate
I had already broken up with my boyfriend and transferred when I found out I was pregnant. The first person I told outside my immediate family was Jeff, an old friend who had become a Christian in prison after one too many drug busts.
Jeff was leading worship at my church's youth group and was on his way to Bible college. I told him I thought I'd give the baby up for adoption. "You'll take one look at that baby, and you won't be able to go through with it," he said.
With my parents encouraging me to keep the baby and a counselor pressuring me to choose adoption, I spent my eighth month of pregnancy at a home for unwed mothers. There, I decided to raise my child.
When my son was two months old, Jeff came to visit. I hadn't seen him since the day I'd told him I was pregnant. I also hadn't been to church.
I was confused about everything that had happened since I became a Christian. I didn't have the courage to face a few condemning people at church, including a leader who had tried to have me and other inactive congregants removed from membership.
My patient and loving parents, having decided he was the man for me, hired Jeff to drywall our basement stairwell. He stretched the project out over months, falling in love with my baby and me.
I was conflicted about laying aside my dream of becoming an artist to mother my child and become a wife. But the first time Jeff kissed me, I knew I would marry him. Never before had I felt so unconditionally loved and cherished by a man, or so challenged and stimulated by another person's natural intelligence and radical faith.
Sitting in my living room one day early in our renewed friendship, I told Jeff I didn't know if I was really a Christian, given how I had been living. He explained the grace of God in such a way that I finally understood that I could not make myself good enough to earn forgiveness.
"The Bible says Jesus paid the price for all your sin—past, present, and future," he said. "As far as the east is from the west, that's how far God has removed our sins from us. Nothing can separate you from the love of God in Christ Jesus."
I had heard it all before, but the words finally sank in. They were coming from a trustworthy friend whose background was similar to my own.
While it can be rightly said that religion brought structure to my out-of-control life, living out my faith over decades has required a level of self-abandonment that defies easy explanation. Rather, as Jesus taught, those who have been forgiven much, love much. I've been forgiven much—both before and after my conversion—and I never forget it.
Even so, a roommate once said it doesn't ultimately matter what benefits the gospel offers. What matters is whether or not it's true. From the testimony of the saints and my own experience, from spiritual and intellectual inquiry, from divine revelation and the power of the Holy Spirit, 33 years after surrendering to Christ, I still believe it is.
Christine A. Scheller is an award-winning journalist and CT contributor. She and Jeff will celebrate 30 years of marriage this year.
Have something to add about this? See something we missed? Share your feedback here.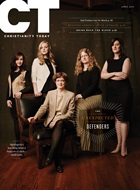 This article is from the April 2015 issue.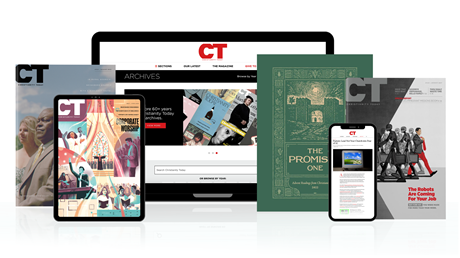 Annual & Monthly subscriptions available.
Print & Digital Issues of CT magazine
Complete access to every article on ChristianityToday.com
Unlimited access to 65+ years of CT's online archives
Member-only special issues
Subscribe
Unplanned Pregnancy, Unplanned Grace
Unplanned Pregnancy, Unplanned Grace