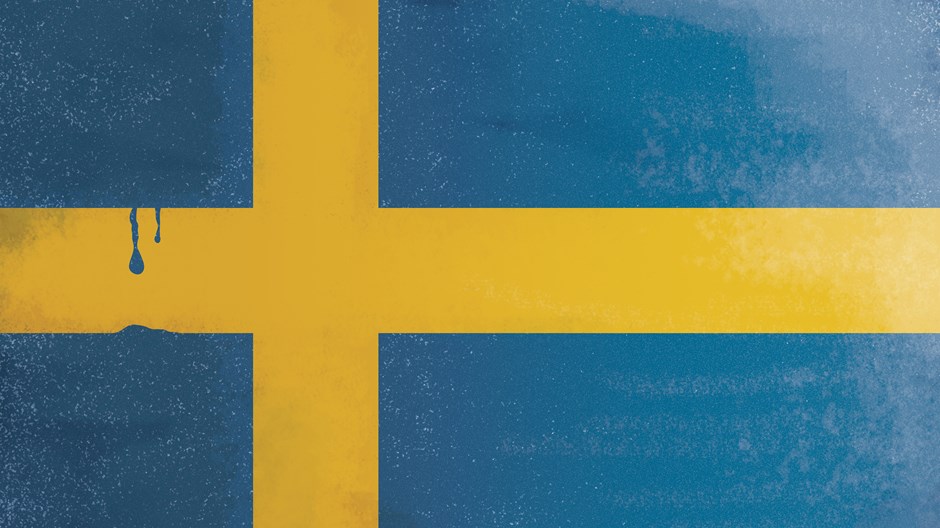 Our taxi driver feigns nonchalance, but we are lost. More than once he has reversed our sedan back down one of these serpentine streets, only to try another route to a park that's supposedly tucked into this residential hill overlooking Stockholm. Perhaps to relieve some of the pressure building in the cabin, I open my window. I can hear the faint strains of Vampire Weekend, so I tell the driver we can take it from here.
We follow the bass line, cutting a path between two homes, then up and to the right. There we're greeted by a stack of speakers, a Spider-Man bounce house, and a crowd eating hamburgers hot off a nearby grill garnished with tiny American flags. It's past 8 p.m., but the summer sun is just starting its descent, bathing the city below in a warm light that amplifies its medieval splendor. Red, white, and blue bunting blows in the slight breeze. Snoop Dogg thumps into rotation. Welcome to the Fourth of July, Hillsong Church–Stockholm style.
"We take any chance to have a party," says senior pastor Andreas Nielsen, smiling at the thought of reporters traveling 4,000 miles only to balance paper plates of potato salad and Frescas at a Fourth of July picnic. Throughout the summer, Hillsong Stockholm hosts weekly parties like this one—"barbeque parties, beach parties, whatever we can come up with"—to let members mingle and invite unchurched friends. It's a somewhat counterintuitive evangelistic strategy: Swedes get more vacation days than almost anyone in the world, and they spend much of the summer away from the city.
"There's this perception that no one comes to church in the summer. And a lot of churches shut down for eight to ten weeks," says Nielsen. "But everyone has the need to be seen, to be missed, to have a place to belong, whether it's winter or summer. Some of our biggest weeks have been in the summer."
Hillsong Stockholm is considered the fastest-growing church in Sweden's capital. Nielsen estimates that in a given week, between 2,000 and 2,200 people attend services and other church events. In addition to their main campus in the city center, Hillsong recently opened a campus on the north side. "It's never been easier than it is today to lead people to Christ in Sweden," he says.
Ten years ago, evangelism wasn't so easy. The story above the fold of every Swedish newspaper and at the top of every news broadcast was about a bizarre coterie of Pentecostal pastors implicated in a murder.
Kicked by the Hornet's Nest
On the morning of January 10, 2004, in the small town of Knutby, Sara Svensson—a nanny living with Helge and Alexandra Fossmo—shot Alexandra while she slept in her bed. Svensson then walked next door and shot neighbor Daniel Linde. Helge, a prominent pastor in a local Pentecostal church, rode to the hospital in the ambulance with Linde, who survived. Alexandra's body was found later.
The investigation and trial that ensued riveted the country as the Knutby case grew to include psychological manipulation and sexual abuse. Today, the name of the small town an hour north of Stockholm connotes murder, cults, and the Pentecostal congregation at the center of its now eponymous scandal. In 2010's The Girl Who Kicked the Hornet's Nest, Swedish crime novelist Stieg Larsson wrote ominously, "They became like Knutby." His readers didn't need further explanation.
Svensson had moved in with the Fossmo family after dropping out of Bible college to join their church. Soon she was in Helge's thrall. Fossmo invoked God's will that they have a sexual relationship, reportedly telling her that through sex they "celebrate God's victory." In the two months leading up to the murder, the pair exchanged more than 2,000 text messages, many of which Svensson didn't realize were from Fossmo. He used an anonymous number to send messages to the psychologically fragile Svensson, convincing her that killing Alexandra was an act of mercy.
In one of the more dramatic scenes from the trial, the entire court decamped to the Fossmo home. They conducted experiments to determine whether Helge could have slept through the shots that killed his wife as he claimed. It was deemed impossible, and Fossmo was eventually sentenced to life in prison. Svensson received institutional psychiatric care.
Rumors of unusual practices in Knutby had reached church leadership in the months before the murders. Sten-Gunnar Hedin, then-spokesperson for the Swedish Pentecostal association, told Christian newspaper Dagen that he was scheduled to meet with Knutby leaders the Monday following the murders. Instead, Hedin was plunged into one of Sweden's largest media events. Newspapers changed their headlines as many as three times a day during the trials of Fossmo and Svensson, chronicling tawdry revelations in breathless headlines.
Hedin repeatedly explained that the Knutby congregation's teachings and practices—including one pastor's claim to be the literal bride of Christ—did not align with Pentecostal teaching. "I had to represent 90,000 Pentecostals. But I also had to make [the Pentecostal faith] understandable for 9 million Swedes," Hedin said. "It was not easy."
Skepticism without Scandal
On a Sunday morning about a decade after the Knutby scandal, I sit in the back of Pingstkyrkan Bollnäs, a small Pentecostal church in a town of 13,000 about 3 hours north of Stockholm. It's the weekend of Midsummer—a national holiday with the cultural purchase of the Fourth and New Year's Eve rolled into one. Pastor Simon Wennstig assures me that the sea of gray heads in front of me is due to younger members leaving town for the holiday weekend. After a special program by a visiting minister—an elderly man who sings the story of a Pietist preacher, accompanied on keyboard by his wife—we follow the crowd to a café next door for fika (Sweden's version of teatime, with coffee). We're there to talk about how churches like Pingstkyrkan Bollnäs are faring after Knutby.
"Most people in the community were worried for me when the news broke," says Wennstig, a 22-year ministry veteran. "Parents would ask me how I was doing now that being a Pentecostal pastor was suddenly suspect business." But Wennstig says his church weathered the scandal fairly well since it was already known in town. Churches more isolated from their communities struggled.
Three years ago, Dagen asked pastors of free churches—churches unaffiliated with Sweden's official Lutheran church—if the Knutby scandal had affected their work. Some 61 percent said yes, it hurt the image of the free church. When asked whether Pentecostalism suffered suspicion, 36 percent said yes. The survey also suggested that many pastors think Swedes' attitude toward the free church has worsened in the past 10 years: 46 percent say attitudes have become "worse to much worse"; only 18 percent say attitudes have gotten better.
Sweden's Protestant "free" churches are largely heirs to 18th-century Pietists who rankled the state by meeting in private homes to study Scripture together. Such gatherings—seen as criticizing the government-aligned church—were banned in 1726. As recently as 1977, new religious groups had to get government permission to form. Many free Christians immigrated to the United States and started denominations, including the Evangelical (formerly Swedish) Covenant Church and the Evangelical Free Church in America. Groups that stayed continued to draw suspicion in Sweden's increasingly irreligious society.
Despite a precipitous decline in the past 30 years, the national church still claims 68 percent of Swedes as members. The best estimate of the total number of free church members—including Catholic and Orthodox churches—is about 5 percent of the population. The Pentecostal church is the largest of the Protestant denominations, with less than 1 percent of the population.
Christians outside the national church are often viewed with a skepticism that can billow into disgust when stoked by scandal. But Knutby no longer looms over the ministries of any of the pastors I interviewed. When asked about the Dagen survey, Nielsen said, "If you make it an issue, it will be an issue. I haven't thought about it for years."
Pro-Immigrant, Pro-Muslim
"It's serious and horrible when something like Knutby happens, but most realize it's people who do these things, not churches," says John van Dinther, founder and head pastor of New Life Church, a growing network of Evangelical Free churches based in Stockholm. Sitting in the rose garden of a prison-turned-hotel, van Dinther says he doesn't worry about the scandal's effect on outreach. His energy is focused on ministering to the residents of Stockholm, both native Swedes and its growing immigrant population. The latter is expected to reach 18 percent nationwide by 2020. It's already 27 percent in Stockholm. That's less than the foreign-born population of New York City (36%), but Sweden has a millennia-old reputation for cultural uniformity.
The pastor's driving passion is to build Christian communities that reflect Sweden's new diversity. "Revelation 7:9 talks about how people from all the nations and tribes and tongues will be standing before God, and that reality is not just in heaven," says van Dinther. "That reality starts here." Typical services at his church are 50 percent native Swedes and 50 percent immigrants, representing more than 50 countries.
Stefan Sward directs the Swedish Evangelical Alliance and pastors Elim Church in central Stockholm. He points to Hillsong Stockholm as an example of a church that has succeeded since Knutby. "Young Swedes today have been brought up in secular homes, and many of them are curious about Christianity," he tells me. "There is great potential, but many churches are not flexible enough for effective outreach. You have to go where the people are." His own church takes to the streets on Friday nights with coffee and Swedish pancakes.
Most growing Stockholm churches focus on reaching immigrants, says Sward. "The church can be a place for friendships [with native Swedes] to develop, which are important for healthy social integration." Religious immigrants—such as Pentecostals from South America and Africa, and Muslims and Orthodox from the Middle East—are credited with challenging the secular status quo in Sweden. Up to 1 in 3 Swedes claim atheism, and only 18 percent say, "I believe there is a God." Thus, many committed Christians see immigrants as allies in the public square.
"While a minority of [Muslims] lack respect for democratic principles, the majority are quite open-minded, religious people," says Roland Martinsson, a Swedish Catholic philosopher. "Give me a Muslim with good sense for democratic values over a secular liberal any day of the week."
Sweden's theologically conservative churches, then, have become some of Sweden's staunchest supporters of liberal immigration policies. Meanwhile, the liberal national church has been targeted by xenophobic conservatives who want to stoke fears of cultural dilution brought on by immigrants.
Homosexuality is not the wedge issue among Swedish Christians that it is among American ones. "I think sex is something beautiful that God created to be experienced between one man and one woman within the context of marriage. Having said that, I've said everything I want to say," says van Dinther, whose church might be described as open, but not affirming. "At our church on Sunday morning, you will find couples who are living together without being married, people who might be cross-dressers, people who have been or are in homosexual relationships. You will find all kinds of people and they know what we teach, but our focus is not on the 'don'ts.' Our focus is on what God can do."
Irenic and Open
The Church of Sweden's membership decline plays into the narrative of a godless Europe. But prior to 2000, Swedes were de facto members of the church at birth and had to actively opt out. It should come as no surprise that these hyperinflated numbers would decrease once the state church transitioned to a national church. It's a distinction that means membership requires a bit more than being born. Sward goes so far as to call the shift a "vitamin injection" for the Church of Sweden.
Meanwhile, free churches have seen membership drop too as they've tried to more accurately reflect participation. In 2011, in the face of dwindling numbers, 3 prominent denominations decided to pool resources. The Baptist Union of Sweden, the United Methodist Church, and the Mission Covenant Church of Sweden are now known as the Uniting Church in Sweden, with 760 congregations and 70,000 members.
Sward says the irenic spirit goes beyond formal alliances. "There are debates, but there's not much hostility between Christian groups," he said. "I frequently criticize the national church because it's still influenced by state politics. But we must respect that the old national Lutheran church still has the main connection with the common people."
Forging strong relationships is also key to Pentecostals' strategy to avoid another scandal like Knutby. Leaders are working on a formal set of values and fostering closer relationships between pastors.
"As a Pentecostal congregation you have the liberty to decide whether or not you want to be in fellowship [with the denomination]," Pelle Hörnmark, current head of the denomination, said in an interview with Dagen. "That is the advantage and disadvantage with free local congregations." But churches won't avoid and weather scandal unless they have strong relationships outside the church, too. "I encourage all Pentecostal congregations to have good contacts with their community, with the school system, and with those in authority. It is terribly important."
Wennstig says Knutby motivated his church in Bollnäs to be more open. It now publicizes the church's democratic structure and monthly business meetings that are open to everyone. "Knutby didn't help us," he says, "but it did push us to makes some good changes."
Knutby still makes headlines. In October 2014, Helge Fossmo petitioned a district court and was granted the option of parole by 2020. But that ruling was overturned this January, and a higher court reasserted the full length of his original life sentence. Most news outlets led with the story.
Back at the Fourth of July picnic, friendly faces look surprised and puzzled when I ask whether Knutby was a barrier to getting involved with a free church. I often have to explain why it might matter.
Instead, they seem more interested in the smartphone app that Hillsong Stockholm has developed for use in the summer to help people find each other in real time. This might have been handy back in the cab.
"Sweden's a pretty tech-savvy country. But it's not like we just make an app and hope people find each other," says Hillsong pastor Nielsen. "Events and apps help out a little, but it's always going to come down to one person opening up their life and making room for another person."
Lisa Ann Cockrel is an editor for Brazos Press and Baker Academic in Grand Rapids, Michigan. Follow her on Twitter @lacockrel.
Have something to add about this? See something we missed? Share your feedback here.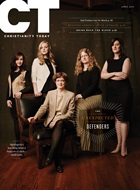 This article is from the April 2015 issue.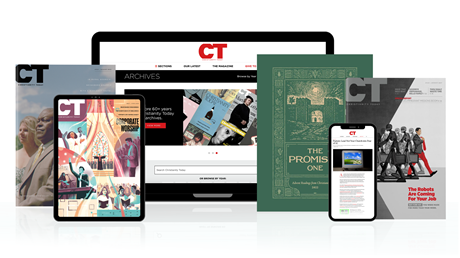 Annual & Monthly subscriptions available.
Print & Digital Issues of CT magazine
Complete access to every article on ChristianityToday.com
Unlimited access to 65+ years of CT's online archives
Member-only special issues
Subscribe
The Morning After the Pentecostal Murders
The Morning After the Pentecostal Murders