true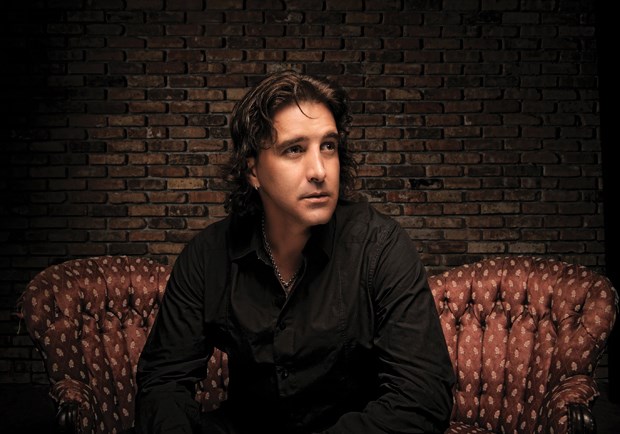 The last time Christianity Today talked to Scott Stapp, Creed, the popular rock band he had fronted for nearly a decade, had just broken up after years of internal bickering.
It was the summer of 2004, and while his three bandmates went off to form their own group, Alter Bridge, Stapp pursued a solo career and, by his own reckoning, God. Fans had long speculated about Stapp's faith, but he was never very vocal about it because Creed didn't want to be pigeonholed as a "Christian band." But in that conversation with CT, Stapp came right out and said, "I am a Christian." He had just watched The Passion of the Christ and recorded a song for an album inspired by the film.
But shortly thereafter, Stapp started making news again for the wrong reasons. He got into a drunken brawl in a hotel lobby. He showed up intoxicated for a TV interview. Even after marrying a Christian woman in 2006, he was arrested for public drunkenness on the day after his wedding. A year later, he was arrested for domestic abuse after a night of partying; his wife, Jaclyn, dropped the charges after Stapp publicly apologized.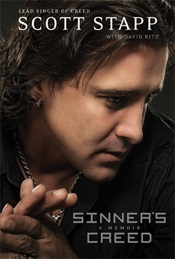 Today, Stapp has been sober for just over one year, and he's telling his story in a new memoir, Sinner's Creed (Tyndale), to be released October 2. In the book, Stapp confesses his many misdeeds and how he is now right with God. But he also reveals a troubling family background. When Scott—born Anthony Scott Flippen—was 8, his single mother married Steve Stapp, who was emotionally and physically abusive, according to Scott.
The singer writes that Steve Stapp told him God made man as "priest and prophet of the household. I make the rules, and the rules will be obeyed. When rules are broken, you are not only disobeying me, you are disobeying God. And your punishment will be enforced … Punishment without pain means nothing. The severity of the pain will keep you from repeating the offense …. I promise you will never forget my punishment. Because when I punish you, God is punishing you too." He claims Steve Stapp once said, "God created hell because he loves us. If I give you hell, it's because I love you."
Stapp says his stepfather ran the household with military precision, even using a timer for before-school routines—giving him exactly five minutes for a shower and to brush his teeth, six minutes to get dressed and get to the breakfast table, five minutes to wash, dry, and put away the dishes, and two minutes to get to the car. Anytime the timer elapsed before the deed was done, Scott would get a beating. His stepfather often cited Proverbs 13:24: "Whoever spares the rod hates their children."
No wonder the younger Stapp, who lived in constant fear of his father—and of God's punishment—grew up with issues, even as he became a multimillionaire rock star. He became a control freak, drove his bandmates crazy, and dealt with anger and depression. He even contemplated suicide in 2003, putting a pair of guns to his head. He writes that there was "no way out of this misery except to end it. The pain can't get any worse ...[A]ccept death. Be a martyr. Go down in history with Hendrix, Bonham, Joplin, Morrison, and Cobain." But before pulling the triggers, he opened his and saw a picture of his 4-year-old son Jagger on the wall; Stapp says it had "come to life," and Jagger was saying, "I love you, Daddy. I need you, Daddy. Stop it, Daddy." Stapp ended up firing 36 shots around the room, destroying "every award and achievement I had won with Creed," but also that "Jagger's unconditional love had saved my life."
Creed—which has sold almost 40 million records overall—reunited briefly in 2009 for a new album and tour, and have reunited again this year for another tour and are reportedly working on another new album.
We recently spoke with Stapp about his new book, his roller-coaster journey, and, of course, Creed.
Why write a memoir and why now?
I finally got to a place where I had the clarity—and had my heart in the right place—to sit down and go through my life. The process of writing the book was so cathartic. I realized that so much of me had been tucked away very deep inside, and it was causing many problems in my life and my relationship with God. Writing this book became kind of a personal roadmap, to finally confront how one person can know right from wrong but completely do the opposite. I needed to address and confess my sin, mainly to continue to get my heart right with God. I needed to seek forgiveness and make amends. And I wanted to do it for my wife and my children.
I wanted to just tell the truth and share my faith. God gave me a platform with Creed, and I know he called me into ministry at a young age, but I ran from that. God used me despite myself. Jesus Christ saved my life, and has been by me from day one despite my sin and weakness. I should have been saying that since Creed first started up, but I didn't—because I was afraid and because I wasn't living the life. But that is my testimony now. God is a God of new beginnings, and this book is the beginning of mine.
You could've gotten right with God privately. So why so publicly?
To share the gospel and encourage others. Boldly, with no inhibition and no fear.
You wrote that as a kid you were fearless and you wanted to be Superman.
Yeah.
And you wrote, "For the longest time I thought this was confidence. Now I see it as a complex." What do you mean?
Well, to clarify, the fear that was instilled in me as a child was whether I was going to heaven or hell. It ended up being a key part of my makeup, driving the decisions that I made—always in fear of the consequences. But it was a double-edged sword too. It enabled me to accomplish a lot and have a lot of success, but I didn't have a healthy faith or a healthy fear of God. That was a result of pure manipulation.
Your biological dad left when you were very young, and that triggered some of your fears, and the feeling of abandonment. But when you were 8 years old, things looked better when your mom started dating Steve Stapp.
Absolutely. At first, he was my hero. It was like Clark Kent and Superman walked in the door.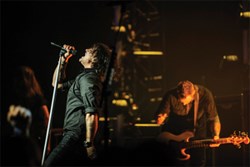 But that changed dramatically as soon as they got married.
Yes. Now I look back and realize that when he was courting my mother, he was also courting me, putting his best self forward. But after they got married, there were things about Steve that came out very soon—another side of him that he said was what God had instructed him to do. That he was the priest and prophet in the household. That he was like god in the household. That side of him was not revealed until after the marriage—a side that was, in my opinion, extremely abusive.
That must have really messed up your image of God as Father.
Absolutely. To me, God was the god of fear and judgment and persecution. I was habitually disciplined, if you want to call it that—and in my mind, that was God. I was very afraid, but I didn't want to go to hell, so I went with the program.
Did you ever ask your mom why she wasn't protecting you from this guy?
Definitely, but she was under the same umbrella and was often treated exactly the same, so she was living in fear too.
When your book releases, what will Steve Stapp think about these revelations?
I don't know. We haven't spoken in years. My wife and I reached out to him, trying to forgive and move forward when we got married, and they elected not to respond and not attend the wedding. But one day, God will heal this. The irony is that I love Steve, and he did implant in me a love of Scripture, whether his mode of delivery was wrong or not. But I pray that my book will be a catalyst to healing.
Let's talk about Creed. Even when you guys were hugely popular, your bandmates blamed you that the group was being pigeonholed as a "Christian band."
Right.
Was that one of the biggest sources of conflict within the band?
Most definitely, and it remains one today.
Even now that you're back together?
Yeah. Those guys have openly confessed their atheism and tried to distance themselves as far from God as possible. But I'm continuing to pray and believe in my heart that God put me with these guys for a reason. I hope my life and testimony will speak to them, that God is real. I'm praying for that.
Other bands have gone through the same thing: "We're not a Christian band, we just happen to be Christians." U2 is a prime example, and they've survived 35 years without that kind of conflict. But then, 3 out of 4 of them are Christians.
Yes, and that's the difference. Every band goes through different difficulties. I met Bono and the Edge, and those guys are brothers to the core. They love each other, and they stand by each other publicly whether they agree in private or not. Our band has a different makeup and different issues, very common issues to mainstream rock and roll bands—singer vs. guitar player stuff. I think we fit more in that traditional mode. But you know, it's all God's plan. I've learned to let go and let God and stop trying to control things.
Is your maturing in recent years one reason that Creed is able to tour together today? Because you're not a control freak anymore?
Absolutely. In my early professional life, running everything was my passion, and the guys never communicated to me that that was a problem. I think one issue was one that Led Zeppelin, the Rolling Stones, and Lennon and McCartney shared—I wasn't reliable. I began to become publicly intoxicated at shows and was compromising my bandmates, putting them in bad situations. There's two things you can do with someone who suffers from addiction: You can either be a part of the recovery, or you can make the decision to say, "I don't want anything to do with this." And either one is right. So I don't have resentment for their decision. It is what it is, and it was God's will. And if it didn't happen the way it did, I don't think I'd have gotten to the place I am today.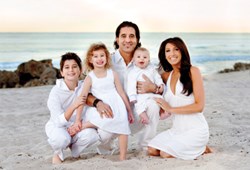 How long have you been sober?
A little over one year. I used to be very naïve about the fact that alcoholism is a disease, and that there are things I need to do proactively every day to manage that and prevent relapses. Prior to a relapse a year ago, it had been a year-and-a-half. And prior to that, it had been two years. It's part of the disease, but all I know is that as long as I do what it takes every day and surrender myself to God, I'll be OK.
Being involved in the program [for recovering alcoholics] has helped me rediscover my relationship with God, because in these programs, God is the center. Now they may call him a "higher power," but I tell you, I needed a new foundation with God. I needed to throw everything out the window and start over. I've been humbled where I needed to be humbled. I was an egomaniac with an inferiority complex, and I needed to hit bottom.
You've talked about how God has helped in that process, but let's talk about how your son Jagger and your wife Jaclyn have helped too. Jagger quite literally saved your life when you were about to commit suicide.
That's right. My son Jagger is … I'm just so in love with him, and he's had such an amazing impact in my life. He has been the source of many attempts to get my life in order. When I look at him, he's a daily reminder of God's plans for my life and God's love for me. I know there were times where he had to deal with some embarrassment at school because of my behavior. But he's got strong faith and great wisdom.
Jagger and Jaclyn, and her mother Hayat, have saved my life in many ways. God blessed me with them; they're like angels to me. I could not have made it without their love and support and patience.
How would you describe your relationship with God today?
I've finally surrendered. I really addressed that issue in my relationship with God, and realized that it was time for me to stop thinking that I knew everything, and letting God work in my life. I never felt that I wasn't in contact with God; he was always with me. But my mindset about everything was to combat my father. I just got to a point where I had to let go of the past and deal with the issues in my life.
God is the miracle heart surgeon, and he gives the best heart transplants in the world. There are no scars on the outside, and the scars on the inside just make us better Christians and help us help others. I really feel that I got the needed heart transplant, and now it's just fresh and alive, full of love and grace and understanding.
Creed photo by Stephen Vosloo. Copyright © by Tyndale House Publishers, Inc. All rights reserved. Family photo by Amanda Tang.
Have something to add about this? See something we missed? Share your feedback here.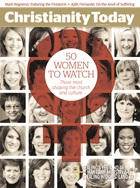 This article is from the October 2012 issue.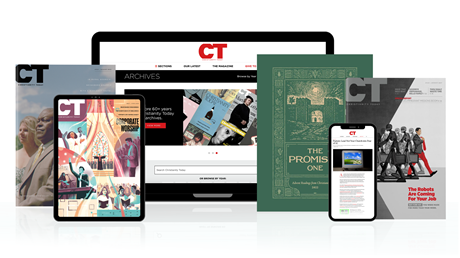 Annual & Monthly subscriptions available.
Print & Digital Issues of CT magazine
Complete access to every article on ChristianityToday.com
Unlimited access to 65+ years of CT's online archives
Member-only special issues
Subscribe
The Confessions of Scott Stapp
The Confessions of Scott Stapp