Author Eric Metaxas and President Barack Obama made similar addresses with different emphases during the National Prayer Breakfast's 60th anniversary, both noting a religious motivation to "care for the least of these" and concern of "phony religiosity" while standing on different positions politically.
"Who do we say is not fully human today?" Metaxas said. "Those of us who know the unborn to be human beings are commanded by God to love those who do not yet see that."
During President Clinton's administration, Mother Teresa famously noted abortion at the 1994 prayer breakfast, saying, "Please don't kill the child. I want the child. Please give me the child." Metaxas noted his views on abortion were personal, emphasizing love for those who do not agree with him.
"Apart from God we cannot see that they are persons as well," Metaxas said. "Love those that do not yet see that." His wife, Susanne Metaxas, directs the Midtown Pregnancy Support Center in Manhattan.
Obama's remarks partly mirrored Metaxas when talking about mutual respect, though the two part ways on the issue of abortion.
"I have to say that sometimes we talk about respect, but we don't act with respect towards each other during the course of these debates," Obama said. Many Christian groups have decried the administration's mandate to provide free contraceptives under the new health care law.
Obama's emphasis on the "least of these" connected economic positions to Christian principles.
"It coincides with Jesus' teaching, 'To whom much is given, much is required,'" Obama said.
Metaxas decried "phony religion," saying "Jesus was and is the enemy of dead religion." Religion has been a hot topic for conversation since a YouTube video "Why I Hate Religion, But Love Jesus" has been viewed over 18 million times. Obama also noted "phony religiosity," emphasizing shared responsibility.
"We can all benefit from turning to our Creator, listening to him, avoiding phony religiosity," Obama said.
As he has in the past, Obama struck both a personal tone and an interfaith tone, drawing on his own personal beliefs while emphasizing the common ground between major religions.
"I think to myself, am I willing … to give up some of the tax breaks I enjoy?" Obama said. "For me, as a Christian, it also coincides with Jesus' teaching that 'for unto whom much is given, much shall be required.' "It mirrors the Islamic belief that those who've been blessed have an obligation to use those blessings to help others, or the Jewish doctrine of moderation and consideration for others."
The President spoke about the administration's work with faith-based groups like World Vision, and noted the Passion Conference in January where Christian college students worked to fight human trafficking.
Although his address was not as personal as it was last year, he noted his personal conversion to Christianity and said he begins each morning with a prayer and reading Scripture, and he prays with megachurch pastors Joel Hunter and T. D. Jakes. "But I don't stop there," he said. "I'd be remiss if I stopped there; if my values were limited to personal moments of prayer or private conversations with pastors or friends."
He ended by recalling his visit with Billy Graham at his home in North Carolina. After the evangelist prayed for the President, the President prayed for the evangelist.
"I didn't really know what to say," Obama said. "What do you pray for when it comes to the man who has prayed for so many? But like that verse in Romans, the Holy Spirit interceded when I didn't know quite what to say. And so I prayed—briefly, but I prayed from the heart."
Graham, who is now 93, has acted as chaplain to several Presidents in the past, but he has not played an active role during this administration. Even from his house where he is "nearing home," though, Graham's influence has touched the current President.
"I have fallen on my knees with great regularity since that moment," Obama said. "Asking God for guidance not just in my personal life and my Christian walk, but in the life of this nation and in the values that hold us together and keep us strong."
Metaxas began his address by keeping the audience in stitches. In a deadpan manner, he said that the Fellowship, which puts on the prayer breakfast but likes to stay in the background, has chosen every U.S. President, except for Warren G. Harding. "We, and I mean specifically the President and I, are all their puppets," Metaxas said. "We're simply doing their bidding."
He noted that former President George W. Bush read his biography of Bonhoeffer, which has sold more than 200,000 copies. He slowly handed a copy to Obama and said, "No pressure." (Obama nearly left without the book but went back to his table to grab it.) He wasn't the only one to make a pitch to the President. Before the closing prayer, former Baylor athlete and 2011 Heisman Trophy winner Robert Griffin III invited President Obama to shoot a round of hoops.
Related Elsewhere:
C-SPAN has a video of the prayer breakfast addresses.
Christianity Today has more analysis of the prayer breakfast and political debates surrounding a recent health care decision on contraceptives.
Two years ago, Heisman Trophy winner Tim Tebow gave the closing prayer at the breakfast.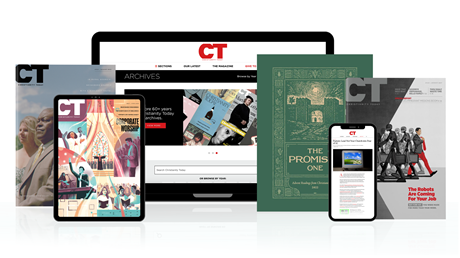 Subscribe to Christianity Today and get access to this article plus 65+ years of archives.
Home delivery of CT magazine
Complete access to articles on ChristianityToday.com
Over 120 years of magazine archives plus full access to all of CT's online archives
Subscribe Now
The Similarities and Differences in Eric Metaxas's and President Obama's Prayer Breakfast Addresses
The Similarities and Differences in Eric Metaxas's ...