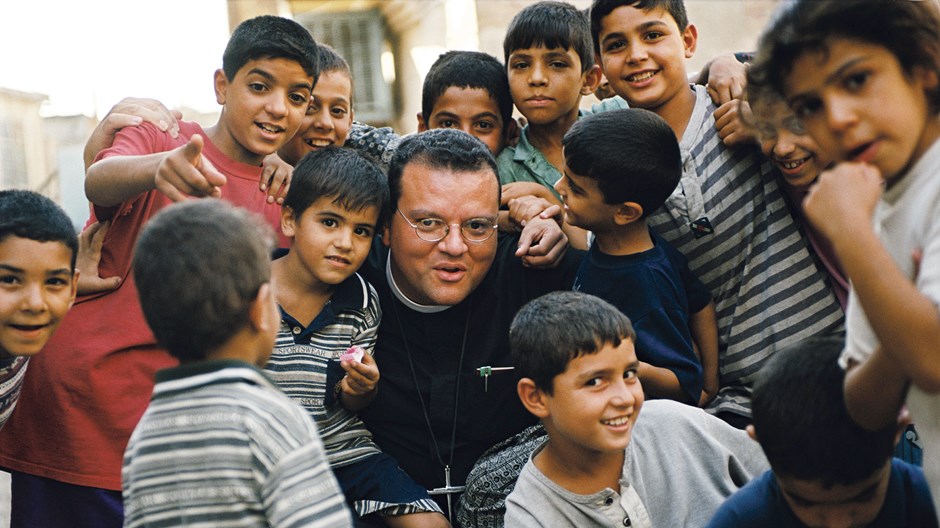 Image: MarK McGregor / FRRME
Andrew White was in the thick of matters in Iraq long before September 11. In 1998, at age 33, he was appointed a canon at Coventry Cathedral, England, as director of international ministry and head of the International Centre for Reconciliation. The center promotes reconciliation (mainly religious) across the globe, and White concentrated his efforts on the Middle East, mediating many kidnapping and hostage disputes, and helping Shia and Sunni leaders trust one another.
In 2005, White became the vicar of St. George's Church just outside the Green Zone in Baghdad. He has been dubbed the Vicar of Baghdad, because St. George's is the only Anglican church left in Iraq. White has received a number of humanitarian awards, the latest being the 2011 International First Freedom Award, which has also been awarded to such people as Tony Blair.
CT senior managing editor Mark Galli recently spoke with White via Skype.
Where were you on September 11, 2001? What were you doing?
I was sitting in my office in Coventry Cathedral, packing my bags to go to Baghdad the next day. I couldn't believe what I was hearing. I arrived in Baghdad a week later. I walked into the office of [then Deputy Prime Minister] Tariq Aziz. He said, "Andrew, tell them we had nothing to do with it." I didn't think what I was saying, but I shouted at him, "It doesn't matter whether you did or not! They are still all coming to get you." And they did.
The day before 9/11, what were your greatest fears and hopes for Christian-Muslim relations in Iraq?
As early as 1998, I was saying that the biggest problem was not going to be the Eastern European or Communist countries but the Islamic world. I believed we needed to keep engaged with the Islamic world. I was very aware of the problem—the way the Islamic world communicated with the West. I knew things were getting worse. I knew there was going to be a catastrophe. Then 9/11 happened. And 9/11 wasn't just a tragedy; it was a major changing point in history.
What are the biggest changes you have seen since 9/11?
The biggest change is that we now have a public conflict between Islam and Christianity, and religion has gone very wrong. And when religion goes wrong, it goes very wrong. Christianity went very wrong at the time of the Crusades and, not least, the time of the Holocaust; the Holocaust was not an act of Christianity, but it took place in the middle of the Christian continent, and most people said nothing.
Today, Islam sees the Western world as the Christian world. Its adherents don't separate between the state and the masses. They see us as one. The West is predominantly Christian. Its ethics is not pure; the morality of many people is terrible. And they see that all as Christianity.
When you say that religion has gone terribly wrong, does that still include Christianity?
No, the Christian religion is not as dangerous as it used to be. But when you are on the ground in places like we are, the liberals can do nothing. You have to be very orthodox in your faith.
Why?
Islamic leaders are very orthodox, and they want to know that you are serious about your faith as well. The fact that I am orthodox in my faith means that I can get a lot further with Islamic leaders. I believe in God; I believe what the Bible says; I believe everything I'm supposed to as an orthodox Christian. And the fact that I don't drink and I practice my faith is what they are trying to see.
What has been the biggest surprise in your work since 9/11?
That much of the world still does not realize that we are dealing with a major religious battle.
Why do so many deny that? It seems so obvious.
They deny it because they don't understand religion themselves and are frightened by it. Religion to them is something strange and distant. Maybe that's true, but it is the only way of dealing with this conflict.
Many commentators would say, no, the problem in the Middle East is poverty.
The Middle East does not have poverty like we see in many other parts of the world. The region has the greatest affluence in the world. Look at the Gulf, Saudi Arabia, Kuwait—there are the very rich, the very poor, and not a lot in between.
So you think the Islamic fear or anger with America is religiously motivated?
A lot of it is, and the problem is that they don't see a difference between the secular nation and the religious life. So when they see promiscuity in our films, they think, That is what it means to be Christian.
Are you seeing changes among Muslim leaders?
I can give you one big example. One of the leaders I worked with was a Palestinian who belongs to Hamas. I started talking to him, and it was obvious that he had no plans to meet the Israelis, ever. Over time, as he saw that I was listening to him and befriending him, he became more and more open to meeting with Jewish leaders. Now he is engaging with them. He has become a close colleague and is seriously working with me for peace.
His Arab friends criticize him: "How can you be friends with Zionists?" But he has said that the Jews are his brothers, that "I will walk this long and difficult road with them until we find peace together."
In this climate, what does evangelism to Muslims look like?
Any evangelism is love. If we show real love, they will be drawn to Jesus. I have 500 Muslims in my church. I have never "evangelized" them. I never go knocking on their doors. But what we have done is show them real love and kindness in our church's ministries of compassion—food distribution and the like. They see that we as Christians care about them, and they want to come and worship as we do.
What do you see in the next 10 years regarding Christian-Muslim relations in Iraq and the Middle East?
I think it's bleak. I don't think the Middle East is going to seriously improve. But those we work with will be changed. They will be different.
We recently got together with the religious leaders in the area who had issued a fatwa against killing Christians. Up to that day, people were being killed during Mass every day. Since the moment of the fatwa, the killing stopped.
So where Christians are building relationships, you see a lot of hope?
Absolutely. The answer is love, love, love.
Go to ChristianBibleStudies.com for "Loving Muslims One at a Time," a Bible study based on this article.
Related Elsewhere:
A Bible study based on this article, "Loving Muslims One at a Time," is available at ChristianBibleStudies.com.
Other Christianity Today articles on 9/11 include:
The Gospel at Ground Zero | The horrors of 9/11 were not unlike those of Good Friday. (September 9, 2011)
How Leaders Have Changed Since 9/11 | Christian leaders describe how that fateful day shaped how they see the world. (September 7, 2011)
Wake-up Call | If September 11 was a divine warning, it's God's people who are being warned. (November 12, 2001)
Where Was God on 9/11? | Reflections from Ground Zero and beyond. (October 1, 2001)
Additional CT articles on Muslim-Christian relations, Islam, and missions include:
Flames of Love | How a terrorist attack reshaped efforts to reach Muslims. (September 8, 2011)
Believers on the MOVE | A suburban Chicago church ministers to Muslims at home and abroad. (September 8, 2011)
Muslim Followers of Jesus | Believers from Muslim backgrounds are trying to forge new identities in Islamic cultures. The debate over their options has grown furious. (December 1, 2009)
Can We Dialogue with Islam? | What 38 Muslim scholars said to the pope in a little-known open letter. (January 31, 2007)
Islam's Culture War | Author says Muslims are troubled by our morals more than our politics. (March 8, 2005)
CT also has more articles on other religions on our site.
Have something to add about this? See something we missed? Share your feedback here.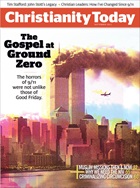 This article is from the September 2011 issue.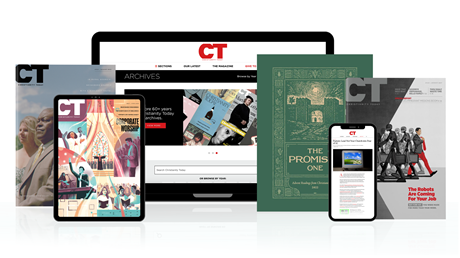 Annual & Monthly subscriptions available.
Print & Digital Issues of CT magazine
Complete access to every article on ChristianityToday.com
Unlimited access to 65+ years of CT's online archives
Member-only special issues
Subscribe
Loving Muslims One at a Time
Loving Muslims One at a Time