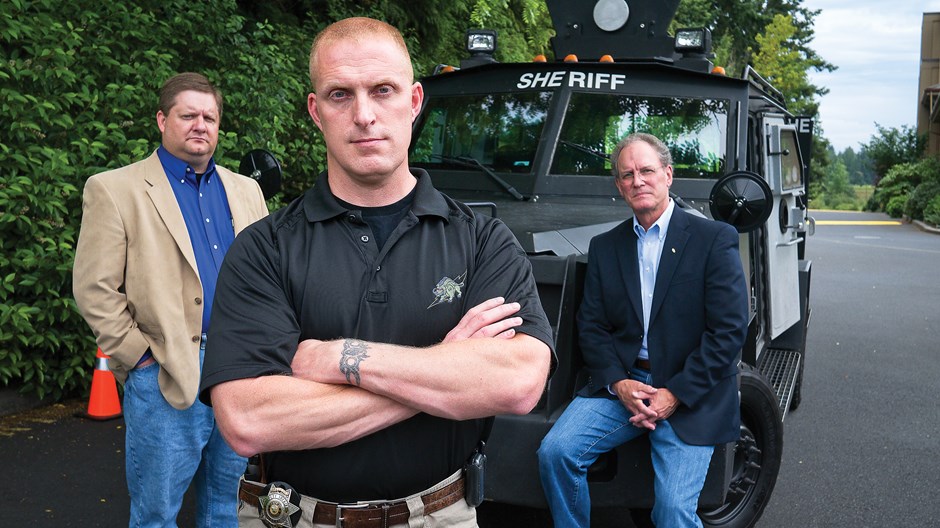 Image: Stuart Mullenberg
The calls began flooding into New York's emergency dispatch center just before 9 A.M. on September 11, 2001. People choking on smoke inside the World Trade Center begged operators to send help after one plane, then another, hit the Twin Towers.
The callers couldn't breathe. Should they break the windows? Should they jump?
Dispatchers fielded such questions and relayed the information to NYC police and firefighters. Some operators stayed on the phone with panicked people, begging them to stay calm even as callers realized they were going to die.
Three months after the tragedy, a group of chaplains from the Pacific Northwest visited the 911 operators at the consolidated dispatch center in Brooklyn.
"We were heartily welcomed," says Russ Guppy, a police chaplain in Tacoma, Washington. The country extolled the courage and bravery of police officers and firefighters, but tended to overlook the dispatchers; they had no critical event debriefings or extra time off for trauma.
"Dispatchers kept thanking us for remembering them," Guppy recalls. The chaplains stayed through two shifts to distribute 800 Bibles to dispatchers who came to talk with them during breaks. "It was an incredible day. We were walking on air when we left that evening," Guppy says.
In early 2004, Responder Life was launched—a ministry to all first responders, including police, fire and rescue teams, medics, federal agents, and 911 dispatchers.
The Portland, Oregon-based ministry began by hosting events for first responders. That included an appreciation dinner every September 11 to recognize emergency personnel, and a weekend summer camp for first responders and their families. But the group wanted to build ongoing connections with police officers and other responders, as a way to transform their lives through a relationship with Christ.
"We see first responders as a unique people group," says Chris Green, president of Responder Life, who visited New York dispatchers alongside Guppy in 2002. "We send missionaries to other countries to reach people. We wanted to reach this people group as well."
Since first responders have strong insular cultures, Responder Life relies on "Insiders": believers who work in these agencies and volunteer through Responder Life to help lead peers to Christ. They attend "The Truth Project," a 12-week Focus on the Family study examining the Christian worldview, and are trained in leading small groups and in apologetics to answer fundamental questions about suffering and death.
"As an officer, you form deeper relationships because you're going through training together. You're driving around together for hours. There's more of an opportunity to share your life and faith with someone," says Green.
Green, who has served as both a chaplain and a reserve deputy, says it is easier for work peers to build relationships than it is for professional chaplains. "People are still freaked out about how they should behave with a pastor," Green says, recalling the time a sergeant derisively asked him if he had "holy water" to sprinkle at a crime scene.
Already, Responder Life is expanding across the United States and into Canada. There are 300 Insiders in 120 U.S. cities, with offices in Oregon and Missouri. The nonprofit's goal is to develop 100,000 Insiders by 2017 who can lead fellow responders to a faith that will sustain them through the challenges they face on the job.
A Sustaining Faith
Most first responders work under constant stress, which leads to hypervigilance, an "always-on" mindset that easily breeds exhaustion. It's common for first responders to show post-traumatic stress symptoms and to turn to alcohol to cope. Job stresses unique to first responders can lead to broken marriages and, in some cases, suicide.
"They are used to helping others yet resistant to receiving help themselves. There's a level of self-reliance and arrogance that develops from being the ones whom others call on in an emergency," says Allen Oswalt, a retired lieutenant with the Portland Fire Department.
"Early on in the agency, you're told about job stresses, but you haven't lived it yet. It takes years for things to sink in, but there's a cumulative effect to what you experience," explains Dave Williams, veteran assistant police chief of the Portland Police Department. Williams and his wife also helped found Responder Life.
A decade into his career, Williams was hitting burnout. "I started out wanting to make society a better place. After a while I was wondering, Am I really making a difference? I saw flaws in the agency. My idealism started to wear off."
At a 1983 Marriage Encounter retreat with his wife, Lois, Williams recommitted his life to Christ after years of a nominal faith, and began earnestly studying the Bible.
"Everything I was reading and studying began to change my perspective," Williams explained. "Our relationship with God is broken, and he's not going to restore everything until the end, so it took the pressure off of me to 'fix' everything. It was not my burden to save the world.
"Once I saw myself as an ambassador of Christ in a fallen world, I didn't feel hopeless, like I was on a mindless treadmill. It renewed my energy for my job. I was a sergeant at the time, and I started to ask myself, How would Jesus have me do this particular task?
"If you're going to survive in the first responder culture, you have to see it differently."
Other Responder Insiders agree. "I don't know how I would be able to be on the police force and not know the Lord," says Mathieu LaCrosse, a law enforcement officer in Willamette Valley, Oregon. LaCrosse described a bomb that went off in a Woodburn bank in 2008, killing two police officers. "I was picking up the body parts of friends," he says. "I've only been able to have a stable personal and professional life because of the Lord."
Anthony Kollias, a sergeant and SWAT team leader with the Clackamas County Sheriff's Office near Portland, became a Christian six years ago.
"I used to go with the guys to exotic dance bars. Every sentence I said had the f-word in it. All of that changed when I became a Christian. The guys started seeing how different I was, how my marriage was stronger," says Kollias, a Responder Life Insider and area director. One of the deputies, a sniper on Kollias's SWAT team, stopped by his house one day and asked him if he had any porn.
"I told him the Bible was the only book I studied those days. From then on, he started ribbing me and calling me 'Pastor Tony,' " Kollias recalls. But he kept inviting the deputy to church, and invited SWAT team members to join him for a Bible study. Nine joined.
On Christmas Eve 2009, the deputy who called Kollias "Pastor Tony" showed up at Kollias's church, where he was playing in the worship band. "After the service, I spent 45 minutes talking to him in the parking lot. He was very emotional. He felt the pastor was speaking right to him." The deputy committed his life to Christ that night, and Kollias has been discipling him ever since.
"It's a slow building process to have people see how God is changing me," Kollias says. "That's what Responder Life is all about. It's great to have people come to know the Lord through us."
Shelly Ngo is a writer based in Seattle.
Related Elsewhere:
Other Christianity Today articles on 9/11 include:
How Leaders Have Changed Since 9/11 | Christian leaders describe how that fateful day shaped how they see the world. (September 7, 2011)
Wake-up Call | If September 11 was a divine warning, it's God's people who are being warned. (November 12, 2001)
Where Was God on 9/11? | Reflections from Ground Zero and beyond. (October 1, 2001)
Additional CT articles on post-9/11 ministry and missions include:
Flames of Love | How a terrorist attack reshaped efforts to reach Muslims. (September 8, 2011)
Believers on the MOVE | A suburban Chicago church ministers to Muslims at home and abroad. (September 8, 2011)
Canceled Flights: New Policies Threaten Settlement Agencies | Resettlement agencies laid off staff after a new Department of Homeland Security screening disrupted refugees' flights to the U.S. (July 27, 2011)
CT also has more articles on other religions on our site.
Have something to add about this? See something we missed? Share your feedback here.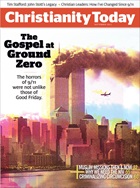 This article is from the September 2011 issue.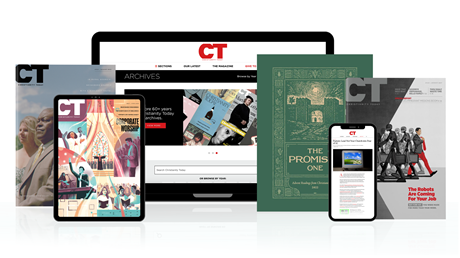 Annual & Monthly subscriptions available.
Print & Digital Issues of CT magazine
Complete access to every article on ChristianityToday.com
Unlimited access to 65+ years of CT's online archives
Member-only special issues
Subscribe
Saving the Superheroes: Ministering to the Emergency Dispatch
Saving the Superheroes: Ministering to the Emergency Dispatch