Thanks to pro-life groups and backlash over health care reform, the Democratic pro-life vote in the House of Representatives is likely to halve on November 2, making abortion even more of a partisan issue.
Republicans fighting to take back the House of Representatives have focused on seats currently held by moderate, pro-life Democrats. They're getting help from pro-life organizations unhappy with these House members' votes for the health care legislation passed last spring. Conservative pro-life groups argue the bill allows federal funding of abortion, though President Obama signed an executive order prohibiting abortion funding.
"There certainly is a real prospect that the number of pro-life Democrats will decline," said John Green, a professor of political science at the University of Akron. "There's been a lot of complaint across the political spectrum that American politics is too polarized on issues like abortion. And yet the results of this election may be to polarize it even more in Congress because the pro-life voices are likely to be less common in the Democratic caucus and more common in the Republican caucus."
The Susan B. Anthony List and other pro-life groups have pulled endorsements from these Democrats and are campaigning for Republican challengers against incumbents such as Steven Driehaus (Ohio), and Kathy Dahlkemper (Penn.).* Along with retiring Democrats such as Bart Stupak (Mich.), Bart Gordon (Tenn.), and Charles Melancon (La.), these representatives' districts will likely go Republican on November 2.
The region likely to see the most significant change is the Ohio River Valley of Ohio, Pennsylvania, and Tennessee. With a high percentage of Catholic voters, these districts have tended to elect pro-life Democrats.
The Susan B. Anthony List (SBAL), a pro-life group with the goal of ending abortion in the U.S. and advocating for pro-life women in government, sponsored a multi-million dollar "Votes Have Consequences" bus tour targeting Democrats—some with pro-life voting records—who voted for health care reform.
"When you say this [abortion] is a critical issue—it's really the taking of a human life—you really believe that and you can't in any way make taxpayers complicit in it," said sbal president Marjorie Dannenfelser. "You have to believe that and act that way on both sides of the aisle."
Such a move leaves pro-life Democrats deserted by both the pro-life and pro-choice camps. naral considers these pro-life Democrats "anti-choice" because of their vote for the Stupak Amendment (which would have banned federally-funded abortion in the health care law) and their co-sponsorship of the "No Taxpayer Funding for Abortion Act."
"From a Republican perspective, this is a very good strategy because you don't want a strong pro-life voice in the Democratic Party; it takes it away as a campaign issue," said Kristen Day, executive director of Democrats for Life of America. "The pro-choice groups are the same way. I think the pro-choice groups and the pro-life Republicans are on the same page: 'We don't want these pro-life Democrats in the party.' "
One SBAL-funded advertisement was a billboard against Driehaus stating that he "voted FOR taxpayer-funded abortion." The ads created such a commotion that the Ohio Election Commission stepped in to rule them illegal. The group appealed the ruling, arguing that it restricts free speech—and the American Civil Liberties Union, a group that advocates for "reproductive freedom," filed a supporting brief. A ruling is expected today. Another targeted race is Dahlkemper's Pennsylvania seat. Dahlkemper considers herself pro-life and is "confident that the bill clearly bans the use of federal funds for elective abortions." 
The National Right to Life Committee and Citizenlink are also pouring advertising dollars into these races; Citizenlink and sbal combined forces to produce television ads opposing Dahlkemper and others for their health care votes.
If successful, these campaigns could halve Democratic pro-life votes in the House. In recent years, 40 Democrats reliably voted "anti-choice" on abortion-related legislation, according to vote records compiled by NARAL. On federal funding issues, that number shot up to 60. If these "embattled" House members lose their seats, the number of pro-life votes by Democrats could drop to 22, or 35 on federal funding. And although the targeted Democrats will likely be replaced with more conservative pro-life Republicans, the strategy could significantly change the nature of abortion politics in Congress.
"Abortion is likely to come up more often in a Congress where the parties are more polarized on abortion," Green said. "If you have increased polarization, people on both sides—pro-life and pro-choice—will find opportunities to raise the issue."
But that political point-scoring might come at the expense of progress, said Stephen Schneck, director of the Institute for Policy Research and Catholic Studies at Catholic University of America.
"To the extent that the pro-life movement tries to restrict the definition of being pro-life to the Republican Party, unless the stars realign and the Republican Party becomes two-thirds of the electorate, they're cutting themselves off from the possibility of building the kinds of alliances that might be able to advance the pro-life agenda," he said. "If you want to do something about stem-cell research, or make progress on the whole of the pro-life agenda, you're going to need some Democrats to come along. Going after pro-life Democrats is not going to help the pro-life cause."
Dannenfelser predicts her group's actions will strengthen, rather than partisanize, the pro-life vote in Congress.
"Assuming that our plans work out well, we will have a very strong team to work with, and a team that understands the consequences of undermining the pro-life position," she said. "They'll see people who lost because they said they were pro-life and then didn't vote that way. … Real movements behave like that; they don't just say 'well, throw me a few crumbs and we'll be just fine.' This Congress will be very strong and we'll be able to build on that."
* Correction: An earlier version of this article incorrectly reported that Lincoln Davis (Tenn.) is among the incumbents targeted by the Susan B. Anthony List. We regret the error.
Related Elsewhere:
Previous articles on pro-life Democrats include:
Stupak: From Prolife Groups' Hero to Villain 'In a Nanosecond | Groups say executive order is not enough, and will campaign against the Michigan Democrat they had promised to support. (March 22, 2010)
Stunned by Stupak | A surprise House ban on abortion funding reveals pro-life gains. (January 7, 2010)
Health Care Reform Splits Democrats on Abortion | Pro-life Democrats disagree over whether bills include federal funding for abortion. (October 23, 2009)
Christianity Today also follows political developments through the Political Advocacy Tracker and on the politics blog.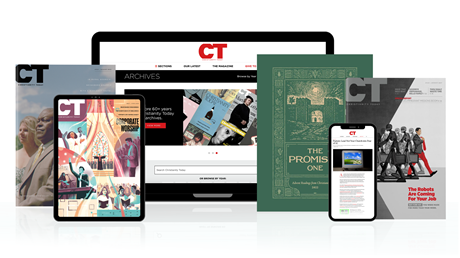 Annual & Monthly subscriptions available.
Print & Digital Issues of CT magazine
Complete access to every article on ChristianityToday.com
Unlimited access to 65+ years of CT's online archives
Member-only special issues
Subscribe
The Death of Pro-Life Democrats
The Death of Pro-Life Democrats