true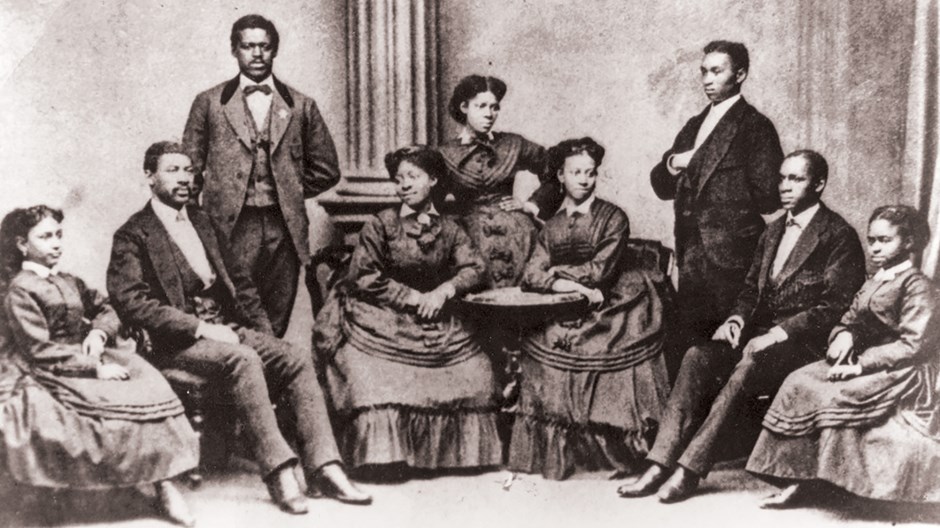 Image: Courtesy of the Fisk University Franklin Library Special Collections
How did white Americans come to adopt slave songs like "Nobody Knows the Trouble I've Seen" and "Swing Low, Sweet Chariot"? Personally, I learned my spirituals from country singer Tennessee Ernie Ford, bless his little pea-pickin' heart. But historically, white America learned its spirituals from the Fisk Jubilee Singers, an African American group that toured America and Europe from 1871 to 1878, raising funds for Nashville's newly birthed Fisk University.
The Jubilee Singers' story begins with evangelical abolitionists who believed in the power of education to elevate former slaves and equip them for full participation in American society.
Arthur and Lewis Tappan founded the American Missionary Association (AMA) because they believed existing mission societies were complicit with slavery. AMA agents followed the Union armies' advance through Confederate territory, setting up schools to bring Christianity and literacy to freed slaves. By 1867, over 38,000 students were enrolled in the AMA's day or night schools. And by 1869, it had founded eleven colleges for former slaves, including Fisk.
As the AMA spread its resources thinly, Fisk teetered financially. Its treasurer, George Leonard White, had been in the Ohio Infantry, whose battles had taken him to Tennessee. There he began teaching music and penmanship at Fisk and then took on the management of the school's finances.
Tell Them We Are Singing For Jesus, Toni P. Anderson's new history of the original Fisk Jubilee Singers, calls White ambitious, headstrong, and obstinate—qualities that fitted him to pursue his daunting vision of fielding a singing group to raise funds for fragile Fisk. The singers braved bad weather and racial bias and found little success until famous Brooklyn preacher Henry Ward Beecher lent the Jubilee Singers his support. After Beecher's endorsement, Christian audiences shed their suspicions of the Jubilee Singers (shunned because minstrel shows had created an unsavory reputation for black music). The crowds swelled, and so did Fisk's coffers. The singers' hardships shifted from dealing with cold, hunger, and racism to coping with their fellow singers' vanities and White's punishing performance schedules.
The AMA set out to help freed slaves by means of education—not just literacy, but also proper decorum and Christian values. "Elevate, educate, and evangelize were inseparable goals to the AMA," writes Anderson. This educational uplift was part of a broader Anglo-American effort to foster the cultural development of disadvantaged peoples with a view to eventually Christianizing the globe.
The Fisk Jubilee Singers gave audiences a striking vision of Christ's liberating power.
The 19th-century missionary zeal that spread Christian civilization feels mildly embarrassing today. Much that passed under the banner of the White Man's Burden was condescending and even racist. But don't dismiss the AMA's education initiatives. Booker T. Washington described "the intense desire which the people of [his] race showed for education. It was a whole race trying to go to school. Few were too young, and none too old, to make the attempt to learn." For former slaves, whose social development had been stymied by law and brutal force, literacy, Victorian manners, and Christian virtues were lifesavers in a chaotic ocean of freedom.
The story of the Fisk Jubilee Singers is ironic. White Christians aimed to give black Americans Christian civilization, but they received a dose of slave spirituality that shaped Anglo-American Christianity for the better.
The Jubilee Singers embarked on their tours to demonstrate that former slaves could perform the best of the Western musical canon. They soon discovered, however, that the spirituals in their concerts moved their audiences deeply, and they devoted their revised repertoire to slave songs of faith. Their arrangement of "Steal Away," with its dramatic dynamic contrasts, left American and British audiences weeping.
The Jubilee Singers did more than create awareness of an important American folk art. They gave white audiences a striking vision of Christ's liberating power. That vision gave hope that those with other bondages might experience their own exodus. Every Jubilee Singers concert was evangelistic.
They also sang for churches in England and Scotland where music had been strictly limited to Psalm-singing. In some areas, they preceded evangelists Dwight Moody and Ira Sankey, opening the door to gospel music as a vehicle for the religious affections.
It's not that we all would still be singing Genevan Psalms in church if it hadn't been for the Jubilee Singers. Charles Wesley, John Newton, and William Cowper chipped away at that granite long before. But these songs spoke with a simplicity and immediacy that the more poetic hymns of Wesley and Cowper lacked. For many of us, they still do. And for that we owe a debt of gratitude.
Related Elsewhere:
David Neff also blogged on "How to Write a Great Worship Song" for CT's Entertainment blog.
CT's sister publication Christian History discussed The Spiritual back in 1991, and described "The Secret Religion of the Slaves" in 1992.
Have something to add about this? See something we missed? Share your feedback here.
Past Imperfect
David Neff was editor in chief of Christianity Today, where he worked from 1985 until his retirement in 2013. He is also the former editor in chief of Christian History magazine, and continues to explore the intersection of history and current events in his bimonthly column, "Past Imperfect." His earlier column, "Editor's Bookshelf," ran from 2002 to 2004 and paired Neff's reviews of thought-provoking books and interviews with the authors.
Previous Past Imperfect Columns: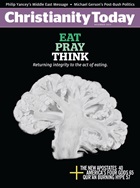 This article is from the November 2010 issue.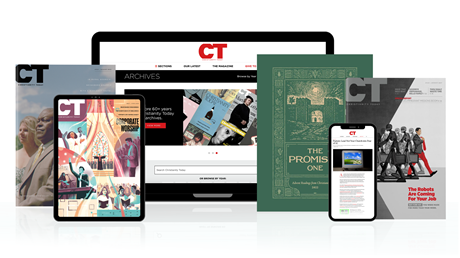 Annual & Monthly subscriptions available.
Print & Digital Issues of CT magazine
Complete access to every article on ChristianityToday.com
Unlimited access to 65+ years of CT's online archives
Member-only special issues
Subscribe
Singing For Jesus
Singing For Jesus