Animal, Vegetable, Miracle: A Year of Food Life is Barbara Kingsolver's captivating account of a year spent eating only homegrown and locally raised food. Known best for The Poisonwood Bible, her 1998 novel about Christian missionaries in the Congo, Kingsolver uses beautiful language and humorous anecdotes to take readers through the ups and downs of her family " … ma[king] every attempt to feed ourselves animals and vegetables whose provenance we really knew."
With her husband and two daughters, Kingsolver begins the journey by moving from Tucson to a farm in Appalachian country, Virginia. Once there, the family patiently waits for the asparagus to bloom so they can begin their year living as locavores (not to be confused with femivores). Kingsolver winds in and out of stories told chronologically about raising turkeys, entertaining 100 guests on locally grown food, and feeling apprehensive in the scarcity of winter and joyful in the abundance of summer. The stories made me laugh out loud, share the book with friends, and prompted more than a few good discussions.
Kingsolver makes the same point that writers like Michael Pollan and the documentary Food Inc. do: Most of us Americans have forgotten where our food comes from, and don't recognize the environmental cost of having that food brought to us. To counteract this forgetfulness, Kingsolver encourages eating foods in season, which she says helps appreciate that food more (not to mention that the taste of food picked and eaten immediately can't be beat). Eating only in-season food might feel daunting to many of us, but Kingsolver argues that's "only because we've grown accustomed to the botanically outrageous condition of having everything, always."
One particularly engaging chapter explores the history of heirloom vegetables. "Seeds get saved down the generations for a reason," Kingsolver explains, "and in the case of vegetables, one of the reasons is always taste." She says she grows and buys heirloom vegetables because the alternative—genetically modified vegetables—are "bred for uniform appearance, mechanized harvest, convenience of packaging, and a tolerance for hard travel." Heirloom vegetables are part of our country's food culture, and I appreciated Kingsolver's call for a return to that culture.
Packaged in a lively narrative, the information in the book is surprising and inspired immediate changes for me (including cheese making). For example, Steven L. Hopp (Kingsolver's husband and a contributor to the book) explains that if we all ate one meal each week of locally raised organic meat and produce, we could reduce U.S. oil consumption by over 1.1 million barrels per week. Kingsolver notes that "government quality standards are stricter for tap water than for bottled," so why do we so often purchase bottled water? Her research into such topics is vast, and she presents the facts with such passion, one almost can't help being swayed by her vision.
The book makes clear that living only on homegrown food can be a full-time job. It requires time and energy that many people simply do not have. However, Kingsolver's point is not to discourage readers, but to offer simple steps that any reader can incorporate into daily living. For example, for people like me who love gardening and cooking but aren't prepared to give up avocados year-round, I took away a lot.
Kingsolver's motives aren't rooted in Christian convictions, but for me, putting the time and energy into eating this way becomes an act of stewardship and gratitude. I've personally experienced the spiritual dimension of growing your own food and raising your own animals. Kingsolver alludes to this a little; she writes that her family was "changed by our first year of deliberately eating food produced from the same place where we worked, went to school, loved our neighbors, drank the water, and breathed the air." Cultivating small seeds that turn into food, or raising animals from infancy, can inspire awe and wonder at the sustenance God has built into creation. And working for the food I bring to the table increases my gratitude for that food. That, for me, is the miracle of Animal, Vegetable, Miracle.
Jillian Hathaway is a senior marketing and communications coordinator at Christianity Today International. She blogs at Kaleidoscope.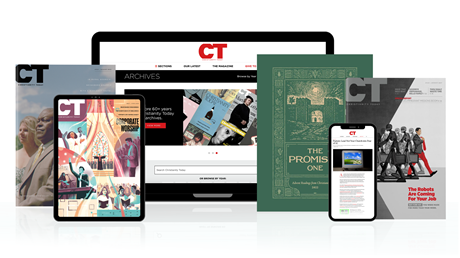 Annual & Monthly subscriptions available.
Print & Digital Issues of CT magazine
Complete access to every article on ChristianityToday.com
Unlimited access to 65+ years of CT's online archives
Member-only special issues
Subscribe
Growing Gardens to the Glory of God
Growing Gardens to the Glory of God