Political Advocacy Tracker is a roundup of what Christian activist organizations have been talking about over the last week.
(Pro-)Abortion Funding
Pro-life groups suggested this week that the federal government had spent over $1 billion to fund abortion since 2002. However, federal law prohibits any funding of abortions. As with many issues, word choice by political advocacy groups make a difference.
CitizenLink chose the following headline for a story on a Government Accounting Office (GAO) report on six organizations selected by pro-life legislators for audit: "Government Report Confirms Nearly a Billion Tax Dollars Funding Abortion."
As CitizenLink states, from 2002-2009 the federal government awarded grants "to six pro-abortion abortion organizations and their affiliates." The government gives research, education, and other grants to organizations that may perform abortions as one of their other services. It does not, however, fund abortion services.
Family Research Council president Tony Perkins said that the government "is a major shareholder in the international abortion business" and has given over a billion dollars to organizations that "make it their mission to slaughter unborn babies by dismemberment, decapitation, and deadly chemicals." Perkins urged support for the Abortion Provider Prohibition Act, which would prohibit any federal funds going to organizations that perform elective abortions.
Susan B. Anthony List president Marjorie Dannenfelser said, "The GAO report is one more piece of conclusive evidence showing that, while Planned Parenthood claims to offer women choices, it only offers one: abortion."
The GAO report lists each of the grant programs and how much each organization was granted. The report states that under an executive order at the time, no funds were given to international organizations that performed or promoted abortion. (President Obama reversed the executive order after he took office in 2009.) International Planned Parenthood did not comply, and did not receive funds.
Planned Parenthood in the U.S. both supports abortion as a reproductive right and provides abortion services. It received an average of 90 million dollars a year in federal funds. In 2008, Planned Parenthood provided around 11 million services. Of these, 3 percent were abortion services. Most were contraceptive services, treatment of sexually transmitted disease, and cancer screening and services.
SBC Resolutions on DADT and ENDA
At its annual meeting, the Southern Baptist Convention (SBC) passed two resolutions that took positions on bills under consideration in Congress. The SBC voted to oppose any repeal of the ban on gays and lesbians serving in the military and the Employment Non-Discrimination Act (ENDA), which would prohibit job discrimination based on sexual orientation, gender identification, or disability.
The SBC also passed a similar resolution to one it passed in 1993 opposing a change to Don't Ask Don't Tell, the policy that openly gay soldiers may not serve in the military. The 1993 resolution and new resolutions are nearly identical. But the changes between the two resolutions show some of the subtle changes in how the SBC and evangelicals view sexuality.
In 1993, the resolution included arguments for keeping openly gay soldiers out of the military because it would "endanger the life and health of military personnel by the increased exposure to sexually transmitted diseases and by enhanced danger of tainted blood in battlefield conditions" and would affect the military budget because of increased "medical, legal and social costs."
Unlike the 1993 resolution, the 2010 resolution is concerned with "normalizing the open presence of homosexuals." The language describing homosexuality as "sexual perversion" or "learned sexual deviance" was omitted. Instead, there is a clearer distinction between same-sex attraction and homosexual conduct. One of the new statements in the 2010 resolution commends "Southern Baptist efforts to engage in loving, redemptive ministry to homosexuals and encourage all Southern Baptists to consider how they might assist those struggling against same-sex attractions to find spiritual, sexual, and emotional wholeness in Christ."
ENDA would prohibit, among other things, discrimination based on "sexual orientation." The SBC's ENDA resolution describes homosexual orientation as meaning "immoral and aberrant behaviors" and warns that by protecting sexual orientation the law would establish "the principle that disapproval of homosexual conduct is a form of bigotry."
Odds & Ends
• The SBC also passed other resolutions, including a resolution on the high rate of divorce among Southern Baptists and one on the Gulf oil spill, calling for government "to act determinatively [sic] and with undeterred resolve to end this crisis; to fortify our coastal defenses; to ensure full corporate accountability for damages, clean-up, and restoration; to ensure that government and private industry are not again caught without planning for such possibilities; and to promote future energy policies based on prudence, conservation, accountability, and safety."
• Sojourners president Jim Wallis agreed with President Obama's address on the oil spill. Wallis particularly liked Obama's use of the word "mission" to describe efforts to clean up the spill and to change U.S. energy policy. "It will take a purposeful commitment to a mission of change, of transformation in the way that our entire society and culture is energized and powered, to truly respond to the epiphany in the Gulf," said Wallis. "It will take seeing this as [a] mission of God, and not merely our own; and it will take our faith in God to see this mission through."
• Heidi Unruh of Evangelicals for Social Action said, regarding the oil spill, that the government has a responsibility to regulate and to find solutions, but it is not the only solution to every problem. "As a human-made disaster, this unprecedented environmental tragedy has valuable lessons to teach us about another human-made institution, our government," she said.
• A federal advisory panel anonymously recommended that the Federal Drug Administration approve a new emergency contraceptive. Pro-life groups said the drug is similar to RU-486 and can cause abortion. Jeanne Monahan of the Family Research Council said, "Women deserve to know that this drug can take a life that has already been implanted as well as the serious health risks it imposes, including infection and bleeding. Women's health should not be jeopardized just to advance the agenda of the abortion industry."
• Galen Carey, director of government affairs for the National Association of Evangelicals, wrote about the organization's new effort to lower the number of abortions. "We want them to know that when [women] choose life, they will not be left to cope on their own. We want to improve pre- and postnatal care," Carey said. "And we want adoption to be an honorable and viable option for both biological and adoptive parents."
• Chuck Colson of BreakPoint commented on a recent poll that found that, for the first time, a majority of Americans feel that gay and lesbian relationships are morally acceptable. "The elite molders of opinion have done their job well. We live in a world where moral qualms about homosexuality are regarded as bigotry," Colson said. "Today it requires more courage, as well as strength, to swim against the cultural tide and express any reservation about homosexual relationships."
Related Elsewhere:
Earlier Political Advocacy Trackers are available on our site.
Christianity Today also follows political developments on the politics blog .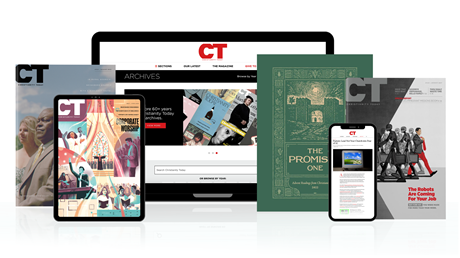 Annual & Monthly subscriptions available.
Print & Digital Issues of CT magazine
Complete access to every article on ChristianityToday.com
Unlimited access to 65+ years of CT's online archives
Member-only special issues
Subscribe
When Abortion Funding Doesn't Fund Abortion
When Abortion Funding Doesn't Fund Abortion