Peter Singer intends to provoke. So the controversial Princeton University bioethicist probably does not mind the dismay he causes Christians. Southern Baptist Theological Seminary president Albert Mohler calls him "one of the most reprehensible intellectual forces alive today." Mohler cites a few of Singer's most notorious low-lights. "He has advocated the morality of human infanticide, for the greater value of animal life over some human life, and for a radical vision of animal rights that is based in his purely evolutionary view of life."
But with one recently published opinion piece, Singer may have outdone himself. Writing June 6 for The New York Times, Singer asks a characteristically provocative question: "How good does life have to be, to make it reasonable to bring a child into the world?" He wonders whether even the comparatively high Western standard of living is suitable for a fulfilling time on earth. Singer asks this question at the prompting of South African philosopher David Benatar, author of Better Never to Have Been: The Harm of Coming into Existence, which Singer describes as "a fine book with an arresting title." Singer summarizes Benatar's argument from the 2006 book.
"Benatar also argues that human lives are, in general, much less good than we think they are," Singer writes. "We spend most of our lives with unfulfilled desires, and the occasional satisfactions that are all most of us can achieve are insufficient to outweigh these prolonged negative states. If we think that this is a tolerable state of affairs it is because we are, in Benatar's view, victims of the illusion of pollyannaism. This illusion may have evolved because it helped our ancestors survive, but it is an illusion nonetheless. If we could see our lives objectively, we would see that they are not something we should inflict on anyone."
Singer offers climate change as one threat to the Western way of life. And he pulls no punches while offering one possible response to this potential crisis that he says threatens future generations. "[W]hy don't we make ourselves the last generation on earth? If we would all agree to have ourselves sterilized then no sacrifices would be required—we could party our way into extinction!" Whether he realizes it or not, Singer cites an ethic attested and condemned in Scripture (Isaiah 39:8; 1 Corinthians 15:32). If there is no hope for tomorrow, this dystopian ethic says, at least we don't have to worry about tomorrow. We can live it up today.
Singer doesn't actually go quite so far as Benatar. He acknowledges the abundance of suffering but maintains hope that humans will evolve.
"In my judgment, for most people, life is worth living," he writes. "Even if that is not yet the case, I am enough of an optimist to believe that, should humans survive for another century or two, we will learn from our past mistakes and bring about a world in which there is far less suffering than there is now."
Though we may hope future generations will learn from our mistakes, history gives little such comfort. And besides, Christian anthropology recognizes the constraints of original sin (Rom. 3:9-20; 5:12-13). If anything, Christians might be considered more pessimistic than even Singer about human prospects. Jesus offered no hope for an ever-improving human condition. On the contrary, he indicated that good and evil would spar until his climactic return and triumphant victory at the end of the age.
Still, Singer prompts us to reflect on why Christians nevertheless enthusiastically bring children into this world. We harbor no false hope about eradicating suffering through evolution. We understand these children to be stained with sin from the beginning. We groan along with a creation subjected to futility, currently awaiting redemption (Rom. 8:19-23). What reason do we have, then, to bring new children into this world?
The simple answer is that we fulfill God's original command to Adam and Eve: "Be fruitful and multiply and fill the earth and subdue it and have dominion over the fish of the sea and over the birds of the heavens and over every living thing that moves on the earth" (Gen. 1:28). God's command alone would be enough to compel our obedience. But God's Word supplies us with several other motivations, elucidated by Steve and Candice Watters in their 2009 book, Start Your Family: Inspiration for Having Babies. They worried about bringing children into the world as the Y2K challenge threatened to take down the world's computer grid. Their fears recurred when terrorists felled the World Trade Center's twin towers on September 11, 2001. They found comfort, however, in four major reasons God offers for why we should have children: design, blessing, crucible, and hope.
Christian hope differs significantly from the evolutionary hope harbored by Singer. Hope rooted in God's sovereign care for his creation transcends circumstances—even circumstances so dire as Judah's exile into Babylon. The exile, God's judgment for persistent sin, was cataclysmic for everyone in Jerusalem and the southern kingdom. Hope was in short supply. So how did God address his downtrodden people?
"Thus says the Lord of hosts, the God of Israel, to all the exiles whom I have sent into exile from Jerusalem to Babylon: Build houses and live in them; plant gardens and eat their produce. Take wives and have sons and daughters; take wives for your sons, and give your daughters in marriage, that they may bear sons and daughters; multiply there, and do not decrease." (Jer. 29:4-6)
So long as God rules, hope will never run out. Childbirth will testify to God's enduring care. With each new child, we proclaim God as creator and redeemer. God did not need to create the world. He did not need to create human beings. In fact, when God created us, he knew we would sin against him and worship idols made of human hands. He knew his one and only pre-existent Son, Jesus Christ, would sacrifice himself for sinners. He created nevertheless, that his creation might know his love even more deeply in redemption. And the promise of redemption gives us sure hope for future generations.
Collin Hansen is a CT editor at large and co-author with John Woodbridge of the forthcoming book, A God-Sized Vision: Revival Stories That Stretch and Stir (Zondervan).
Related Elsewhere:
Previous Theology in the News columns available on our site include:
Seven Theology Books for the Beach | Consider adding these recent releases to your summer reading list. (June 1, 2010)
Obama's AIDS Dilemma | White House funding priorities determine who will live and who will die. (May 17, 2010)
Piper, Warren, and the Perils of Movement Building | Why the debate over separatism still matters. (April 19, 2010)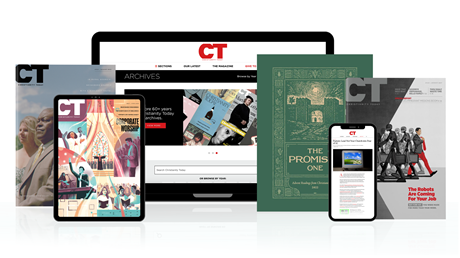 Annual & Monthly subscriptions available.
Print & Digital Issues of CT magazine
Complete access to every article on ChristianityToday.com
Unlimited access to 65+ years of CT's online archives
Member-only special issues
Subscribe
Peter Singer's Swan Song
Peter Singer's Swan Song