It's interesting when a teenage agnostic and a federal judge understand the nature of the church better than do some church staff.
A plaintiff known as Doe 2 recently said that if s/he had to attend a high school graduation ceremony in a Christian church, s/he would be "forced to submit to a religious environment that … will make me feel extremely uncomfortable and offended."
Doe 2 (as in "John Doe") was one of five plaintiffs who sought an injunction against Enfield Public Schools to prevent them from holding the graduation ceremony in First Cathedral, a Christian Church. The judge granted the injunction, in part because she agreed that there was the "likelihood of irreparable harm" coming to the plaintiffs.
That phrase—"the likelihood of irreparable harm"—made me laugh when I first read it, but after examining the ruling, I understood. Doe 3 is Jewish and said s/he would not have attended the ceremony because s/he would "feel that the Cathedral is proselytizing its Christian beliefs … through its scriptures and symbols." A high school graduation is indeed an important cultural marker, so one can empathize how deeply disappointing it would be to miss it.
But as I thought about it, I realized the judge said more than she knew, because it is true that those who spend time in church really do have the likelihood of experiencing irreparable harm—for one thing, they'll have to die to self. After all, it is the sovereign sphere of another Lord, who, like his title implies, makes unreasonable demands on his servants: expecting them to give away their wealth and to love their enemies.
The sovereignty of this Lord is announced in many ways in churches, in word and sacrament, to be sure. But it's also proclaimed visually.
Take First Cathedral, whose main sanctuary seats 3,000. As court documents rehearse, a large cross rises above a stained glass cupola on the Cathedral's roof, and "is visible from all angles of the Cathedral's surroundings." In other words, you can't miss it. Above the main entrance doors there is a large cross (about 10 by 25 feet) embedded in the window panes. Stairs that lead from the lobby to the sanctuary are divided by a large fountain whose jets supply water in the shape of a cross. There are also numerous wall hangings in the lower and upper hallways on the way to the sanctuary, as well as in the lobby, including pictures of the birth of Jesus and a framed poster of the Lord's Prayer.
In the sanctuary, a large stained glass panel hangs behind the stage, the central figure of which is a large cross. This is flanked by two large banners, one of which states, "Jesus Christ is Lord" and includes such words as Savior, Redeemer, Deliverer, Truth, King of Kings, and Lord of Lords.
In other words, it's a Christian church.
The Cathedral said it would try to cover up most of the symbols for the graduation, but it would have been impractical to hide all the signs of Jesus' lordship. That makes sense. Jesus has this impolite way of making his authority known, even when we're trying to shoo him away so we can have a decent, secular event.
Does 2 and 3 got this. The pastor of the Cathedral didn't. He said that while there is "considerable art" around the building, "most of it is not religious at all." Either he was misquoted, or the court's description of the church was inaccurate, or—God forbid—the pastor doesn't understand the meaning of the cross.
But the sentiment is not unheard of. In fact, some evangelical churches pride themselves on eschewing any Christian symbols whatsoever. A few do so to honor the biblical prohibition against graven images. All well and good. But most of these churches, unlike their Lord, abolish the cross only because it's not a friendly symbol.
Days before the Enfield court case was decided, the Chicago Tribuneran a piece titled "Graduations at church cause unease." It described how many schools hold their graduation ceremonies in one particular megachurch in the metro area because, as one participant put it, it doesn't feel like a church. The absence of any visible sign of the church's Lord is apparently a point of honor for this congregation. According to the article, one of its staff said the lack of crosses and other Christian iconography "makes the space more welcoming for newcomers and more conducive for secular events."
"We don't want people to get hung up on that kind of thing," he said.
During its weekly services, he said, the church preaches the Word ("We want people to hear the word (of God)"), but all in all, "We try to make it an environment where people would be comfortable to sit and listen."
Making people comfortable is a good thing, part of Christian hospitality. But does it strike anyone else as odd how reticent many churches are to make it plain to visitors that when they enter the church, they are entering a sovereign state where someone besides the State is Lord?
In my younger years, I was an associate pastor of an English speaking church in Mexico City. The church ministers to missionaries, business people, and diplomats and their families. I once made a pastoral call on the economic attaché to the U.S. Embassy in his office. When I stepped into his office, there was no mistaking who was sovereign there. A large American flag hung off to the side of his massive desk, and a picture of the President of the United States hung behind. The embassy official was very cordial to me, and did indeed make me feel comfortable as we sat for coffee in a little receiving area at the front of his office. But there was no mistaking whom my friend served, and who was lord of that office.
There was a time in the church's life when people were killed for stating or symbolizing their allegiance to another lord besides Caesar. One can understand why some would flinch and stick their cross necklace under their toga, or meet secretly in places (like catacombs) bereft of Christian symbols. Caesar had no patience with people whom he suspected served another. And yet most did not flinch, and most continued to affirm in word and symbol the church's earliest creed: Jesus is Lord.
Today, when there is no risk to symbolizing one's allegiance to another Lord besides Capitalism or Democracy or America, why are we so hesitant to do so? Why is it that in the one place where we have the right and opportunity to proclaim the Lord of the kingdom of heaven, so many of us want to make it a place that is "conducive to secular events"? 
And why is it that church staff, called by God to enable the proclamation of Jesus' lordship, cannot grasp what a high school agnostic and federal judge understand—that Christianity is ruled by a Lord who has a habit of making people feel uncomfortable and offended because, yes, he demands their unqualified allegiance?
Mark Galli is senior managing editor of Christianity Today. He is author of Jesus Mean and Wild: The Unexpected Love of an Untamable God (Baker).
Related Elsewhere:
Previous SoulWork columns include:
Judgment in the Gulf | Woes and blessings of the oil spill. (June 1, 2010)
The Whisper of Grace | The whirlwind of the self is not easily tamed, even by religion. (April 29, 2010)
The End of Christianity as We Know It | Now we can move on from merely giving people pleasant worship experiences. (April 15, 2010)
SoulWork
In "SoulWork," Mark Galli brings news, Christian theology, and spiritual direction together to explore what it means to be formed spiritually in the image of Jesus Christ.
Mark Galli is former editor in chief of Christianity Today and author, most recently, of Karl Barth: An Introductory Biography for Evangelicals.
Previous SoulWork Columns: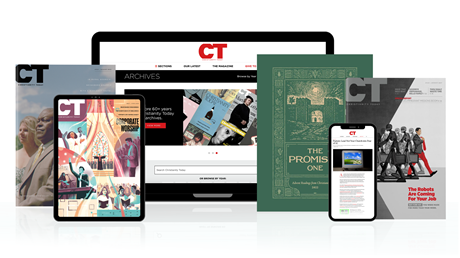 Annual & Monthly subscriptions available.
Print & Digital Issues of CT magazine
Complete access to every article on ChristianityToday.com
Unlimited access to 65+ years of CT's online archives
Member-only special issues
Subscribe
The Lord Who Acts Like It
The Lord Who Acts Like It