I was a news-oblivious kindergartener when the Exxon Valdez oil spill hit Alaska's coastline and its pristine wildlife in 1989. As such, I was somewhat unprepared to stomach a recent NPR interview with an Audubon naturalist working on the Louisiana coast. She outlined the spill's effects on bird populations around the Gulf, a major destination for waterfowl. As she described how oil stunts gulls' and pelicans' ability to regulate body temperature and breathe, bringing toxins into their bloodstream, turning usually white eggs muddy brown, I quickly changed the station, knowing more details would elicit only anger.
But hearing her description was nothing like seeing the images on The Boston Globe's Big Picture blog last Friday. And this time, I couldn't bring myself to turn away. The pictures, of gulls and pelicans on Louisiana's East Grand Terre Island, have come to embody what's being called the worst environmental disaster in U.S. history. One gull is so drenched in sheets of oil that it hardly resembles a bird, more a small dog, its eyes grayed over from exhaustion and slow suffocation. Another gull floats seemingly dead in oil, its feet and beak rigid in the air. A brown pelican, Louisiana's state bird, thrashes and flails in the water, its monstrous wings (which can span up to 8 feet) weighed down by layers of oil, its distinctive pouched bill open as if gasping or crying out. My initial shock turned, predictably, to anger. But anger soon gave way to a rarer, more profound emotion: grief. When I looked at these birds, collectively covered in more than 400,000 gallons of oil leaking each day, I bemoaned how one amazing facet of creation was buried in—was made to carry—a seismic mess bolstered by human greed and folly.
The images and videos of oil-drenched birds now gushing on the Internet hit a particular nerve for me, a birdwatcher who inherited the hobby from parents, and they from their parents. But bird watchers are not the only ones reacting strongly. For Louisianans, images of oil-drenched brown pelicans are akin to images of shot bald eagles; just last November, this species of pelican (known for its dramatic nosedives to scoop up fish) finally came off the endangered species list, bouncing back from decades of exposure to DDT and other now-banned pesticides. "To see the state emblem being threatened again and despoiled—people are very upset and angry about that," said James Harris, a senior official at the U.S. Fish and Wildlife Service. Many have labeled the images of oil-drenched fowl symbols and icons of the catastrophe, which will take an economic and ecological toll on the Gulf region for years. "[The images] have become that iconic yet horrible vision of what people had expected to see," said Denis Paquin, the Associated Press's deputy director of photography. "You will remember a bird completely covered in oil. In the eyes, you can see there's something wrong. The eyes always tell a story." When devastation is as vast as an oil spill, an image of the eyes of one suffering animal drives home what statistics and cold information cannot. We should not fear our emotional responses to such suffering.
Of course, our reaction to such images might be mere sentimentalism, stopping just when concrete action (prayer, funding, shifting use of the earth's resources) is better. But perhaps the public reaction is largely born from our grasping the spiritual truth the created order (or in this case, disorder) makes plain: God intended the full panoply of creation for ceaseless glory, and man has scarred the panoply—from glaciers to geckos, from rainforests to backyard robins, from the span of all oceans down to each shrimp therein—with his rebellion (Rom. 1; Ps. 19). And though God's Son has reversed the effects of that rebellion, setting us and the whole earth toward even more glorious purposes, the panoply still cries out, still "groans" (Rom. 8:22). The oil-drenched gulls and pelicans and all the fish and whales and turtles and plants trying to survive in the depths below them are groaning for release from this new Gulf-sized bondage to decay.
I'm not surprised these birds are revealing sobering spiritual realities; Jesus told us to "consider the birds of the air" (Matt. 6:26) and other small, weak things—lilies, mustard seeds, doves—to learn the ways of the kingdom of God. He knows that we, being physical creatures, need outward, physical signs to understand invisible, spiritual graces, or perhaps with this oil spill, judgments. The early church saw icons of the Christian story in birds ranging from peacocks (representing immortality, as they were thought not to decay after death) to pelicans (representing Christ, as they were thought to pierce themselves to feed their young). Revered evangelical scholar John Stott filled an entire book two years ago with essays in "orni-theology." As for myself, I'm filled with thanks every time I spot a previously unseen species of bird, and filled with awe that God claims "to know all the birds of the air" (Ps. 51), to proclaim, "This is mine!" about each of the world's 9,000 bird species (to paraphrase Abraham Kuyper).
Of the Sermon on the Mount, Martin Luther wrote, "You see, [God] is making the birds our schoolmasters and teachers. It is a great and abiding disgrace to us that in the Gospel a helpless sparrow should become a theologian and a preacher to the wisest of men. We have as many teachers and preachers as there are little birds in the air." It seems the gulls and pelicans mired in the oil spill are teaching us that our misuse of oil and other natural resources will eventually bring disaster to the created order. They are schooling us about the wages of carelessness and constant bottom-line thinking. And they are teaching me how to grieve my own sin stains, as a fallen human and a privileged Westerner—and to groan alongside them, anticipating our future ceaseless glory.
Katelyn Beaty is an associate editor of Christianity Today. "Speaking Out" is Christianity Today's guest opinion column and (unlike an editorial) does not necessarily represent the opinion of the publication.
Related Elsewhere:
Previous Christianity Today articles related to birds and animals include:
Not One Sparrow | We can be 'speciesists' and show compassion for animals. (July 13, 2009)
Essays in Orni-Theology | With a Bible in one hand and binoculars in the other, John Stott opens window to the world of winged ones. (November 13, 2008)
Worshiping with Creeping Things | Why the grocery store is a holy place. (October 16, 2008)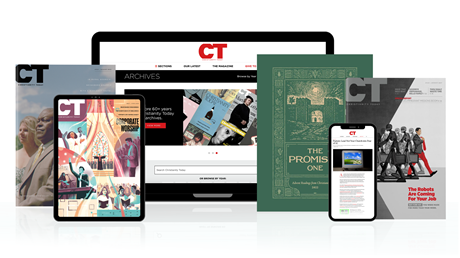 Annual & Monthly subscriptions available.
Print & Digital Issues of CT magazine
Complete access to every article on ChristianityToday.com
Unlimited access to 65+ years of CT's online archives
Member-only special issues
Subscribe
The Cry of the Oil-Soaked Pelican
The Cry of the Oil-Soaked Pelican